Diaper rash is very painful for your baby. This is a guide about diaper rash remedies.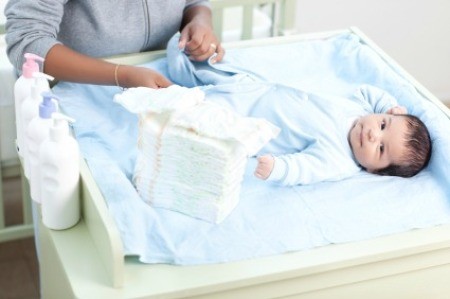 My 2 yr old daughter has pale diarrhea and has a really bad diaper rash. What can I do for her?
By mommiof22011 from Stillwater, OK
---
Most Recent Answer
July 14, 2011
If you want to take care of it without drugs just give her over ripe banana. It worked wonders for my children.
---
If your baby has diaper rash and you have tried all the creams (i.e. desitin etc.) use Bag Balm and your baby's bottom will clear up overnight. It's the only thing I use for my babies. It also works on their sore noses from blowing them when they have allergies or a cold.

By Leanne
When my daughter was first born, I spent a small fortune on diaper creams and name-brand baby powder (she's prone to diaper rash). She would still get a diaper rash every so often, even though I used the creams with every diaper change. When circumstances forced me to cut back on my expenses, I began using corn starch (from the baking dept.) and pure petroleum jelly (vaseline) from the dollar-store. She has not had a single diaper rash in 4 months! Not only is it much, much cheaper, I think having fewer chemicals against her sensitive skin is much healthier (and really - who is going to get close enough to a baby's butt to smell that baby powder scent?!)

By Leann D
Don't buy diaper rash treatments when you can make this for much less money!
Ingredients:
1/4 cup Vaseline
1 Tbsp cornstarch
Directions:
Mix 1/4 cup Vaseline with 1 Tbsp. cornstarch.
This works so well, you'll never go back!
By AlaskanAurora from Dutch Harbor, AK
By Vivienne Bahr 3 4
What is A and D Ointment? It seems to be useful for the whole body. Would this ointment or one with similar qualities be available in Australia?
By furlegs from Adelaide, Australia
---
Most Recent Answer
By Nan Corpe 7 290 Flag
March 3, 2010
A&D works well to keep a baby's butt healthy as long as the diaper is changed regularly, buy the product called "Butt Paste" heals wounds faster becaise it contains a good amount of zinc which is the healer. I have no babies, but I keep both of these products in my home.
---
When my son gets a diaper rash (usually from foods that contain more acid than he can tolerate) instead of using the high priced ointments that don't work on the burning feeling, I use liquid malox or mylanta on his bottom. As soon as I apply that, he feels instant relief.

By Green18chick
Baby orajel on a baby rash not only eases the pain, but gets rid of the rash in record time!

By Christina
I was reading about all the concoctions for belly butter and thought I'd share my sure fire diaper rash preventative. My boys are 60, 57, 55, and 38. I used petroleum jelly (aka Vaseline) on their bottoms after each diaper change. We "never" had diaper rash! Not even after I started giving them "real" orange juice.