Properly discarding used cooking oil and grease will save your plumbing. There are a variety of ways to effectively discard these cooking products after usage. This is a guide about disposing of cooking oil and grease.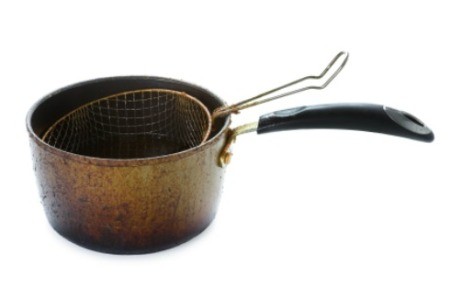 Need an easy way to dispose of leftover grease from frying? Empty your kitchen sink, and put a piece of wide tin foil in the sink. Push the foil into the drain to make a little cup. Do not put any holes in the foil, then place 2 pieces of paper towel in on top.
Place a colander over the paper towel. Drain whatever you are cooking. It will collect on top of tin foil or paper towel. Gather and close up the foil so that grease does not spill. Instead of throwing it into the garbage, I put it at the bottom of the freezer to harden. Then I throw it away on garbage day.
By EEECrafter from Branchville, NJ
To dispose of grease, I freeze it. First, I let it cool slightly and then pour it into a small plastic container to freeze. When frozen, I give the container a twist and it pops out like an ice cube. I drop it into the bag of frozen food waste that I keep in the freezer until garbage collection day. The Land O Lakes Butter Spread container works great for this. It is soft and flexible. I keep the container in the freezer beside the bag of food waste and use it over and over.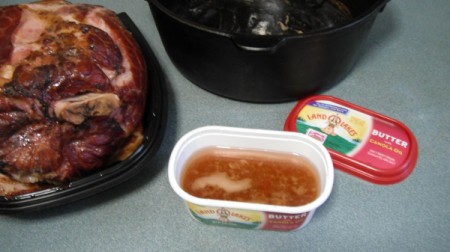 By Kimber Ha 2 2
Fats, Oils, and Grease (aka FOG) isn't a well known environmental issue, but it is an issue in which everyone contributes. I encourage you to follow these simple steps to keep fats, oils, and grease out of the sewer system. Not only will this save your sanitation district money (tax payer $$) but also it will help you in keeping your own pipes clean. ($$)
Use the WonderPour kitchen spout or other method to strain off the meat drippings and grease into a sealable container and dispose of in the trash.
Scrape any leftover food scraps into the compost or trash; limit the use of your garbage disposal. Less fat means less calories!
Before washing, wipe grease residues like oily or creamy sauces from utensils, plates, pots, and pans into the trash.
If available, recycle all waste liquid cooking or frying oils at a recycling station
By kim145 from Plano, TX
Know those "to-go" coffee cups? The ones with the little plastic lids that form a natural drinking spout? Instead of disposing of barely used cooking oil from your skillet after frying, use a rinsed out to-go coffee cup to pour it in. The cup can even be flattened slightly at the rim as your pour, to better accommodate the size of your skillet rim. Then pop the lid on the cup and use the drinking spout as a pour spout, to pour the oil back into its container.
The cup can withstand higher temperatures since it is made for hot coffee, but don't overdo it! This also works great for other liquids, and things such as sugar, rice, glitter, and seed beads as well.
Next, take the cup and stick it in your bag of charcoal, or your firewood box. Next time you grill out or light a fire, you have a handy fire-starter helper. Then don't forget to put the wood ashes in your compost bin!
By dollyslaffn from Darien, GA
When the foil cat treat bag like Purina Whisker Lickin' Tender Moments is empty, do not throw it away. Instead, let your grease cool after cooking and then then pour it into the little bag and zip it shut. This will keep the grease from smelling up your garage can and also prevent it from leaking all over everything.
By Kathy from Jefferson, LA
When my son and daughter-in-law were here for Mother's Day she commented several times about my latest trick. We shred everything with critical information on it so I always have a good supply of shredded paper. When I have fat or any kind of cooking liquid I don't want going down my sink drain, I fill a can or a whipped cream bowl with "shreddings" and pour it in the bowl. I put the lid on it and set it in the can with my outside garbage.
By MartyD from Houston, TX
I save empty foil type coffee bags for disposal of grease drippings. I don't want to pour it down my sink drain and risk clogs nor do I want it puddling in the bottom of my kitchen trash bag. I drain the fat from browning ground beef or other meats into a used foil pie pan to cool and then transfer it to the coffee bag for disposal. Most bags have little clips you can fold in at the top to secure also. This keeps the fat contained in my trash bag and prevents clogged drains.
By kimpalmer 3 1
Instead of trying to find a place for grease that you use to cook, I save a coffee can and put it all into the can. When the can is full, I throw it out. This helps keep my drains clear.
By Chilipalmer from Tampa, FL
By dede smith 19 222
I of course reuse all my plastic store bought food tubs, as it saves me major money on leftovers storage, but here is a tip for disposal of old fryer grease.

The large margarine tubs, or coffee containers, make a great "freezer" container for storing old fryer grease. In the freezer it is out of the way, and once it is frozen you can slide it out of the container right into the trash, and again reuse the container! Do this only on trash pick up day though so it doesn't melt and make a mess, and believe me, the trash pick up people will thank you for that lack of mess, and smell!

By Dede from Macon, MO
Of course, I never pour it down the drain, but if it ends up in the kitchen trash bag, I often have drips on the floor after carrying it to the dumpster. So I use whatever empty can, soup, vegetables, whatever I have on hand, then put it into the freezer.
To avoid clogged sinks, I usually pour leftover grease and cooking oil into an old can. I had problems with clogged sinks, because I could never get all of the grease or oil out of the pan no matter how hard I tried.
At one time, when you had grease you would put the grease into a used coffee tin container. What is the best way to dispose of the grease these days?
By Arlene
---
Most Recent Answer