We have adopted a 2 year old dog that will not come into the house. Every morning she cowers and curls up into a ball and must be carried in. As the day goes on she gets better and will come in and the next morning the same problem. Any solutions to her being so scared?

Mary from Virginia Beach, VA
October 13, 2008
0

found this helpful
My thoughts are that if you recently adopted her and she's already 2, there was probably some sort of abuse where she came from that is associated with going inside of a house. Be patient and talk softly while coaxing her in with a treat or a favorite toy.
One good sign is that she allows you to pick her up and carry her inside.
By guest (Guest Post)
October 14, 2008
0

found this helpful
The only thing I can add to these wonderful suggestions is being eye level if coaxing. Thanks for choosing to adopt! Best wishes, a doggy lovin'friend
October 14, 2008
0

found this helpful
I would suggest not putting her outside at night and leaving her there. Maybe something outside is scaring her. Keep her in at night.
By guest (Guest Post)
December 29, 2008
0

found this helpful
I have the exact same problem. Only I have a 9 month old rat terrier who refuses to come inside. At first I thought she was scared of the sliding door but yet she comes in when she feels like it. It's winter now and I can't leave the door open all day for her to decide if she's coming in or not. So I have resorted to a cable leash when she goes out. I have it hooked to the door so if she doesn't want to come in, I can assist her. It's too cold for her to stay out, and she doesn't need frostbite. I wouldn't recommend a doggie door, because you may find more than just your dog coming inside, raccoons, stray cats, neighbor cats, possums, bugs and birds may come inside as well.
I entered my dog into obedience training and my trainer told me that my dog is not scared, although she acts like it, but he said she's 1st class stubborn. Good luck!
Read More Answers
My American Bull Dog does not want to come inside after his walks. He is walked 2 times daily and then I put him in the back yard. From the backyard he has access through a door to come into the house as well. He spends his day in and out of the house.

He is 5 months old and I have owned him for 5 days now. The previous owner just use to keep him indoors all day and night. Why does my dog not want to come inside after his walks? Do you think I should walk him more often than 2 times daily?

Jessica from Hialeah
By guest (Guest Post)
January 23, 2009
0

found this helpful
Congrats on the dog. Walking twice a day is great; just make sure they're long (30-40 min) walks that are brisk enough for you to break a sweat and get your heart rate up. Dogs do not get exercise sitting in a yard by themselves.
Simply bring the dog inside as the other writer suggested. After only 5 days the new home is still a little different from his previous home. Dogs should NOT be kept "outside" by themselves at any time.
They will annoy neighbors before you hear them and they are prime targets for dog-nappers.
No, that's not a joke. More dogs are stolen than ever run away from boredom.
Make coming inside a fun training exercise and use good treats. You need to let the dog know what is expected of them or they will try to figure it out on their own. When they make the decisions; it's unlikely they will behave as you would prefer. It also leaves the dog mentally under stimulated which will bring on behaviour problems.
Give the dog a definite bed and train him to use it through treats and praise. He'll get the idea very quickly.
January 23, 2009
0

found this helpful
Is your walks 1/2 hour at a time or longer? Puppies need a lot of exercise.If you can go 3-4 times a day for a few days to see if that makes a difference.If he was forced to stay in the house day and night with the previous owner he may just want to be outside for awhile. Make him stay inside at night anyway.You are the "pack" leader.We have coyotes here that have killed 4 cats in the neighborhood since last summer. Make sure he can't get out of the yard. DH takes Buddy out 5-6 times a day. Here is Buddy after a long morning walk.
Good Luck GGVi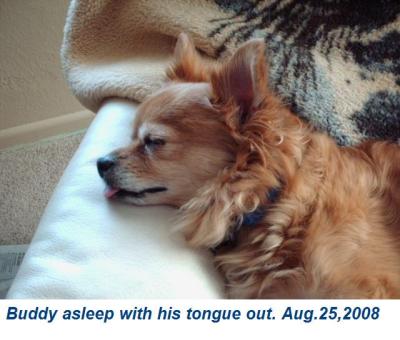 By guest (Guest Post)
January 24, 2009
0

found this helpful
I think he is just the enjoying the freedom of the outdoors.
By guest (Guest Post)
January 26, 2009
0

found this helpful
I'm no expert, if your Beautiful dog doesn't want in right away, he must want more time outside. I know dogs that love being outside, but you have to be careful so they don't get too cold.
You mentioned walking him, maybe he wants to run?
Read More Answers