Glass crafters often find that they need to drill holes in glass to complete their project. This is a guide about drilling holes in glass.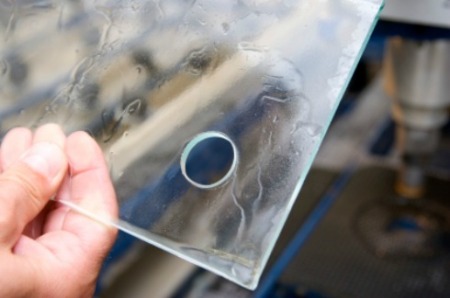 By DONNA 1
Can someone tell me of a tool that will make a hole in a glass jar for wiring a light? The drill bit tools don't work. Or can I buy jars with a hole in them already? Please help.
By Donna
---
Most Recent Answer
December 29, 2010
You can purchase glass drills. They have a rounded point. I dipped mine in oil and went slowly. Careful not to break through as that will crack your glass. Check the web to see what they look like. You may have to purchase them there also.
---
I am looking for a diamond drill to drill a 3/4 inch hole in glass blocks. Can you help me find one?
By Greg I
---
Most Recent Answer
By Elaine M P. 2 15 Flag
November 13, 2012
Home depot and or Menards have them as I have bought one a few years ago at Home Depot....maybe even try Lowe's.
---
What do I need to cut a hole in glass (bottle, blocks)? I want to put lights in them and use them for decoration. Can anyone tell me the tools that I would need for this? Or if there is a web site that I could go to for help. Thanks.
By Karen from Reynoldsville, PA
---
Most Recent Answer
January 28, 2012
Get a diamond hole drill bit - sorta looks like a thimble. Use 3/4" as it is much easier to put the lights in. I use a drill press with the speed set around 1100 RPM (my press allows you to easily move the drive belt to raise/lower speed) Use a spray bottle with water only to keep the bit cool, and bear down with light to medium pressure. This process takes less than 30 seconds per block.
These hole drills create a smooth hole that will not cut your fingers. I then vigorously shake the block to knock off the glass edges of the glass piece that is inside the block. I then fill half-way with water, plug the hole and shake vigorously, then pour out. This brings out all glass bits and usually the glass plug - though who cares if it remains inside? You can't see it nor does it harm anything. I set it aside to drain/dry and the block is clean.
As to the lights - I use 50 or 70 lights, whatever is cheapest, with white cords. Cut off the end plug and tape the ends with scotch tape or white tape. It won't short out, and can't harm anyone/anything inside the glass block. I drill these blocks a case at a time, and I'm done with everything, including rinsing, in 15 minutes total.
---
How do you put a hole in the bottom of a wine bottle without breaking it?
By Dianne8897 from Wooster, OH
---
Most Recent Answer
April 9, 2012
I do drill wine bottles with a drill press. This helps because you can exert even pressure. First fill the bottle with cool water all the way to the top and cork it. I use a vacuum sealing cork. Then use some plumbers putty to create a dam at the drill site and fill that with water. All this is to keep the glass cool. Drill away. The tricky part is at the very end, you don't want to put to much force because it can still splinter.
---
I bought an incense burner that is a jar and I would like to put a small hole close to the bottom for the scent to come out instead of having the incense coming out the top and having ashes everywhere. Any ideas on how to do this without breaking the glass?

Bobbi
---
Most Recent Answer
By guest (Guest Post) Flag
July 11, 2006
try this one its a technique used on aquaruiums buy a diamond drill bit because diamond is like the hardest and they're thirty bucks.
---
By Ma F. 1
We drilled a case of glass blocks and the rinse out process didn't work, there is still residue left inside. How do we get the cloudy residue out?
By Ma
---
Most Recent Answer
I am looking to find the best way to drill a hole in glass. I have used the Dremel rotary tool, and also a drill press. Both of these work, but it takes so long just to make one hole. It is very time consuming. I would be grateful for any info.
By Rose M from UT
---
Most Recent Answer
By thintieguy 12 13 Flag
April 22, 2012
Having a diamond tipped bit helps. Also if you want one to last longer, sintered (sp?) is the way to go.
If you drill your own glass blocks, you will need to clean out the glass dust. Following are some suggestions for ways to clean your blocks.
Try using rice and water shaken around in the block to clean it out. Then simply empty out the rice, rinse, and let the block air dry.
Another method that works well is to use an empty toilet paper roll attached to the end of your vacuum hose. Bend the unattached end into a cone shape and insert and tape a drinking straw to the cone. Put the straw inside the block and suck out the dust.
Finally, just wash each one with hot water "no soap", immediately after drilling and turn them hole side down in a dish drainer. Washing this quickly will not allow the glass dust to dry inside. They just sparkle when you are done.
By Marlene 20 53
Does anyone know how to drill a hole in sea glass without it breaking?
By Marlene
---
Most Recent Answer
February 11, 2013
I have had pretty good luck using my Dremel with a diamond bit and also my drill using masonry bits. The process is as follows: 1-wrap the area of the glass where you want to drill with masking tape, three or four times. 2-in a shallow container place a thin piece of wood, paneling or plywood work fine. 3-on top of the wood, place a regular cleaning sponge, nothing fancy. 4- once these items are stacked in the container, add enough water to cover the wood and wet the sponge, but do not cover it. 5- with your free hand place the piece of glass on the sponge, gently push down until firmly seated on the sponge and wood. 6- with your drill or Dremel in the other hand place the bit in the spot you want to drill then slowly start to drill, firmly holding the glass so it doesn't spin.
This speeds up the process of drilling only a little, but by constantly keeping the bit and the glass wet so it doesn't get hot there is rarely any breakage. Also, by having the sponge as a cushion you can keep constant pressure on the glass and the drill works faster. It may take some trial and error before you have a process that works for you, so try out on some glass that you aren't too concerned about. Hope this helps!
I am wanting to drill a hole in the old glass insulators to make a pendant light. What is the best bit to use and size if anyone knows?
By Judy B