I am looking for a diamond drill to drill a 3/4 inch hole in glass blocks. Can you help me find one?
By Greg I
November 12, 2012
0

found this helpful
I found my bits at Sears. They are not cheap, but they last a long time!
November 12, 2012
0

found this helpful
Try Home Depot or Lowe's. Like the poster said, they aren't cheap, but they last. You could try your local freecycle group also.
November 13, 2012
0

found this helpful
Home depot and or Menards have them as I have bought one a few years ago at Home Depot....maybe even try Lowe's.
If you drill your own glass blocks, you will need to clean out the glass dust. Following are some suggestions for ways to clean your blocks.
Try using rice and water shaken around in the block to clean it out. Then simply empty out the rice, rinse, and let the block air dry.
Another method that works well is to use an empty toilet paper roll attached to the end of your vacuum hose. Bend the unattached end into a cone shape and insert and tape a drinking straw to the cone. Put the straw inside the block and suck out the dust.
Finally, just wash each one with hot water "no soap", immediately after drilling and turn them hole side down in a dish drainer. Washing this quickly will not allow the glass dust to dry inside. They just sparkle when you are done.
Can someone tell me of a tool that will make a hole in a glass jar for wiring a light? The drill bit tools don't work. Or can I buy jars with a hole in them already? Please help.
By Donna
December 27, 2010
0

found this helpful
You might also try a glass company in your area. They work with glass and may have the tools you need.
December 29, 2010
0

found this helpful
You need a diamond drill bit. There are several sizes, just depends on what you are going to put through the hole. I make night lights with very small wine bottles, drill a hold about 1/2 inch from the bottom of the glass on one side and then stuff a 25 light string in the bottle. They burn very cool and I never turn them off. The LED lights may even be better, just can't find a small enough string for my needs. Good luck!
December 29, 2010
0

found this helpful
You can purchase glass drills. They have a rounded point. I dipped mine in oil and went slowly. Careful not to break through as that will crack your glass. Check the web to see what they look like. You may have to purchase them there also.
What do I need to cut a hole in glass (bottle, blocks)? I want to put lights in them and use them for decoration. Can anyone tell me the tools that I would need for this? Or if there is a web site that I could go to for help. Thanks.
By Karen from Reynoldsville, PA
September 1, 2010
0

found this helpful
My daughter and I are currently working on these. Get a 1/2" glass drill bit, they are shaped like an arrowhead at the tip. When drilling, drill slow and try to keep the drill bit wet so it doesn't get too hot.
A drill press works best to hold the block still while drilling but we had a friend drill ours. Make sure you rinse the glass bits out right away after drilling, let dry overnight, fill with 50 count or less lights & decorate.
fill with 50 count lights or less & decorate.
January 26, 2011
0

found this helpful
I drill a lot of glass blocks and glass bottles, but I changed from the old carbide glass drill bits to a diamond drill bit. Since then, I have never broken any glass.
www.ameriglasco.com/Glass-Diamond-Drill-Bits/Diamond-Drill-Bits.shtml
A good diamond drill bit makes a huge difference.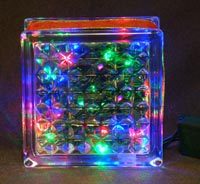 January 28, 2012
0

found this helpful
Get a diamond hole drill bit - sorta looks like a thimble. Use 3/4" as it is much easier to put the lights in. I use a drill press with the speed set around 1100 RPM (my press allows you to easily move the drive belt to raise/lower speed) Use a spray bottle with water only to keep the bit cool, and bear down with light to medium pressure. This process takes less than 30 seconds per block.
These hole drills create a smooth hole that will not cut your fingers. I then vigorously shake the block to knock off the glass edges of the glass piece that is inside the block. I then fill half-way with water, plug the hole and shake vigorously, then pour out. This brings out all glass bits and usually the glass plug - though who cares if it remains inside? You can't see it nor does it harm anything. I set it aside to drain/dry and the block is clean.
As to the lights - I use 50 or 70 lights, whatever is cheapest, with white cords. Cut off the end plug and tape the ends with scotch tape or white tape. It won't short out, and can't harm anyone/anything inside the glass block. I drill these blocks a case at a time, and I'm done with everything, including rinsing, in 15 minutes total.
We drilled a case of glass blocks and the rinse out process didn't work, there is still residue left inside. How do we get the cloudy residue out?
By Ma
November 18, 2013
0

found this helpful
Crushed ice and salt swirled around the inside and then rinsed out. You can also use crushed ice and broken up egg shells.
How do you put a hole in the bottom of a wine bottle without breaking it?
By Dianne8897 from Wooster, OH
July 29, 2009
0

found this helpful
It's not easy! You need a special drill bit. You can sometimes use the one made for drilling ceramics but a diamond bit works much better. & while you're drilling you need to have someone drip water on the bit & the area being drilled. This prevents heat build-up. At least this is how a friend told me she drilled a sheet of glass which is basically the same thing (but not as thick as a pop bottle.
Check this out:
http://www.diamond-drill-bit-and-tool.com/Diamond-Drill/MAIN.htm
They sell flat nose diamond bits & also have a "how to" section.
http://www.askthebuilder.com/674_Drilling_Ceramic_Tile.shtml
August 3, 2009
0

found this helpful
Hello Dianne! I do not know an answer to your question, but I wanted to say hello to you. I'm in Wooster, Ohio too!
Misty
April 9, 2012
0

found this helpful
I do drill wine bottles with a drill press. This helps because you can exert even pressure. First fill the bottle with cool water all the way to the top and cork it. I use a vacuum sealing cork. Then use some plumbers putty to create a dam at the drill site and fill that with water. All this is to keep the glass cool. Drill away. The tricky part is at the very end, you don't want to put to much force because it can still splinter.
I am looking to find the best way to drill a hole in glass. I have used the Dremel rotary tool, and also a drill press. Both of these work, but it takes so long just to make one hole. It is very time consuming. I would be grateful for any info.
By Rose M from UT
April 22, 2012
0

found this helpful
Having a diamond tipped bit helps. Also if you want one to last longer, sintered (sp?) is the way to go.