September 1, 2010
0

found this helpful
My daughter and I are currently working on these. Get a 1/2" glass drill bit, they are shaped like an arrowhead at the tip. When drilling, drill slow and try to keep the drill bit wet so it doesn't get too hot.
A drill press works best to hold the block still while drilling but we had a friend drill ours. Make sure you rinse the glass bits out right away after drilling, let dry overnight, fill with 50 count or less lights & decorate.
fill with 50 count lights or less & decorate.
January 26, 2011
0

found this helpful
I drill a lot of glass blocks and glass bottles, but I changed from the old carbide glass drill bits to a diamond drill bit. Since then, I have never broken any glass.
www.ameriglasco.com/Glass-Diamond-Drill-Bits/Diamond-Drill-Bits.shtml
A good diamond drill bit makes a huge difference.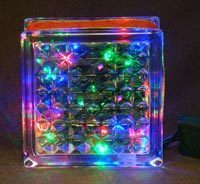 January 28, 2012
0

found this helpful
Get a diamond hole drill bit - sorta looks like a thimble. Use 3/4" as it is much easier to put the lights in. I use a drill press with the speed set around 1100 RPM (my press allows you to easily move the drive belt to raise/lower speed) Use a spray bottle with water only to keep the bit cool, and bear down with light to medium pressure. This process takes less than 30 seconds per block.
These hole drills create a smooth hole that will not cut your fingers. I then vigorously shake the block to knock off the glass edges of the glass piece that is inside the block. I then fill half-way with water, plug the hole and shake vigorously, then pour out. This brings out all glass bits and usually the glass plug - though who cares if it remains inside? You can't see it nor does it harm anything. I set it aside to drain/dry and the block is clean.
As to the lights - I use 50 or 70 lights, whatever is cheapest, with white cords. Cut off the end plug and tape the ends with scotch tape or white tape. It won't short out, and can't harm anyone/anything inside the glass block. I drill these blocks a case at a time, and I'm done with everything, including rinsing, in 15 minutes total.