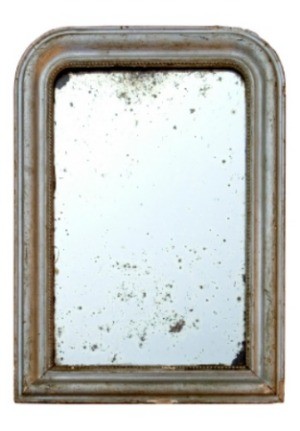 Over time mirrors can develop black areas. This guide is about fixing black spots on mirrors.
Ad
---
Questions
Here are questions related to Fixing Black Spots on Mirrors.
My shower door, which is also a mirror, has a black stain that is growing. It started out about 1 inch X 4 inches, and in about 6 months, spread to about 12 X 12 inches.
I realize it can't be fixed, but is there some way it could be stopped from spreading any more? I am very near sighted and need to stand close to the mirror to do my makeup. The mirror over the sink is too far away for me to use without glasses.
I'd like to stop the spreading if it is possible. Would just resealing it all around do any good?
By Ilsa T
AnswerWas this interesting? Yes No
Ad
---
---
Most Recent Answer
By Kateri S 1 02/19/20130 people found this helpful
Hi, Everyone! I came across this forum while I was surfing re mirrors. Ironically, only yesterday I placed an order with Amazon.com for a spray product by Krylon (Krylon #9033 Looking Glass Mirror-Like Paint) which is supposed to enable an ordinary piece of glass to be turned into a mirror by simply spraying the glass after proper cleaning. Apparently, this product is not simply a shiny or chrome paint. Reviews were consistently marvelous.

I do not believe this product will solve the root problem of a mirror being continuously subjected to moisture. However, I think it might help in other situations. I hope to incorporate Krylon's product into my art.

Here is the direct page via the Krylon URL
http://www.krylon.com/products/looking_glass_mirror_like_paint
I also loved the projects pages for their products.

Will update you after I give Krylon Looking Glass a try!
---
What causes a black rust like stain to appear on my bathroom mirror? It seems to permeate right through the glass.
By JoAnn H.
AnswerWas this interesting? Yes No
Ad
---
---
Most Recent Answer
By Louise B. 6 2,541 11/28/20110 people found this helpful
I have only ever seen this problem with very old mirrors. Is this a new mirror, or an antique one? I agree that it is likely the backing coming off.

I spray all my mirrors directly, and have for years. I don't have a problem, but thriftyvicki may be right. I don't spray so much on that it drips all over.
---
I have a problem with black spots on edge of a mirror. If we stop using liquid detergent on the mirror will the black spots cease growing in size and we can frame the mirror to conceal the spots?
By Rod P
AnswerWas this interesting? Yes No
---
Most Recent Answer
By Sandi/Poor But Proud 451 2,086 03/19/20120 people found this helpful
Or, you can embellish the mirror. Is the frame ornate or country? If you look at the mirror from across the room, what do you see?

Could you enhance with some lace, fabric, buttons, or glass paint and faux metal work?

If it's not the large wall kind, can you make it into a serving tray for tea cups, jewelry, or to display a collection?

If you love the item, you can fix it. There is no reason to get another mirror unless you break it. If nothing else, give it away and someone will be thrilled to have it.
---
I have a black, rust like stain that has appeared on my bathroom mirror. It doesn't seem to be on the surface of the glass, but seems to permeate right through. Any ideas what caused it and how to get rid of it?
By Suzanne from Swansea, MA
AnswerWas this interesting? Yes No
---
Most Recent Answer
By Vicki 24 428 08/27/20100 people found this helpful
The posters below have it correctly, the "silver" is coming off from the backing of the mirror. You can try and avoid this problem by never spraying a mirror with cleaner to clean it but by spraying a paper towel or whatever you use directly and then wiping off the mirror. Moisture collects on the mirror and can seep through if you spray window cleaner directly on it.
---
I have an old mirror which has black around the edge. Can this be repaired?
AnswerWas this interesting? Yes No
---
Most Recent Answer
By likekinds 110 431 03/06/20130 people found this helpful
You can find several videos on YouTube with detailed instructions for removing oxidized silver from a mirror, preparing the mirror for a new silver plate, and the actual silver application. It's not a task for the average 'do it yourselfer'. You may want to have it done professionally. The process is called 'resilvering a mirror'.

www.youtube.com/watch?v=U0TNwIhjbh4
I have a very old mirror that has a scratch on the silvering which shows on the front as a slight black line. Can I fix or camouflager it myself?
By Christine
The edge of my bathroom mirror (currently hidden by the frame) has a small nick to the silvering on the back. I am afraid it will grow/spread with time if left "untreated" creating a black spot on the visible portion of the mirror. What can I safely seal/coat the nick with now to keep it from growing/spreading with time?
By Jenny C.
Solutions: Fixing Black Spots on Mirrors
Do you have knowledge about this guide topic? Feel free to share a solution!
Archives
Thrifty Fun has been around so long that many of our pages have been reset several times. Archives are older versions of the page and the comments that were provided then.

I need some advice please on how to remove black spots on my bathroom mirror. I am unable to remove the mirror from the wall.
Please help,

Thanks in advance,

Andrea from London
Answers:
RE: Black Spots On Mirror
If the black spots are on the "far side" of the mirror, not on the surface, the silvering is likely damaged and there's not much you can do about that aside from taking it down and getting it redone.

Use stickers on the "good side" to cover up the black spots.
(01/15/2005)
By beanygurl
RE: Black Spots On Mirror
Sounds like the back of the mirror got wet or cleaner behind it which will in time remove the coating on the back of a mirror. If it's along the edges, you could put some kind of boarder or frame around it. I have an old round mirror that was all black around the edges and I used the glue gun and some silk flowers to cover it up. Or you can purchase etching cream from your local craft store ($9.00 for 8oz bottle) along with contact paper (roll of shelf liner) and Exacto Knife and make a design on the mirror to disguise any blemishes. I have made decorative mirrors using the etching cream which have come out beautiful. Apply the cream liberally with paint brush and leave on for 10-20 minutes. Directions are on bottle. (01/24/2005)

By gws67
RE: Black Spots On Mirror
The silver and copper layers are oxidized, you may buy new mirror with backboard in the future, then you can remove it easily when you meet this situation again. (01/07/2008)

By Andy Yu
My bathroom mirror's edges are fading. It has black splotches on the edges. What I can do to hide those splotches, maybe frame it? Any suggestions, please.

Erica from TN
Feedback:
RE: Black Spots On Mirror
I saw a program on HGTV where they built a frame that covered the outside edges of the mirror, and attached it to the mirror with Velcro. I think they used that light-weight pre-painted molding for the frame that's made out of some kind of foam product. (07/27/2008)

By Patty Lynn
RE: Black Spots On Mirror
The bottom edge of the mirrored wall above my mother's bathroom sink was similarly discolored. I used vinyl self-stick bath/tub/floor sealer trim that was scored in the middle to cover the bottom 1/2 inch or so of the mirror and the top of the adjacent molding. The tape comes in a variety of widths. I don't think guests will notice the fix. (07/27/2008)

By Holly
RE: Black Spots On Mirror
We had the same black spots where the silver had worn off along the edges of a huge wall sized mirror and before we sold the house we had to figure out some way to fix it without replacing the whole huge, mirror. When I saw what the folks down the street (that had an exact copy of our house) did with their bathroom mirror I was thrilled. They had framed it with an actual silver-toned picture frame that had black antiquing. I bet this custom framing cost a pretty penny, but simple wooden molding or a fancier crown molding, once painted to match the wall or with a contrasting color would look equally good.

* Here's a temporary solution for all of you renters out there. Take a grapevine wreath and soak it overnight in plain water in the bathtub or a storage tote. When it's been soaked in water overnight the vines on the wreath will become pliable. Now unwind the vines from the wreath and staple them to the bathroom wall around the edges of your mirror. Then the next day after the vine has dried out a bit, hot glue silk ivy or grape leaves and vines to it. Making sure to cover the staples with silk leaves to disguise them. This twining ivy or grape vine will look very real because of the real wooden vine. Be sure to place the ivy leaves so they cover the black spots in the mirror. I did this in a rental house and it turned out beautifully!

* Another tip: If you can get the mirror down, they make a silver mirror spray you can spray on the back. This mirror spray is made to turn glass into a mirror. You first clean the glass with rubbing alcohol, then spray on the silver mirror finish behind the glass. (07/27/2008)

By Cyinda
RE: Black Spots On Mirror
The ammonia in window cleaner when it is sprayed on the mirror and gets behind the mirror causes this. I don't think there is any way to fix it, short of re-silvering the mirror. The best way is to just try to hide it. (07/28/2008)

By susanmajp
RE: Black Spots On Mirror
Some of the home improvement stores sell strips of mirror that you can use to do a border. Or a mirror shop will do the same thing for you. It is just cheaper if you do it yourself. (07/28/2008)
RE: Black Spots On Mirror
You can't fix it, so hide it. I have done this for fixing holes in furniture and walls. I simply find some interesting buttons and tacky or hot glue them to the places I want to look nicer. You can also get stained glass paint and liquid lead and make a "faux" stained glass frame around the damaged edges. You will have to have the mirror on a flat surface though, as you don't want anything to run. Craft shops sell faux gems, tiles, and half beads that can make it very unique. Good luck! (07/30/2008)