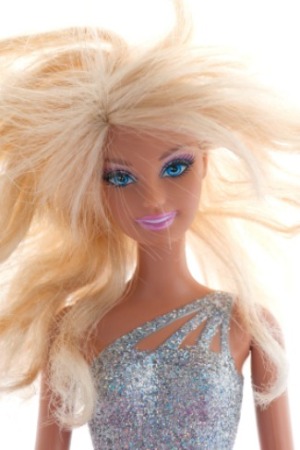 Lots of playtime can leave a doll with very messy hair. This guide is about fixing frizzy doll hair.
Ad
---
Solutions: Fixing Frizzy Doll Hair
Read and rate the best solutions below by giving them a "thumbs up".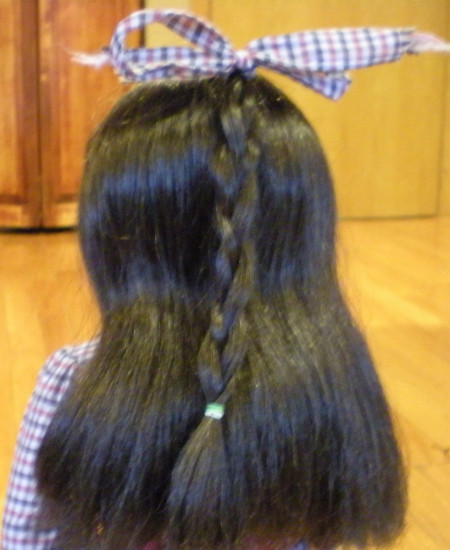 This is an easy and inexpensive way to repair American Girl Dolls' hair using household items.
Approximate Time: 4 hours (approx.)
Supplies:
1 tsp wig shampoo
6 fl oz liquid fabric softener
3 cups water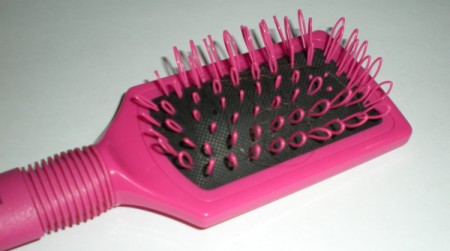 Ad
---
Steps:
First, you wash the doll's hair using directions on wig shampoo container. Rinse completely using lukewarm water, then pat dry gently.
Pour water and fabric softener into large container, or a sink.
Gently massage water/fabric softener mixture into doll's hair and let soak for approx. 1 1/2 to 2 hours in the mixture.
After soaking, rinse doll's hair in lukewarm water until mixture is completely removed.
Gently brush doll's hair with wig brush. If you have the American Girl brush, feel free to use it. But if not, you can find a wig brush at your local beauty supply store.
After brushing, pull hair into three sections and braid. If the ends are really frizzy and you can't braid them at the ends, spray with a hair detangling spray and wrap a hair tie around it.
Allow to dry for about 2 hours then take out of the braid(s). Gently brush the hair, and then leave to completely dry overnight, and then brush again. Enjoy your American Girl Doll's defrizzy hair!
By Debbie A [1]
You may need to do this multiple times to get full effect, but remember to space treatments apart.
My mom was a doll doctor. She would wash the doll hair with dish detergent. Allow it to dry. Use a curling iron to style it. Spray with hair spray to hold. Use the same process you would with a wig.

By lzygranny from NC
Give a "thumbs up" to the solution that worked the best! Do you have a better solution? Click here to share it!
Questions
Here are questions related to Fixing Frizzy Doll Hair.
I bought 2 used American Girl dolls for my daughter, they both have slightly frizzy hair. Does anyone know of a way to improve the hair so it will be less frizzy?

Thanks in advance for any help!

Jennifer from Bend, Oregon
AnswerWas this interesting? Yes No
Ad
---
---
Most Recent Answer
---
I recently purchased a Build-a-Bear Pinkie Pie plush pony that I adore! One issue is that her hair is already frizzing some. I tried to brush it, but it made the frizz worse. Is there a way to de-frizz and clean her hair safely? It is doll hair on a plushie. And if I do wash and condition it (if that is safe) is there a safe way to put the curls back in? Please let me know if you know anything about this.
By Heather
AnswerWas this interesting? Yes No
---
Most Recent Answer
By Susan T. 05/19/20140 people found this helpful
Isn't that odd! I just spent the morning combing out my oldest daughter's Pinkie Pie. I honestly thought it was a lost cause but I tried anyway. I used undiluted Downey fabric softener, just poured it on my hands and worked it into the mane and tail, gently working out tangles with my fingers as I could. I then used a detangling brush and brushed the ends out first, working my way back to the body.

It took a very long time, and some mats were too far gone and had to be cut out with tiny nail scissors, but she looks fabulous now. I rinsed out the fabric softener and rolled up sections with pipe cleaners. Next day, I took the pipe cleaners out and she looked lovely. Thanks for the tips, everyone!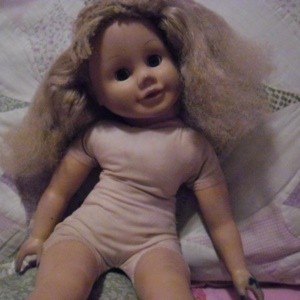 How do you fix your doll's hair when it is burnt? It is not a Barbie doll?
By Zar from Fresno, CA
AnswerWas this interesting? Yes No
---
Most Recent Answer
By Brenna B. 01/15/20150 people found this helpful
Sadly, when it's burnt like that, there isn't much you can do. If it's synthetic, it might have melted, but if it's natural, it's ruined, too. The doll looks like an American Girl. I suggest sending her to a doll hospital or doll restoration expert. It might be a shade expensive, but they're trained in putting in new hair and can probably teach you how to keep it from being burned in the future while still styling it.