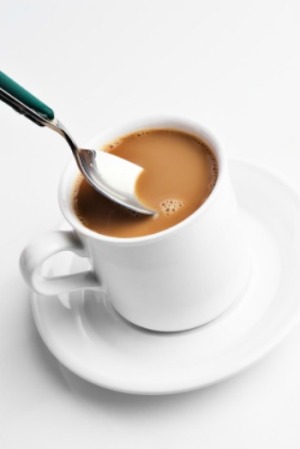 There are many different ways you can create a coffee powder to suit your taste. This guide contains flavored instant coffee recipes.
Ad
---
Solutions: Flavored Instant Coffee Recipes
Read and rate the best solutions below by giving them a "thumbs up".
International House of Coffees are very popular, and can be expensive, consider making these favorites at home. Not only are these tasty, you may want to consider making these up for friends as inexpensive gifts for friends, family, and co-workers.
Ingredients:
Cafe Bavarian Mint:
1/4 cup powdered creamer
1/3 cup sugar
1/4 cup instant coffee
2 Tbsp. Powdered Baking Cocoa
2 hard candy Peppermints
Cafe Cappuccino
1/4 cup powdered creamer
1/3 cup sugar
1/4 cup instant coffee
1 orange flavored piece of hard candy
Cafe Swiss Mocha
1/4 cup powdered creamer
1/3 cup sugar
1/4 cup instant coffee
2 Tbsp. powdered baking cocoa
Cafe Vienna
1/4 cup powered creamer
1/3 cup sugar
1/4 cup instant coffee
1/2 tsp. cinnamon
French Vanilla
1/4 cup instant coffee
1/4 cup granulated sugar plus
3 Tbsp. granulated sugar
1/2 cup Coffee-Mate creamer (plain)
1/4 cup French Vanilla Coffee-Mate creamer
Directions:
Processes in a blender on liquefy until well blended and store in an airtight container.
By Deeli from Richland, WA
I like using hazelnut flavored powdered creamer but French vanilla and caramel macchiato would be great tasting too ;-) Perfect for gift giving and when camping or traveling.
Ingredients:
1 1/2 cups flavored powdered non-dairy coffee creamer
1/2 cup instant hot chocolate mix
1 1/2 cups instant coffee granules
1 cup granulated sugar
Directions:
Stir together the coffee creamer, hot chocolate mix, instant coffee, and sugar in a bowl, transfer to an airtight container and store at room temperature.
To make 1 cup, spoon 2 heaping tablespoons of the mix into a coffee mug, add 1 cup of boiling water and stir until dissolved.
By Deeli from Richland, WA
Give a "thumbs up" to the solution that worked the best! Do you have a better solution? Click here to share it!
Questions
Here are questions related to Flavored Instant Coffee Recipes.
Does anyone out there have a recipe for instant swiss mocha coffee? Maxwell house international coffees makes the original but it's way too expensive (when you gobble up as much as i do).

Thanks,
Debralee from Port Alberni BC Canada
Ad
---
---
Most Recent Answer

By Tonya (Guest Post)07/06/2007
Default Iced Mochas
1 1/2 cups cold coffee
2 cups milk
1/4 cup chocolate syrup
1/4 cup white sugar

Pour coffee into ice cube tray. Freeze until solid, or overnight. (hey-no more dumping the last little bit in the pot down the drain ok?!)

In a blender, combine coffee ice cubes, milk, chocolate syrup and sugar. Blend until smooth. Pour into glasses and serve.
I need some simple quick recipes for flavored coffee? I am not wanting the flavored instant stuff they sell, but real coffee.
By Randa
Ad
---
---
Most Recent Answer

By proudgranny0811/14/2010
For French Vanilla flavored coffee I mix coffee creamer with instant French Vanilla pudding mix. You can use the sugar free,fat free kind. Experiment with the amount of puddding mix to the creamer and adjust it to your taste. I make some as Christmas gifts. This way there is no oily residue in your coffee.
My sister in law loves the French vanilla flavored instant coffees, but I have never run across a recipe that I can make and give as a gift. Any ideas?

Karla

By ThriftyFun.com Staff
---
Most Recent Answer

By Heather (Guest Post)07/13/2007
Hi, i love flavored instant or perked cofee too. Just use a few drops of vanilla extract, not the artificial kind. i also use almond extract, and sometimes fresh Cinnamon sticks for Christmas coffee.!