A pliant material that is great for craft projects with children. This guide contains foam craft ideas for kids.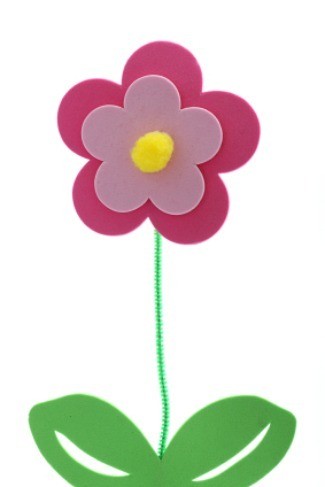 By Shirley 12 72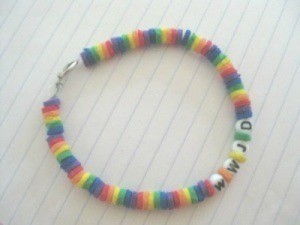 When my daughters were school age they were into making their own jewelry. One of the neatest projects they came up with was this bracelet made from the sheets of foam. They took a paper punch and punched out circles from the rainbow colors of the foam. They they strung them and added beads and a closure.
This technique could be adapted to the other cool punches out there, not to mention the variety of beads to choose from now! A great idea for kids and adults! Birthday gifts, birthday parties, Vacation Bible School, Camp Fire/Girl Scouts, organizations, etc!
Source: My creative daughters
By squirrley from West MI
Let the kids make a shamrock pin, created from craft foam, to wear on St. Patrick's Day. This would be a great classroom activity.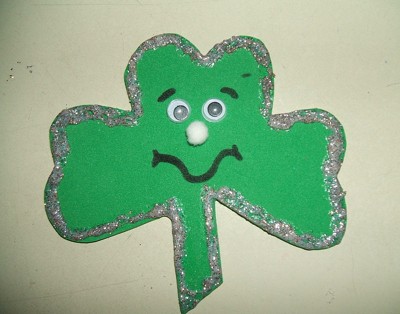 Approximate Time: About 1 hour
Supplies:
green craft foam
2 wiggly eyes
craft glue
gold glitter glue
black permanent marker
bar pin
small pom pom
pencil
scissors
Instructions:
Trace a shamrock onto green craft foam and cut out.
Outline the shamrock with glitter glue and allow to dry.
When dry, glue on wiggly eyes and pom pom for the nose.
Draw a mouth and eyebrows with a black permanent marker.
Turn the shamrock over and glue on a bar pin. Allow to dry completely.
By Rachel's Mom from Wilkesboro, NC
Using easy to cut foam craft sheets, you can make and decorate cans, boxes, lamps, etc.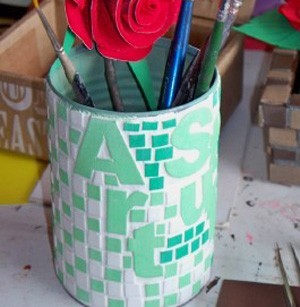 Approximate Time: 2 hours
Supplies:
foamie sheets
Tacky glue
craft knife/box cutter
ruler/straightedge
regular un-sanded grout
grout knife or spreader
various miscellaneous tools
Instructions:
Cut foam sheets into 1/2 inch squares. Use the ruler and carefully cut a piece of foam into half inch strips, then turn strips and cut into 1/2 inch squares.
Glue squares and any lettering or artwork unto a recycled tin can.
After drying overnight, grout the gaps with the plain, white, un-sanded grout.
Clean up any grout left on the "tiles" so that you have only the foam squares and grout lines showing.
Use a water based varnish or coating, seal the grout and tiles with 2 or more coats.
Use cans as pencil holders, brush caddies, or other office/craft supplies. Small boxes can be covered to look like ceramic planters to hold plants and or flowers.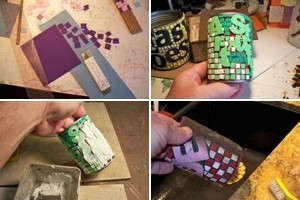 By Creativeman from Chatsworth, CA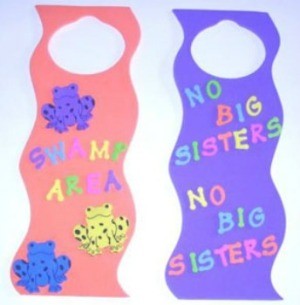 Most kids love to make their own doorknob signs and decorations. But these fun foam signs also incorporate a sense of humor into the craft. Instead of just putting their name on the sign, encourage the children to think of a slogan that they want others to know about their room. By sorting through foam letters, they can help hand/eye coordination and spelling.
Approximate Time: 15 minutes
Supplies:
foam doorknob sign
foam letters
foam pictures/animals
glue
Instructions:
Give each child a foam doorknob sign. Have them think up and write down the slogan they want to use.
Have the children sort a large supply of foam letters to find the exact letter and color needed.
Have children pick out any additional pictures they want to glue or draw on the sign.
Have children glue the letters into their slogan, then decorate the sign with foam pictures or hand drawings.
Slogans will need to be short and made of simple words, especially for young children. Try giving them ideas like:
Swamp Area
No big sisters (or big/little brothers and sisters)
No Cleaning Zone
Trash Pit
The Princess Palace
Wilderness Area
Weird Wonders Inside
No Adults
Boys Rule (Girls Rule)
Kid Heaven
By Aysha from Boise, ID
Summer isn't over yet. Keep the kids busy with this cute blue bird project to hang in a window!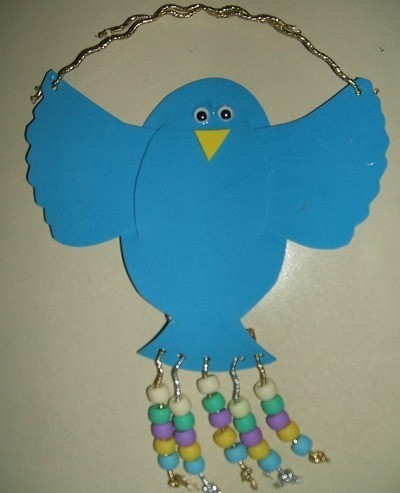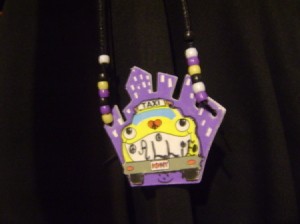 There are lots of foam shapes that you can use. You pick one out and then poke two holes or cut two small holes in each side. Pick a matching yarn, and then beads to go on the yarn, and then you have a cute little necklace.
The schools sometimes use these for ID on a field trip, but I am more comfortable with using shirts for ID on field trips. These are cute and fun though, and you don't have to put tons of beads in the necklace. It would be a cute idea to just give the supplies to you children and let the kids do the craft themselves.
The photo is of the one that the kids did at school a long time ago. It is so cute, I kept it all these years!
By Robyn from Tri-Cities, TN