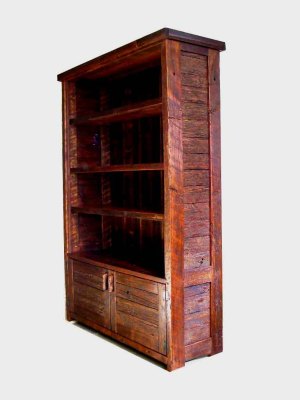 It doesn't have to cost a lot of money to decorate your home. This guide contains frugal decorating ideas.
Ad
---
Solutions: Frugal Decorating Ideas
Read and rate the best solutions below by giving them a "thumbs up".
I have a friend who is relocating for her new job and doesn't want to bring anything with her - or even buy new furniture, as she doesn't know how long she will be there. If I were her, I would use it as a chance to do some cheap experimental decorating.
Make a little side table out of a large roll of newspapers tied, with a glass plate on top. Or a pile of old hardback books. Make bottle lamps with converters from the hardware store, wine bottles and thrift shop shades. Use old wood crates for side tables. Make brick and board bookcases. Put your mattress on the floor. Put transparent contact paper on the windows for privacy.
Look around for neat found objects. (I had a big piece of wood I dragged in from a camping trip in the big living room of my old NYC apt. Or collect neat river stones or shells). Make a footstool from a foam cooler covered with a remnant. Make wastepaper baskets from recycled ice cream cardboard containers wangled from your local ice cream place. Recycle any and all containers you can. Be creative!
By Pamphyila from L.A., CA
I always find really nice place mats at local thrift stores. I like ones made from straw, seagrass, and other materials like that. I really like the ones that are loosely woven so you can see through them.
I have been redecorating my bedroom and found many items at yard sales, trash day, etc. I have a "new" hand made quilt for my bed that was given to me, and I needed something to accent it. Since I live on a fixed income, my brain went into gear. I had found some curtains, near a dumpster that I had brought home and washed, and I had put aside for whatever use I needed them for. I took one of the long curtain panels and wrapped 2 bed pillows in it lengthwise. I twisted it tight on each end and tied them with the same color ribbon. Voila! A bolster for my bed and it didn't really cost anything.

Source: This was my own idea.

By Barbara from VA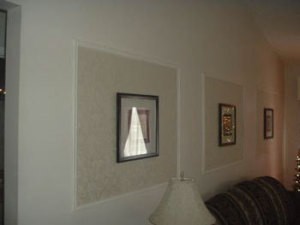 Large walls, but small budget? I had an extremely large wall behind my couch with cathedral ceilings and couldn't afford to buy large pictures to "balance" the room. Instead, we purchased very inexpensive wood molding from Home Depot, mitered it and attached to walls with finishing nails. Painted the molding to blend with wall and put in a very "neutral" wallpaper.
Then I was able to hang my much smaller and inexpensive wall pictures without them looking diminished on such a large wall. We also decided to use the same molding as a chair rail and put wall paper below to finish the look.
This was a great way to "balance" this very large wall in our living room without spending a lot of money on huge pictures.
By Marianne from Trenton, Ohio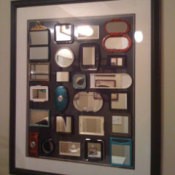 Save or collect cosmetic mirrors (pick them up at sales or thrift stores) and hot glue them to an acrylic or glass frame. Some are upside down. You can mat the background with a coordinating fabric of your choice (under the glass). I used a black 100% polyester here. This is a fun and interesting conversation piece that can go where ever you want to hang it! I hung mine in the guest bathroom - over the toilet! Everyone asks about it!
By PJ from Omaha, NE
For inexpensive artwork that looks like an oil painting, you can use a picture from an old calendar (or similar paper stock) by gluing it to poster board or cardboard and then lay a piece of cheese cloth over the picture. Next step is to brush on a thin coat of shellac over the cheese cloth. Once dry, cut the board and cheese cloth to fit the size of the picture. Place in a frame proper for the size. Bet you can find a frame in a dollar store or at a garage sale on the cheap ;-)

Source: Can't remember where I read this craft tip but it works great :-)

By Deeli from Richland, WA
I have been collecting wine and champagne corks for some time now. Never knew what to do with them. Now that I am moving to a brand new apt., a.k.a. clean slate. I asked my sister, who is an amazing decorator, how can I decorate my new apt. in "South Pacific, Figi, Tahitian" without spending so much money?"
She said, "Find a plain looking coffee table, plain end tables, even a plain lamp. Hot glue the corks in a bamboo, wicker pattern, maybe apply some polyurethane coating, pick up some baskets in a thrift shop and buy some tropical plants. Re-upholster dining room chairs with a South Pacific theme and you're good to go.
Tip courtesy of Cristy Gomez, written by her sister Mart.
MartArtist
Give a "thumbs up" to the solution that worked the best! Do you have a better solution? Click here to share it!
Questions
Here are questions related to Frugal Decorating Ideas.
I was looking for some super cheap decorating ideas for a small concrete fenced back yard, e.g., seating, lighting, plants, etc.
By Melissa B
AnswerWas this interesting? Yes No
Ad
---
---
Most Recent Answer
By Shauna [4] 06/12/20090 people found this helpful
Container garden! This year I discovered "recipes" for planters; from a "Spaghetti" planter with tomato plant and herbs; to colourful combinations and varying heights.

If you are a do-it-yourselfer, you could always trek down to the library to find books on building the furniture you want, maybe see if you could score some reclaimed wood from demolition sites. Another cool place to look is at the Architectural Clearinghouses; where construction materials are recycled. You could maybe find a cool old clawfoot tub for a planter... stuff like that. Craigslist and Kijiji are good too! Have fun!
---
I am looking for a frugal decorating website? Any ideas?
By Jenny from MN
AnswerWas this interesting? Yes No
Ad
---
---
Most Recent Answer
By Veronica [10] 01/29/20110 people found this helpful
Well, the best thing to do is to go to Google and type in "budget decorating" and see what comes up. I did that and thebudgetdecorator.com came up. It seems like a good website. I also found rentaldecorating.com, which is a great site.
---