By jude. (Guest Post)
May 21, 2008
0

found this helpful
If you want to find something a little more substantial, try Craig's List. I have found useful, beautiful and inexpensive household items and furniture on Craig's List.
Here is my living room with furnishings mainly obtained from Craig's List and Ebay.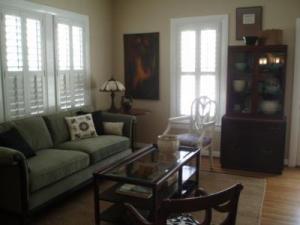 May 21, 2008
0

found this helpful
When I was newly married and just out of college, I had no money for furniture. I used what I had. We had a coffee table made from two milk crates with a wide leftover board on top. I had candles and such on top of that so you couldn't really see the milk crates unless you were looking underneath. We had the classic brick and board bookshelves lining the walls and a little loveseat that we had picked up on trash day and covered with a blanket.
My TV was on an old trunk that I had bought at a garage sail for about $10. We had art posters on the wall and plants everywhere.
One time, I had an acquaintance come over and she exclaimed "Your place is so nice!" Well, it was! It was clean, comfortable and welcoming, all without spending much money. I still try to "make do" whenever possible. Currently an old desk is doing double duty as a potting bench on my patio and I have an old sewing stand (cast iron legs) that is an aquarium stand.
May 21, 2008
0

found this helpful
i like the newspaper stack side table idea the best.
I plan on turning this http://flickr.c adow/2511365901/
into cost next to nothing wall art very soon.
By (Guest Post)
May 22, 2008
0

found this helpful
Instead of using newspaper for a side table, go to a place that makes draperies or a fabric store. Ask for the tubes that draperies come on and you can cut them down to size. You could cover them with remnant fabric or maybe even paint.
Tie together with cording at the top and the bottom. You might want to use some silicone caulk to keep them together but use it only at the edges where each cylinder meets.
May 23, 2008
0

found this helpful
My first solo appartment was decorated this way:
- Made some bean bags type seating just by sewing an old sheet and used shredded paper from the office as filling.
- Used a stack of books as a little side table to put my cup of tea next to my seating bags.
- Used emptied tomato cans for a veggies garden to add ambience and greenery. Served double purpose as you can eat the greens you grow.
- Used some empty plastic buckets from a nextdoor restaurant and an old door as a table.
- Glass bottles, be it wine or sodas, made great vases
- Got a nice chair from the street on garbage-removal day
*** The key is to use items that you can put in the recycle bin or give to charity organisation when you move.
I didn't know how long I would stay in this city. Was afraid of having a lot of furniture to relocate. I will use the same ideas if I ever need to move to another city for work purposes.
May 29, 2008
1

found this helpful
I lived in a 3rd world country years ago, and visited homes from a hut to a very nice house. The most important thing I took away was whether or not people took care of what they had. Keep everything clean and polished as possible, add a nice crisp piece of linen here and there and the humblest home can be peaceful and pleasant. Be where you are at in life and it will be just fine.
May 23, 2012
0

found this helpful
All good except the mattress on the floor. Creepy crawlers can get into the bed with you like Spiders, ants or roaches if the place has them.