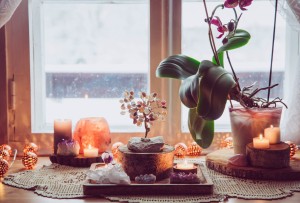 Feng shui is an ancient Chinese practice for arranging items in a harmonious way, also called geomancy. Feng shui is directly translated as wind/water. It is believed that properly placed items will increase the chi or qi, which translates into life force energy. The concept of yin/yang is also considered in the balancing process; yin is the feminine life force and yang is the masculine. This technique became popular in Western cultures in the 70s and remains in use today as a decorating technique.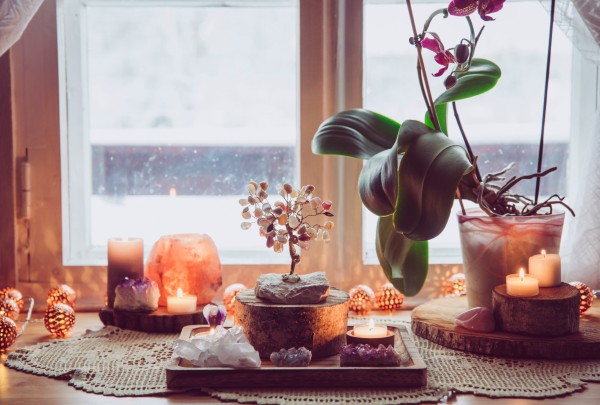 The practice uses the five natural elements; earth, fire, metal, water and wood. Earth symbolizes stability and strength and would be represented by rocks or crystals. Fire is passion and leadership, represented by candles or tall items. Metal is a symbol of intelligence and focus. Water symbolizes serenity and wisdom, shown by water features or mirrors. Wood is a symbol of growth or creativity and is represented by any living plants or wooden items. Corresponding colors can also be used; red for fire, blue for water, yellow for earth, green for wood and black, white or grey for metal.
It also uses the bagua map. The original uses the compass points to break up a space into an octagonal map, but the simplified version divides the space into a grid, starting at the main door. So your room or home would be split into 3 rows and 3 columns and you would use the appropriate items in the proper spaces for balance.
First Row: Wisdom (earth), Career (water), Helpful People (metal)
Middle Row: Family (wood), Health (earth), Children (metal)
Last Row: Wealth (wood), Fame (fire), Love (earth)
Another concept that is taken into account is the commanding position. Larger items like a bed or desk should be placed in the proper position for its purpose. A desk could symbolize wealth, career or even wisdom, depending on how it is used. If you have a home office, place it in the far left corner to increase your wealth. A school desk could be placed in the near left corner. However, you also want to be able to see the entrance when seated. This can be more difficult as the space gets smaller but it is something to consider.
This sounds very complicated and many decorators use only parts of feng shui as inspiration. Here are some easy decorating ideas that you can use in your own home or office.
Make sure your entrance is inviting and your spaces are free of clutter. It would ideally be airy and full of light. Make sure to remove any obstacles that might interfere with access to the rest of your home and have a place for shoes, mail or other sources of clutter. Many of Marie Kondo's techniques work perfectly with the practices of feng shui.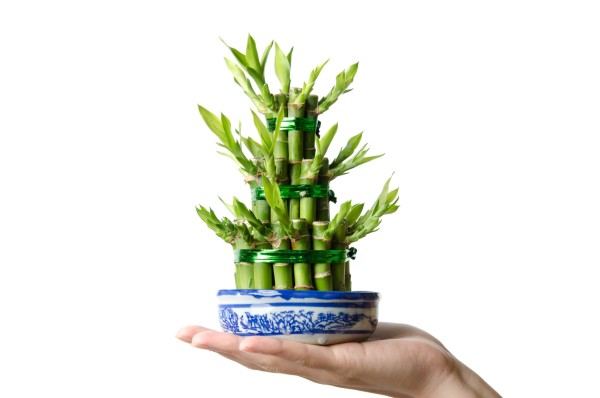 Add green and growing houseplants to your spaces to increase your wealth and productivity. Lucky bamboo (dracaena) is a popular and easy plant to grow. It represents growth and flexibility. Place on on your desk or near your front entrance to welcome your guests. If any houseplants are dead or dying, remove them immediately to prevent the negative energy.
Use appropriate colors to balance the different elements. If a small space doesn't have room for a water feature, use the color blue or photos of water for that element. Consider selecting your bedding, rugs or curtains with these ideas in mind.
Mirrors are considered important as they will reflect back either positive or negative energy. They should be placed perpendicular to the door or on the side wall of a hallway. You should make sure they are not reflecting anything negative. Sometimes, two parallel mirrors are used so that they continually reflect each other. Kitchens and workspaces are not good places for mirrors as they are thought to multiply the work, adding negative energy to your home.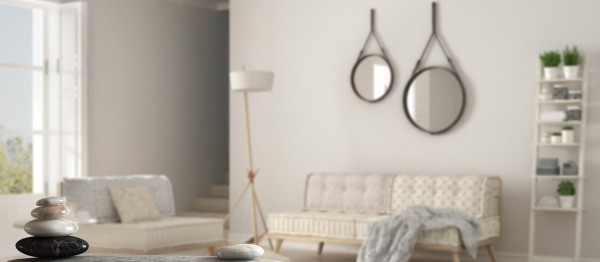 Please share your own feng shui tips and photos with us too.