Finding a lucrative, inexpensive way to raise money for all kinds of nonprofit organizations can be a challenge. This guide contains fundraiser ideas.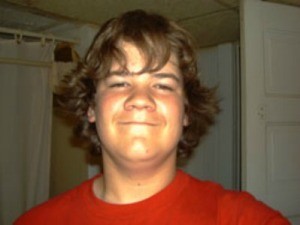 My son is vice president of his junior class. They are always looking for new ideas for fund raisers. They have done the car washes and sold food at sports events. Does anyone have any unique ideas of things to sell or anything else a little more refreshing?

Karen from Port Clinton, OH
Answer
Was this helpful?
Helpful?
Yes
Best Answer
I was student body president for 2 years in high school and one thing we did that was popular and a decent money maker was to have dress up days! We had a somewhat strict dress code and any break from that was great for the students. The most sucessful was Hat Day .. we weren't allowed to wear hats inside the building, unless you paid a dollar in your first class of the day .. then you could wear a hat all day! We used the honor system and it was a smaller school but you could use hand stamps or ribbons or something to denote the people who paid and were allowed to wear a hat! Teachers would get in to the act too, it was a fun, easy way to make extra cash that didn't distract too much.
Before this our big money maker had always been the soda machines .. since we were also trying to phase the "junk" machines out of the school we needed something new! We took the idea from sports teams who would wear jerseys on game days. We'd usually make $175 to $200 each day (HS population was around 250 kids) and have one of these days each month .. each was cleared through the principal of course. Other than the hat day, we did Pajama Day, Crazy Shirt Day (no logo shirts was part of our dress code), Opposite Day .. anything else you can think of! I think you have to be aware of your school to make sure it would work for you. We were a small, relativly close knit school which made it easier.
This was a great idea for our school .. there was no cost involved, other than our time, so the money we made was pure profit. It was popular with the students to the point where we were doing it one a month due to demand. We were able to give alot back to the school as well .. we had a big Field Day the last friday afternoon before final exams where we hired a band and took the afternoon off for a big barbeque on the football field. Plus extra dances, guest speakers, gifts to the school ect.
Good luck with whatever ideas you choose! I loved being part of my school's government .. it has served me well as an adult as well.
Rebekah
Reply
Was this helpful?
Helpful?
Yes
Best Answer
One easy and fun way to raise money for a school organization is to sell carnations for Valentine's day, or Hallograms for Halloween, or GradGrams around graduation, etc. The students sell these things for small amount of money and the other students get to send anyone they want a note. Everyone enjoys receiving them. They can write a note to the person or just sign it under a poem that is provided. Then the organizatin that sold the items gets together and hands them out to each homeroom. The most fun is the carnations at Valentine's Day.
My children also sold donuts to be delivered to the person's door on a given Saturday. This is more expensive now, however, due to the cost of gas.
Also, depending on the main theme of the school organization interested in making money, they can offer clinics for younger children on certain Saturdays. These are popular here, the dance team gives a clinic to learn a dance to a certain song, the cheerleaders teach a cheer, the football players have a punt, pass and kick competition in which they help younger kids learn some pointers, etc. The kids usually pay a $10 fee. You could have them on the same Saturday and all work together. Just use your imagination as to what could be offered. The elementary school kids and the Junior High kids enjoy these things and the moms like the half day off that it affords them (usually this is held from 8-12). Free refreshments are served, usually cookies and punch. As long as the high schoolers remember that they are role models to the younger kids this is a fun thing that can be used over and over again, as kids love this if it is a positive experience for them.
Reply
Was this helpful?
Helpful?
Yes
Best Answer
I'm the president of a club at my school and we sold pizza after school every Friday. We made major profit.
Reply
Was this helpful?
Helpful?
Yes
Read More Answers...
Does anyone have any good fund raising ideas for a high school volleyball team?

Margaret from Arlington, TN
Answer
Was this helpful?
Helpful?
Yes
Best Answer
How about a penny bomb? Each of the team members can have a jar with their name and their friends, neighbors, family, etc can donate their extra pennies. We were very successful at this one, even the staff and faculty donated.
Reply
Was this helpful?
Helpful?
Yes
Best Answer
Try Temporary Spirit tatoos. You can have ones made with your school logo or other design. You can have the team sell them before any big game or school event. The kids love them!
Reply
Was this helpful?
Helpful?
Yes
Best Answer
In our school, which is very small -- K to 12 with 140 students, one of the best fundraisers was a homemade soup sale. One of the mothers from the VB team organized these. Expenses were bowls, spoons, and napkins. Soup was dontated by the moms, served by the team. Homemade buns were also donated.
Another idea is the traditional goodie sale at school -- squares, cookies, muffins, etc. One mom I know brought cinnamon buns to school and baked them in the Home Ec room. The smell of baking cinnamon buns really helped sales.
Reply
Was this helpful?
Helpful?
Yes
Best Answer
Auction.
Get three of four groups together ranging from four to five students in each group and auction yourself in doing yard work such as weeding, mowing, racking, or shoveling the yard depending on the time of year. These things are sometimes hard to accomplish in peoples busy schedule so they will be thrilled for the help. Do thier yard work for 3 or so days. Start the biding at $10.
Reply
Was this helpful?
Helpful?
Yes
Read More Answers...
I need fund raising ideas for a nonprofit pet organization in my county. Can anyone help me please?

Carolyn from Appling, GA
Answer
Was this helpful?
Helpful?
Yes
Best Answer
Our local humane society just had an awareness week and had events almost every night.
Some of the events were:
a jewelry party
a motorcycle poker run
a karaoke night - everyone paid $5 to get up and sing a tune
a benefit concert
a local restaurant donated the proceeds from one night's sales to the humane society
Hope these ideas help!
Reply
Was this helpful?
Helpful?
Yes
Best Answer
I used to live near DeLand, Florida. There, every year (I believe it was on the weekend before Ash Wednesday), they had a family-friendly Mardi Gras parade for dogs. Families would bring their dogs, many in costume and always on a leash, to the downtown area. Some would walk their dogs down the street, and others would just bring their dogs and watch; the restored historic downtown area had quite a crowd every year. This was actually a benefit to raise money for a local theater, but I think it would be fabulous for a pet organization. The rules were that each dog had to be current on its shots, licensed, on a leash, not vicious, and not "in season" (heat). I believe they also had a minimum age for taking part in the parade and children below that age needed to have a parent or other adult walk with them as they walked the dog. The parade did not have any motorized vehicles in it, and was always really cute. They would have a different theme each year, such as outer space or Old New Orleans, and the parade dogs would be dressed up in costumes reflecting that theme. Prizes were awarded for best costume, smallest, largest, and oldest dogs, and they also had doggie talent shows and other related events. It was a family-oriented Mardi Gras and was absolutely adorable and lots of fun. You could get more information about it by contacting either the Sands Theater in DeLand, Florida, or MainStreet DeLand's offices. (Sorry I don't have addresses for either group.) The committee that put together this annual event was called the "Krewe of Barkalee," but it was affiliated with the theater.
Reply
Was this helpful?
Helpful?
Yes
Best Answer
We volunteer at our Humane Society in the fundraising part. They have 3 big events each year. One is a huge rummage sale of donated items that are collected throughout the year. They run a thrift store year round and get alot of donations. Every summer they take donated items that have been stored and they lease the National Guard Armory for a week. Mon - Thurs are set up days and Friday and Saturday are the Sale. Sunday is cleanup day. They raise $30-45,000.00 each year. We have worked with them for 5 years.
The second thing that they do is have a Fur Ball which is a gala event and they have a formal dance with silent auctions and gourmet food etc. and tickets for the event are quite pricey and donations just seem to flow in.
The third is called Santa Paws and they purchased a nice camera on a tripod and a printer. They set up at the mall with Santa Claus in a suit and a nice chair and for a fee you can get your pet's picture taken with Santa. They do dogs and cats and birds but nothing too gross or exotic, like creepy things - snakes, rats, gerbils etc. You can buy as many prints as you like or bring as many pets as you wish.
Simpler things are yard sales, bake sales, selling their logo or picture printed on their t-shirts, making their own calendar with pictures of the cute shelter animals, selling key chains or car magnets with their logo, etc. Hope this helps and gives you some ideas.
Reply
Was this helpful?
Helpful?
Yes
Best Answer
Try the following:
Garage Sale - a local animal shelter gets donated space from a storage company 1x/year & then they advertise for donated items in local newspapers, word-of-mouth, etc. They then hold a HUGE garage sale at the storage company which generates thousands of dollars for the animal shelter. It has become a well-known annual event in the area & each year there are hundreds of people lined up waiting for the doors to open!
Shop & Share - I live in the Chicago area. The local grocery stores (Jewel & Dominick's) have a program to help raise funds for animal shelters. This is how it works: every other month or so the shelters give out "coupons" to shop at those stores on certain days. The shopper shops on those days, turns in the "coupon" when checking out & the store will donate 5% of the shopper's total purchase to the animal shelter.
Some other ideas to try: igive.com; Car Wash/Dog Wash; Candy Bars; Bake Sales; Crafts, etc.
Good luck!
Reply
Was this helpful?
Helpful?
Yes
Read More Answers...
I need some inexpensive centerpiece ideas for 75 round tables. It is for a spaghetti dinner fundraiser. Many thanks for your help.
By Meg from Augusta, GA
Answer
Was this helpful?
Helpful?
Yes
Best Answer
Our RVing group had to decorate tables for a group of 350 people. Our budget was nearly zero. We purchased plastic table cloths for each table at a dollar-type store. We purchased a few extras in case some might get torn or whatever during the 3 days/nights of the event.
We came up with the idea of using the empty cans from vegetables, soups, fruits, and so on. We saved our cans for several weeks prior to the event. (Wash the insides first!) I can see your face now ! ha you are thinking how "tacky" is this? this gal has to be from Tennessee! ha! :)
Many of these cans have very colorful labels. Some purchased at the dollar-type stores were different than the regular old soup cans. Some labels on tomato sauces, spaghetti sauce cans would fit your theme.
We put some gravel in the bottom of each can, so they wouldn't turn over easily. And each gal in our group brought some silk flowers in the color scheme that we had chosen. (either from her "stash" or from a dollar store) After each can was full of colorful blooms, each table looked great!
We had so many compliments from people who ate at the tables. Several thought it was such a cute idea. Everybody has cans. Nobody had thought of using empty tin cans! At the end of the event, each gal was allowed to take her silk flowers back home with her. Which meant we ended up with just about zero cost for table decorations. And we re-cycled besides.
Reply
Was this helpful?
Helpful?
Yes
Best Answer
I would save the cans from spaghetti sauce, like Barb suggested. Then, put some cheap dried spaghetti out on a table with paper or a table cloth on it, and spray glitter them red, green, and white spray glitter. When dried, and you may have to apply several coats since they need to be rolled and sprayed, you simply put them in the cans and jars, mixing the colors. Enjoy!
Reply
Was this helpful?
Helpful?
Yes
Best Answer
How about the theme, "Spaghetti Western"? Your decorations could be western themed. Hankerchiefs are very cheap at craft stores, sometimes 3 or 4 for a dollar. You could use those as placemats or in the center of the table with a cactus centerpiece. Sunflowers are a cute idea for centerpieces too.
Everyone could wear boots and jeans, etc.
Another cheap way to cover tables is to buy a big roll of brown mailing paper (or craft paper) and draw cattle brands on it with brown markers.
I like the tomato sauce can ideas too. You could use small ones for tea-light holders. Just punch a few holes in them for the light to come through!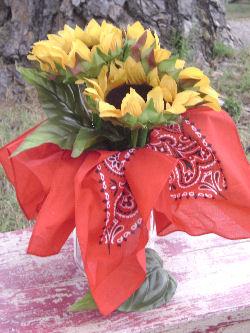 Reply
Was this helpful?
Helpful?
Yes
Read More Answers...
My class is planning a trip to Malawi in June 2008. As sports leaders we will be teaching/helping out in some P.E. classes. But before we go we have to raise the money to get us there. Altogether we need to raise about £10,000. We have been thinking of ways to raise the money but so far haven't got anything. I was just looking for some good ideas/ways to raise this sort of money!
lilme2k7 from uk
Answer
Was this helpful?
Helpful?
Yes
Best Answer
I suggest you do yard work/run errands/babysit/shop, especially for the elderly and single parents who may need the extra help. Try a fixed rate per hour and make sure you render an efficient and effective service, so that you build a good name. Open a bank account and make sure you receive the highest possible interest to add to you savings.
What a pity I cannot hire you to clean up my yard:)
Good Luck!!!
Reply
Was this helpful?
Helpful?
Yes
Best Answer
I was president of my daughter's chorus group's Booster Club and one thing we did to raise money was for each of the students to write to family members/friends/members of their church asking for a donation. In the letter, they described the trip, the benefits to be gained from the trip, and thanked them in advance for the donation. It worked! Give it a try!
Reply
Was this helpful?
Helpful?
Yes
Best Answer
How about doing a dinner (something inexpensive like spaghetti) with a silent auction of items you got donated from local businesses, art galleries, parents, etc. My neice is going to Ireland to compete in the World Irish Dance Competition and this is how her group raised their money. It worked really well.
To earn the rest of her portion here are some things she's done:
She had a garage sale at home with stuff donated from everyone she knows - she went and got it all and cleaned it, marked it, and did the sale herself
She has gone to the downtown area of her city during the weekend nights (with Dad/Mom as escort) and set up a little dance demonstration with a jar for donations. Since she also plays the violin, she's done that as well. People walking around from restaurants and bars have stopped and enjoyed her performances and she's earned up to $100 per night.
She has babysat and held workshops to teach younger girls how to babysit and make kits that they take with them. She charged them $10 each but they got the class and their first job through her.
In our city, curbs need to be painted with the house number on them so emergency vehicles can identify the address. She went around to new developments and did this for $15 per home. She made quite a bit of money doing this.
Hope these ideas help!
Reply
Was this helpful?
Helpful?
Yes
Best Answer
Besides bake sales, car washes and silent auctions, you can have what is called "trivia" night. Get donated items as prizes and incorporate the silent auction also. Our tables sat eight people at $10 each, so that was $80 a table plus whatever was earned from the silent auction. Sometimes you can use your donated items and raffle tickets at a local baseball or other type of "ball" game. Just have the announcer read off the winning ticket number. To get donated items I had 4-5 people take letters A-G, H-L, M-Q, S-Z and make calls to business in the telephone book. Or you can divide the callers by type of business. Then we had someone do the pickups. I helped a cancer victim with fundraising and these ideas always generated a lot of donations. Another thing we did was set up jars at restaurants for monetary donations. A nice flyer-poster beside the jar explained what we were raising the money for. It is best to have the same person do the pick-up every week so the restaurant people know who you are and they don't have to worry about a stranger coming in and stealing the money. Be sure to have the jar setting beside the cash register also so it is always in plain sight of the restaurant personnel.
Reply
Was this helpful?
Helpful?
Yes
Read More Answers...
I teach a Sunday school class for little kids 5-8yrs and I can't think of ideas to raise money fast. We don't have any money and we need to fix our room. Please I need help!

~God Bless You~

Emili from Chicago, IL
Answer
Was this helpful?
Helpful?
Yes
Best Answer
What about some type walk-a thon with people sponsoring each walker. I am not sure, but I think you sponsor so much per mile. Or ask your friends and family to each bake up one thing like brownies, fudge, or candies and collect them the next day and have a bake sale. Most Walmarts let you sell outside if you tell them its for a good reason. Our Walmart just had a craft show outside and they show the community how they sponsor that. They even set up a food booth with hotdogs and Cokes. You could even get all your unwanted household items like clothing, etc, and ask others to donate theirs as well and you schedule a day to pick them all up and then set up at a flea market on some Saturday and use the funds from there to redecorate your classroom. If you do the bake sale idea make up flyers on your computer telling about it when it is what is for and post them everywhere like laundromats, car washes, bulletin boards in grocery stores, some restaurants have bulletin boards as well. Just ask them first to make sure. Our Pizza Inn sponsors fund raisers all the time for many places like schools, churches going on mission trips, etc. They advertize with flyers ahead of time. All tips on those certain dates that they sponsor go to the event. Call your local Pizza Inn to see if they too participate in that.
Reply
Was this helpful?
Helpful?
Yes
Best Answer
My son who is now 47 used to make those little hot pot holders with the little plastic loom and knit loops. He sold them to the neighbors for walking around money. You can still get those looms fot not too much money. Your class is a good age bracket to do this sort of thing. With the holidays coming people in your church could buy "handmade by the kids" stuff for gifts.
Reply
Was this helpful?
Helpful?
Yes
Best Answer
I think this one is really easy! The kids color papers when in Sunday school class, right? So ask the pastor if you can have and auction. Do it during one of your Sunday socials and make sure all the congregation is aware it is going on. Have some of the mothers make treats and coffee have the pastor auction them off since he is use to speaking in public. Have the kids walk around showing there art to all the participants. I hope this works for you
Reply
Was this helpful?
Helpful?
Yes
Read More Answers...