I need fund raising ideas for a nonprofit pet organization in my county. Can anyone help me please?

Carolyn from Appling, GA
September 24, 2007
0

found this helpful
Best Answer
We volunteer at our Humane Society in the fundraising part. They have 3 big events each year. One is a huge rummage sale of donated items that are collected throughout the year. They run a thrift store year round and get alot of donations. Every summer they take donated items that have been stored and they lease the National Guard Armory for a week. Mon - Thurs are set up days and Friday and Saturday are the Sale. Sunday is cleanup day. They raise $30-45,000.00 each year. We have worked with them for 5 years.
The second thing that they do is have a Fur Ball which is a gala event and they have a formal dance with silent auctions and gourmet food etc. and tickets for the event are quite pricey and donations just seem to flow in.
The third is called Santa Paws and they purchased a nice camera on a tripod and a printer. They set up at the mall with Santa Claus in a suit and a nice chair and for a fee you can get your pet's picture taken with Santa. They do dogs and cats and birds but nothing too gross or exotic, like creepy things - snakes, rats, gerbils etc. You can buy as many prints as you like or bring as many pets as you wish.
Simpler things are yard sales, bake sales, selling their logo or picture printed on their t-shirts, making their own calendar with pictures of the cute shelter animals, selling key chains or car magnets with their logo, etc. Hope this helps and gives you some ideas.
September 26, 2007
0

found this helpful
Best Answer
Try the following:
Garage Sale - a local animal shelter gets donated space from a storage company 1x/year & then they advertise for donated items in local newspapers, word-of-mouth, etc. They then hold a HUGE garage sale at the storage company which generates thousands of dollars for the animal shelter. It has become a well-known annual event in the area & each year there are hundreds of people lined up waiting for the doors to open!
Shop & Share - I live in the Chicago area. The local grocery stores (Jewel & Dominick's) have a program to help raise funds for animal shelters. This is how it works: every other month or so the shelters give out "coupons" to shop at those stores on certain days. The shopper shops on those days, turns in the "coupon" when checking out & the store will donate 5% of the shopper's total purchase to the animal shelter.
Some other ideas to try: igive.com; Car Wash/Dog Wash; Candy Bars; Bake Sales; Crafts, etc.
Good luck!
June 27, 2016
0

found this helpful
Hi! My company has a very great program that helps raise money for animal non profits. It is called 4InkandToner.com. You do not have to sell anything. It is simple we make flyers for you. We save every customer up to 80% on ink and toner. We give your animal organization 20% of every sale ongoing. We give you a custom designed Web page and domain name just for your fundraiser. You get an easy to use online portal so you can see your progress. We send you a check quarterly. We charge nothing to you or your group. No deductions from the donation checks. You get a true 20% for the animals. Please give us a call or simply sign up at www.4InkandToner.com at the bottom of the home page, just click on "Become Our Affiliate Partner". 1-877-980-7467
I need some inexpensive centerpiece ideas for 75 round tables. It is for a spaghetti dinner fundraiser. Many thanks for your help.
By Meg from Augusta, GA
February 15, 2010
0

found this helpful
Best Answer
Our RVing group had to decorate tables for a group of 350 people. Our budget was nearly zero. We purchased plastic table cloths for each table at a dollar-type store. We purchased a few extras in case some might get torn or whatever during the 3 days/nights of the event.
We came up with the idea of using the empty cans from vegetables, soups, fruits, and so on. We saved our cans for several weeks prior to the event. (Wash the insides first!) I can see your face now ! ha you are thinking how "tacky" is this? this gal has to be from Tennessee! ha! :)
Many of these cans have very colorful labels. Some purchased at the dollar-type stores were different than the regular old soup cans. Some labels on tomato sauces, spaghetti sauce cans would fit your theme.
We put some gravel in the bottom of each can, so they wouldn't turn over easily. And each gal in our group brought some silk flowers in the color scheme that we had chosen. (either from her "stash" or from a dollar store) After each can was full of colorful blooms, each table looked great!
We had so many compliments from people who ate at the tables. Several thought it was such a cute idea. Everybody has cans. Nobody had thought of using empty tin cans! At the end of the event, each gal was allowed to take her silk flowers back home with her. Which meant we ended up with just about zero cost for table decorations. And we re-cycled besides.
February 19, 2010
0

found this helpful
Best Answer
I would save the cans from spaghetti sauce, like Barb suggested. Then, put some cheap dried spaghetti out on a table with paper or a table cloth on it, and spray glitter them red, green, and white spray glitter. When dried, and you may have to apply several coats since they need to be rolled and sprayed, you simply put them in the cans and jars, mixing the colors. Enjoy!
April 6, 2010
0

found this helpful
Best Answer
How about the theme, "Spaghetti Western"? Your decorations could be western themed. Hankerchiefs are very cheap at craft stores, sometimes 3 or 4 for a dollar. You could use those as placemats or in the center of the table with a cactus centerpiece. Sunflowers are a cute idea for centerpieces too.
Everyone could wear boots and jeans, etc.
Another cheap way to cover tables is to buy a big roll of brown mailing paper (or craft paper) and draw cattle brands on it with brown markers.
I like the tomato sauce can ideas too. You could use small ones for tea-light holders. Just punch a few holes in them for the light to come through!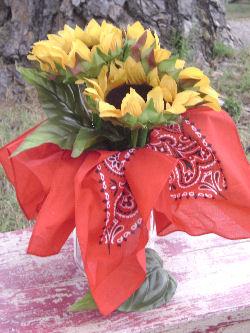 My class is planning a trip to Malawi in June 2008. As sports leaders we will be teaching/helping out in some P.E. classes. But before we go we have to raise the money to get us there. Altogether we need to raise about £10,000. We have been thinking of ways to raise the money but so far haven't got anything. I was just looking for some good ideas/ways to raise this sort of money!
lilme2k7 from uk
April 25, 2007
0

found this helpful
Best Answer
How about doing a dinner (something inexpensive like spaghetti) with a silent auction of items you got donated from local businesses, art galleries, parents, etc. My neice is going to Ireland to compete in the World Irish Dance Competition and this is how her group raised their money. It worked really well.
To earn the rest of her portion here are some things she's done:
She had a garage sale at home with stuff donated from everyone she knows - she went and got it all and cleaned it, marked it, and did the sale herself
She has gone to the downtown area of her city during the weekend nights (with Dad/Mom as escort) and set up a little dance demonstration with a jar for donations. Since she also plays the violin, she's done that as well. People walking around from restaurants and bars have stopped and enjoyed her performances and she's earned up to $100 per night.
She has babysat and held workshops to teach younger girls how to babysit and make kits that they take with them. She charged them $10 each but they got the class and their first job through her.
In our city, curbs need to be painted with the house number on them so emergency vehicles can identify the address. She went around to new developments and did this for $15 per home. She made quite a bit of money doing this.
Hope these ideas help!
April 29, 2007
0

found this helpful
Best Answer
Besides bake sales, car washes and silent auctions, you can have what is called "trivia" night. Get donated items as prizes and incorporate the silent auction also. Our tables sat eight people at $10 each, so that was $80 a table plus whatever was earned from the silent auction. Sometimes you can use your donated items and raffle tickets at a local baseball or other type of "ball" game. Just have the announcer read off the winning ticket number. To get donated items I had 4-5 people take letters A-G, H-L, M-Q, S-Z and make calls to business in the telephone book. Or you can divide the callers by type of business. Then we had someone do the pickups. I helped a cancer victim with fundraising and these ideas always generated a lot of donations. Another thing we did was set up jars at restaurants for monetary donations. A nice flyer-poster beside the jar explained what we were raising the money for. It is best to have the same person do the pick-up every week so the restaurant people know who you are and they don't have to worry about a stranger coming in and stealing the money. Be sure to have the jar setting beside the cash register also so it is always in plain sight of the restaurant personnel.
April 26, 2007
0

found this helpful
around here they have car washes!you could also have a bake sale flea market and do heavy advertising using poster board all over town. you could also advertise to take donations for it so the items sold are free to you.. in the spring you could sell seedlings you started door to door
I teach a Sunday school class for little kids 5-8yrs and I can't think of ideas to raise money fast. We don't have any money and we need to fix our room. Please I need help!

~God Bless You~

Emili from Chicago, IL
November 9, 2007
0

found this helpful
Best Answer
My son who is now 47 used to make those little hot pot holders with the little plastic loom and knit loops. He sold them to the neighbors for walking around money. You can still get those looms fot not too much money. Your class is a good age bracket to do this sort of thing. With the holidays coming people in your church could buy "handmade by the kids" stuff for gifts.
November 12, 2007
0

found this helpful
Best Answer
I think this one is really easy! The kids color papers when in Sunday school class, right? So ask the pastor if you can have and auction. Do it during one of your Sunday socials and make sure all the congregation is aware it is going on. Have some of the mothers make treats and coffee have the pastor auction them off since he is use to speaking in public. Have the kids walk around showing there art to all the participants. I hope this works for you
November 12, 2007
0

found this helpful
Dutch gardens offers a wonderful fundraiser where they do almost all the work and you get 50% of the sales. You can do a google search to get to their website.
I need to come up with some fundraisers for my daughter's fastpitch softball team. They are all 17 years old. We already have a car wash. Any great ideas? We need to make alot of money.
By Joyce from Pittsburgh, PA
February 15, 2010
0

found this helpful
Best Answer
Get local businesses to donate gift certificates or goods and then have a silent auction or a raffle. The girls can work in teams and approach four or five businesses each. They should have a letter explaining where the auction/raffle will be held, what the money raised will be used for, and how the sponsors will be recognized (they'll be looking for some kind of free advertising). Try to get working parents to donate something also. Hope that helps.
February 19, 2010
0

found this helpful
Best Answer
You might ask your local grocery if they'll let your ladies bag for donations. This was a great fundraiser for my kids' marching band a few years ago.
February 19, 2010
0

found this helpful
I do filled basket raffles. You make up a basket with products, Like breakfast, bath, lottery,etc. Ask business for gift certificates, Grocery markets give, Like Giant, or a local market. Rent a building & sell tickets to get in for $5.00. You get 25 chances for that. People can purchase an extra 25 for $3.00.
I have the name of company that makes tickets. Have light refreshments for extra money..Have door prizes & extra raffle for some large prizes sell tickets 2/$1.00 I can make $1000.00 that day. Advertise the event. If more info is needed email me.