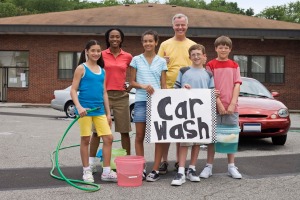 Finding a lucrative, inexpensive way to raise money for all kinds of nonprofit organizations can be a challenge. This guide contains fundraiser ideas.
Ad
---
Solutions: Fundraiser Ideas
Read and rate the best solutions below by giving them a "thumbs up".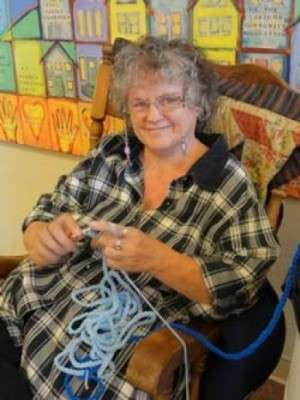 I am doing a fundraiser for Marion-Polk Food Share here in Salem, OR.
It's running from 10-1 to 11-29 and can be found and explained here at http://www.foodbythefoot.org
My goal is to crochet a 14k foot chain, to represent the 14k children the Food Share helps to feed each month, which doesn't even include the adults and seniors. My calendar shows where I will be and when, so if you live in Salem or Keizer, please come and support the cause. I am asking $5.00 per foot for as many feet as you want to pledge, which will help to buy seeds to grow food and for food itself.
You can also donate 4 ply yarn, as I will run out before my goal is reached. When the fundraiser is over, I am donating the yarn to folks who want to make hats and mufflers for the homeless. If you can help with that, please contact me through my website as well.
You can donate via my website at http://www.marionpolkfoodshare.org so if you can help, it would be greatly appreciated. You can also donate to the office directly by going to 1660 Salem Industrial Dr. in Salem, OR
No one should go hungry.
Thanks!
By Sandi (Poor But Proud) from Salem, OR
Penny Wars is an easy fundraiser that we have used several times in our office. You need several containers, we use 5 gallon water jugs, but even one gallon jugs would work. One jug for each of the groups. We use floors in our building, you could use departments, etc. You just set the jugs together somewhere people can see them. We use our lunch room, since it is a common area most people visit everyday. All the money collected in the jugs are points. Pennies are negative points, 'silver' coins and paper money are positive points. You put your pennies in other peoples jars, and 'silver' coins in your own. Everyone has change in their pockets/purse so it is not like you are asking for a large donation, but the money adds up. You can run the contest for a week or a month then donate the money to a worthy cause.
The winning group can get bragging rights, donuts for breakfast, so some other small incentive. It is fun and everyone gets rid of their change.
Source: Our office has done it several years now.
By ann [3]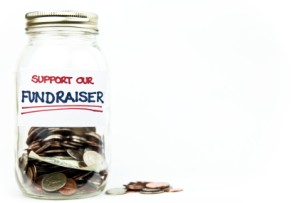 It seems like the economy has created a new draw to fundraisers. Few people have the extra money to buy high priced wrapping paper to benefit a school, and sending kids door to door with a sales brochure isn't safe. Instead, a myriad of companies offer fundraising for "shopping you'd do anyway."
It's not a bad idea, and it doesn't cost the schools anything to join nor does it require a lot of volunteers. If you're involved in your school's fundraising, check out some of these businesses and sign up. Even one shopper could earn a few dollars, and every school can use those.
Shop Online for Profit
Shop For Students is a website created primarily for the online fundraiser. The premise behind it is that 15% of your purchase is donated to your school with a cash check each month.
The selection of items for sale is limited, but with an offer to new vendors it could increase dramatically with little warning. Glancing over the prices, they're high, but most fundraisers factor the donation into the overall cost. For consumers looking to grab a bargain, this isn't the place. A prime example is the reusable grocery bags that sell for $6 and up. They're stylish, unlike those offered in the grocery store, so if you're looking to give them as gifts then they're worth it.
To counteract the few items with high prices, there are a few great bargains. The best one is probably the ink cartridges. They're re-manufactured but incredibly cheap, plus there's a donation to your school.
Overall, the fundraising aspect of this site is top notch. Upon signup, the school receives help with promotions of the site and links to add to the school website. Created by a father who sought to help his daughters raise money for their school without all the hassle, it has the potential to grow into an outstanding source for school funds.
Visit http://www.shopforstudents.com/Qstore.cgi to check it out.
Target the Sales
A nationally known fundraiser for schools is Target. If your school isn't registered, register it. Anyone who uses a Target Visa to purchase items at the store or online will earn a 1% donation to the affiliated school. When signing up for the Target card, you'll be prompted to enter the school you'd like to receive your donations.
Compare the 1% donation to the 15% donation in the previous website, and you'll see why a specialized online fundraiser is better. However, people won't have to be reminded to shop at a large box store like Target, and people who have no connection to your school can earn you money. Most Target Visa owners list their residing school district anyway.
Target also offers specialized fundraisers through their Take Charge of Education for schools that are interested. They claim to offer a variety of options from "tried and true" to "wackiness," so a little investigation might be worth it.
Giving Back to Schools
Office Depot also offers a 5% credit to schools for using its Back to Schools program. You need to know your school's Back to Schools ID number which can be found at the store or on the Office Depot website. For all qualifying purchases, the school linked to that number will receive a 5% credit.
Since many schools order their basic supplies from Office Depot, this program could reap some heavy rewards. The program is valid for online as well as in person purchases, and purchases made during the calendar year can still be applied to the school's credit voucher. If you purchased from Office Depot this calendar year but didn't credit it to the school, bring your receipt, and your school's ID to the store and ask for your purchase to be applied.
Start with getting an adult to find a restaurant near you to allow you to use use their facility. Then organize an "All you can eat pancake breakfast." Our school did this and made a $957 profit.
Good luck! :)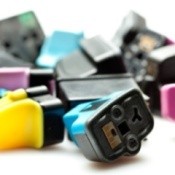 As schools suffer through budget cuts, fundraisers become even more important. Yet everyone is cutting back, and purchasing wrapping paper, candy, or raffle tickets isn't in the budget. Instead, look for some school fundraisers that don't take money from anyone's pocket while putting money in your own. Are you doing everything you can to bring extra money into your school?
Box Tops
A very popular fundraiser is the collection of box tops. Box Tops for Education is sponsored by various brands of grocery items such as Hamburger Helper, Juicy Juice, and Kleenex. Each brand prints the popular box top logo on their products, and then all you have to do is cut them out. By clipping the box tops and submitting them as a school, the companies donate $0.10 for every box top collected. Box Tops for Education runs special promotions that donate extra box tops or addition money for each box top to the school, so watch for them.
Go to http://www.boxtops4education.com to register your school.
Sunny D 20 for 20 Book Offer
Until November 30, 2010 Sunny D is offering twenty free books to your school just for collecting twenty Sunny D labels. Each class is eligible to receive the free books of the manufacturer's choice. While each class can only earn one set of free books, if every child in every class brings one or two Sunny D labels, then every class in every school can receive free books. Serve Sunny D at snack time or during a class party and earn books at the same time. There's also a contest for those schools who claim free books; your school could win thousands of dollars worth of books!
Visit http://www.sunnyd.com/contest-martina-mcbride-book-spree for more information.
Labels
Like the box tops, collect labels from products like Bic, Prego, and Campbells for the Labels for Education program. Different products have different point values, some worth one point and others worth five or even ten points. As a school, if you collect the labels you can trade them in for educational products through the program's merchandise catalog. For as little as 300 points, the school can earn art supplies. Larger point totals can earn outdoor and gym equipment, musical instruments, and other larger products for your school.
Participating products and redemption information can be found at http://www.labelsforeducation.com
Recycling
The Funding Factory encourages the school community to collect used printer ink cartridges to earn money for the school. Saving and recycling them protects the environment and raises money for schools as well. The school simply collects cartridges and mails them to the Funding Factory for redemption. The company even pays for the shipping. Like the Labels for Education, the Funding Factory also redeems the earned funds through a merchandise catalog. Once the collected cartridges are mailed, the company keeps an account that tallies the value, explaining that different cartridges are worth different amounts ranging from $1 to $30.
More information can be found at http://www.fundingfactory.com/programs/recycling
By Kelly Ann Butterbaugh
Needing a successful fundraiser? An organization back where my husband is from, each year has a "Chocolate Heaven" fundraiser, that brings in money better than any type of fundraiser they've ever tried. Everyone participating in this, bakes something chocolatey, the more decadent, the better. Cut the cakes, pies, etc. in smaller than average pieces. Line it all up buffet style, telling to only take what they can eat; they can go back as often as they please.

Invite those who are chocoholics and those with a sweet tooth. They are charged $10 a person. You know some folks are going to be very generous in their donations when they know it's going to a great cause especially when it's for a children's or young adult's program, and it's tax deductible, too.
Give a "thumbs up" to the solution that worked the best! Do you have a better solution? Click here to share it!
Questions
Here are questions related to Fundraiser Ideas.
I'm a member of our local Rescue Squad and I am looking for some ideas for fundraising for a non-profit organization. We have about 20 members and we are in great need of a "new" truck and tools. Is there anything out there that doesn't involve door-to-door selling? Also, we have a BBQ Festival coming up in our town and we set up a table under a small tent. What is something we could do on somewhat short notice to make some money while we're there? We only have about 2 weeks to prepare. Any ideas?

Thanks!
Renee from West TN
Ad
---
---
Best Answers

By badwater [242]09/20/2006
At our church's rummage sale, we have a bake sale and sell regular size homemade cookies, 5 in a ziploc for .50 cents a baggie. These always sell good. Some bake regular cookies, some bake Sugar Free cookies, & they ALL sell. Usually the cookies sell out first, over the other baked goods.

Also, in our area, I'm sure this is in your area, too. The local grocery stores, if asked, will donated a case or so of spaghetti and pasta sauce, for a donation for a benefit supper/dinner or event. Ask if your grocery store will do this for your Fire/Rescue Fundraiser. Then have a 'Spaghetti Feed'. Along with the spaghetti, serve a scoop or 2 of green salad w/dressing and a piece of cake, for a few bucks each. Tell the grocery stores in your area, what you're planning, they might even donate the whole list of ingredients to make the meal with. If not, ask one store for the spaghetti, ask another store for the pasta sauce, ask another store for the cake mixes/frostings, etc. (If you live in a big area).

Also, asking the grocery stores for donations, I've heard about selling Root Beer Floats & doing well with it. Best of Luck with whatever you choose to do and write back letting us know what route you chose.
---
Best Answers

By claudia York (Guest Post)09/20/2006
face painting for the kids is a big hit at our festival. Make it cheap like fifty cents and then the kids will keep coming back for more. Except for the paint, brush and paper towels, it is all pure profit.

Another group has a salad lunch. All the salads are donated by the members and the tickets are $4 and they are presold (set amount 50), or what ever your room can hold and you feel you can feed. That too is all profit.
---
Best Answers

By Mary Koehler [8]09/19/2006
As long as you have a table already, how about a used book sale. Sell paperbacks for .50 and hard cover $1.00 each.

How about a 50/50 raffle. Sell tickets for $1.00. When you draw the name out, they get half of what collected and organization gets the other half. You can do that at end of day, or every 2 hours or so.

Have someone bake large cookies and sell them for .50 each.
---
Best Answers

By Sandy from WI (Guest Post)09/19/2006
Contact local businesses and see if they can donate items for a silent auction. People bid on these items on paper and the ones with the highest bids get the items after paying for them. Be sure to ask for a phone number of the bidders.

A. Make bead bracelets and sell them.

B. Make some type(s) of Christmas ornaments and sell them.

C. Bake sales are always popular. Stick to foods that don't require refrigeration.

D. All of the above. Good luck and God Bless.