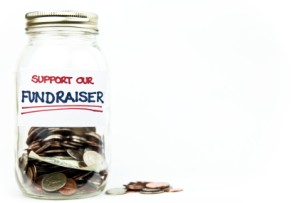 It seems like the economy has created a new draw to fundraisers. Few people have the extra money to buy high priced wrapping paper to benefit a school, and sending kids door to door with a sales brochure isn't safe. Instead, a myriad of companies offer fundraising for "shopping you'd do anyway."
It's not a bad idea, and it doesn't cost the schools anything to join nor does it require a lot of volunteers. If you're involved in your school's fundraising, check out some of these businesses and sign up. Even one shopper could earn a few dollars, and every school can use those.
Shop Online for Profit
Shop For Students is a website created primarily for the online fundraiser. The premise behind it is that 15% of your purchase is donated to your school with a cash check each month.
The selection of items for sale is limited, but with an offer to new vendors it could increase dramatically with little warning. Glancing over the prices, they're high, but most fundraisers factor the donation into the overall cost. For consumers looking to grab a bargain, this isn't the place. A prime example is the reusable grocery bags that sell for $6 and up. They're stylish, unlike those offered in the grocery store, so if you're looking to give them as gifts then they're worth it.
To counteract the few items with high prices, there are a few great bargains. The best one is probably the ink cartridges. They're re-manufactured but incredibly cheap, plus there's a donation to your school.
Overall, the fundraising aspect of this site is top notch. Upon signup, the school receives help with promotions of the site and links to add to the school website. Created by a father who sought to help his daughters raise money for their school without all the hassle, it has the potential to grow into an outstanding source for school funds.
Editor's Note: Shop for Students is now named 4InkandToner. They still have an affiliate program for schools, now offering 20% back. Here is their updated link:
Target the Sales
A nationally known fundraiser for schools is Target. If your school isn't registered, register it. Anyone who uses a Target Visa to purchase items at the store or online will earn a 1% donation to the affiliated school. When signing up for the Target card, you'll be prompted to enter the school you'd like to receive your donations.
Compare the 1% donation to the 15% donation in the previous website, and you'll see why a specialized online fundraiser is better. However, people won't have to be reminded to shop at a large box store like Target, and people who have no connection to your school can earn you money. Most Target Visa owners list their residing school district anyway.
Target also offers specialized fundraisers through their Take Charge of Education for schools that are interested. They claim to offer a variety of options from "tried and true" to "wackiness," so a little investigation might be worth it.
Giving Back to Schools
Office Depot also offers a 5% credit to schools for using its Back to Schools program. You need to know your school's Back to Schools ID number which can be found at the store or on the Office Depot website. For all qualifying purchases, the school linked to that number will receive a 5% credit.
Since many schools order their basic supplies from Office Depot, this program could reap some heavy rewards. The program is valid for online as well as in person purchases, and purchases made during the calendar year can still be applied to the school's credit voucher. If you purchased from Office Depot this calendar year but didn't credit it to the school, bring your receipt, and your school's ID to the store and ask for your purchase to be applied.