February 15, 2010
0

found this helpful
Best Answer
Our RVing group had to decorate tables for a group of 350 people. Our budget was nearly zero. We purchased plastic table cloths for each table at a dollar-type store. We purchased a few extras in case some might get torn or whatever during the 3 days/nights of the event.
We came up with the idea of using the empty cans from vegetables, soups, fruits, and so on. We saved our cans for several weeks prior to the event. (Wash the insides first!) I can see your face now ! ha you are thinking how "tacky" is this? this gal has to be from Tennessee! ha! :)
Many of these cans have very colorful labels. Some purchased at the dollar-type stores were different than the regular old soup cans. Some labels on tomato sauces, spaghetti sauce cans would fit your theme.
We put some gravel in the bottom of each can, so they wouldn't turn over easily. And each gal in our group brought some silk flowers in the color scheme that we had chosen. (either from her "stash" or from a dollar store) After each can was full of colorful blooms, each table looked great!
We had so many compliments from people who ate at the tables. Several thought it was such a cute idea. Everybody has cans. Nobody had thought of using empty tin cans! At the end of the event, each gal was allowed to take her silk flowers back home with her. Which meant we ended up with just about zero cost for table decorations. And we re-cycled besides.
February 19, 2010
0

found this helpful
Best Answer
I would save the cans from spaghetti sauce, like Barb suggested. Then, put some cheap dried spaghetti out on a table with paper or a table cloth on it, and spray glitter them red, green, and white spray glitter. When dried, and you may have to apply several coats since they need to be rolled and sprayed, you simply put them in the cans and jars, mixing the colors. Enjoy!
April 6, 2010
0

found this helpful
Best Answer
How about the theme, "Spaghetti Western"? Your decorations could be western themed. Hankerchiefs are very cheap at craft stores, sometimes 3 or 4 for a dollar. You could use those as placemats or in the center of the table with a cactus centerpiece. Sunflowers are a cute idea for centerpieces too.
Everyone could wear boots and jeans, etc.
Another cheap way to cover tables is to buy a big roll of brown mailing paper (or craft paper) and draw cattle brands on it with brown markers.
I like the tomato sauce can ideas too. You could use small ones for tea-light holders. Just punch a few holes in them for the light to come through!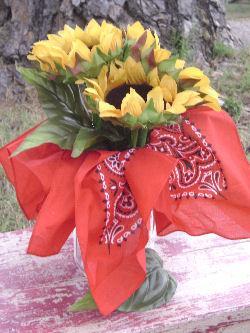 February 11, 2010
0

found this helpful
No centerpiece ideas off the top of my head (sorry!), but I wanted to share this recipe with you.
http://allrecip etti/Detail.aspx
I'm not sure how much you can call it a "recipe." You add water to your spaghetti sauce and then boil the pasta in the spaghetti sauce. I tried it this weekend, and it worked! It was nice to not have a separate pot for boiling pasta, and no colander for draining. It might help simplify things at your fundraiser.
Best of luck - hope you find some nice inexpensive centerpieces, and I hope you raise lots of money!
February 11, 2010
0

found this helpful
Please give us a little more info. What is purpose of the fundraiser? (Example: raising money for a cancer patient; raising money for a pet rescue; etc.) Knowing the purpose of the fundraiser might help the creative minds work toward the appropriate centerpiece idea.
Good luck with your project. I hope you are able to help your cause.
February 11, 2010
0

found this helpful
I see in the Thrifty Fun archives some really great ideas for Italian centerpieces. Here is the link: http://www.thri 4436461.tip.html
Have fun and good luck with your dinner!
February 14, 2010
0

found this helpful
I'm in the same boat trying to raise funds for our Grange. I would possible try to get the local florists to donate a silk arrangement then have a silent action or raffle off the centerpieces for additional money. Today I used 4 in pots of Flowers wrapped in heart printed plastic and tied with ribbon and also stuck in a heart pick. Cost was about $44.00 for all the supplies for 12.
Later I'll plant them at the Grange. Other than that the Thrift shops have some really nice baskets, and vases. You can scavenge large leafed weeds, wild mustard, local gardens with permission. Just be sure you know what your picking. You might be fined if it's a protected plant. dried arrangements, and pine cones. It would help to know the event, possible colors, etc. Good luck.