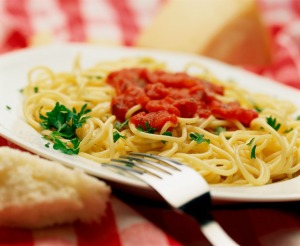 I need some inexpensive centerpiece ideas for 75 round tables. It is for a spaghetti dinner fundraiser. Many thanks for your help.
By Meg Duckworth from Augusta, GA

Answers

February 15, 2010
0

found this helpful
Best Answer
Our RVing group had to decorate tables for a group of 350 people. Our budget was nearly zero. We purchased plastic table cloths for each table at a dollar-type store. We purchased a few extras in case some might get torn or whatever during the 3 days/nights of the event.
We came up with the idea of using the empty cans from vegetables, soups, fruits, and so on. We saved our cans for several weeks prior to the event. (Wash the insides first!) I can see your face now ! ha you are thinking how "tacky" is this? this gal has to be from Tennessee! ha! :)
Many of these cans have very colorful labels. Some purchased at the dollar-type stores were different than the regular old soup cans. Some labels on tomato sauces, spaghetti sauce cans would fit your theme.
We put some gravel in the bottom of each can, so they wouldn't turn over easily. And each gal in our group brought some silk flowers in the color scheme that we had chosen. (either from her "stash" or from a dollar store) After each can was full of colorful blooms, each table looked great!
We had so many compliments from people who ate at the tables. Several thought it was such a cute idea. Everybody has cans. Nobody had thought of using empty tin cans! At the end of the event, each gal was allowed to take her silk flowers back home with her. Which meant we ended up with just about zero cost for table decorations. And we re-cycled besides.

February 19, 2010
0

found this helpful
Best Answer
I would save the cans from spaghetti sauce, like Barb suggested. Then, put some cheap dried spaghetti out on a table with paper or a table cloth on it, and spray glitter them red, green, and white spray glitter.
When dried, and you may have to apply several coats since they need to be rolled and sprayed, you simply put them in the cans and jars, mixing the colors. Enjoy!

April 6, 2010
0

found this helpful
Best Answer
How about the theme, "Spaghetti Western"? Your decorations could be western themed. Hankerchiefs are very cheap at craft stores, sometimes 3 or 4 for a dollar. You could use those as placemats or in the center of the table with a cactus centerpiece. Sunflowers are a cute idea for centerpieces too.
Everyone could wear boots and jeans, etc.
Another cheap way to cover tables is to buy a big roll of brown mailing paper (or craft paper) and draw cattle brands on it with brown markers.
I like the tomato sauce can ideas too. You could use small ones for tea-light holders. Just punch a few holes in them for the light to come through!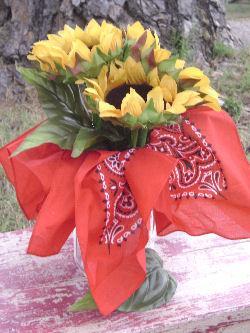 Answer

this Question
Two of my teens will be heading to Kenya, Africa this year on missions. My son on a medical mission for a month and my daughter on a humanitarian mission. We are so proud of them. I need decorating ideas for a pasta fundraiser to help cover the costs of the missions which are $5000.00 each so it is imperative that we do not spend a lot on decorating. I was thinking of maybe something involving Kenya's colours: black, red, and green. The venue is supplying white tablecloths.
By Kelly R.
Answers

March 31, 2013
0

found this helpful
Perhaps some appropriately-colored plasticware and paper plates. Perhaps some pictures of what your son and daughter will be doing in Kenya would be good.
Answer

this Question