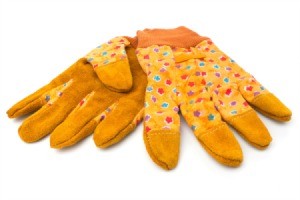 Garden gloves not only help protect your hands while gardening, they can also provide some unexpected benefits. This is a guide about garden gloves tips and tricks.
Ad
---
Solutions: Garden Glove Tips and Tricks
Read and rate the best solutions below by giving them a "thumbs up".
Before gardening, scrape your nails over a bar of soap. This makes it really easy to clean dirt from your nails after gardening. This also works when wearing gloves.
By Judy from Eugene, OR
My interest in gardening began at an early age. When I was around twelve, I bought a pack of icebox watermelon seeds from my school for a dime. I bought a small paper bag of fertilizer from the local milling company, and it was a dime.
I dug a circle in the back yard, worked the soil just so and planted the seed. All went very well. I think every seed sprouted.
At twelve, I was over anxious. I could hardly wait to see watermelons. I checked that little patch every day.
The vines grew rapidly. Soon, I had a dense cover of leaves. Ever day after school, the first thing I did was go to my watermelon patch, put my hands to the soil and spread back those leaves. I was looking for something, anything. Well, it wasn't long before I saw blossoms. I was tickled watermelon pink!
I continued to check the vines each day, looking for that first little melon. I was like a kid in a candy store. Well, one day something caught my eye. Oh, no! This won't do. Not at all. I saw a large Black Widow spider, right there in the leaves, right where I had been putting my hands every day.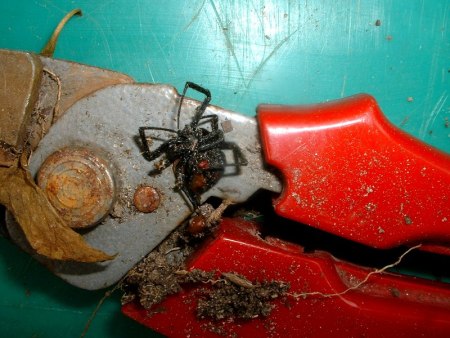 I backed off, turned and went to get a long handled shovel. I intended to smash the widow. When I returned with the shovel, I couldn't find the spider. I was sure I knew just where she was.
I started poking around with the shovel blade. I "will" find that spider. What I found was spiders. They were everywhere. I don't know if Black Widows colonize, or maybe wait until they're about grown before leaving the nest, but, I had disturbed them.
There must have been fifty or more....right in the middle of the patch...right where I had been putting my hands every day.
Yep, I was a bit shaky. I managed to run to the house where I got a garden rake, a tin can of kerosene and some matches.
I carefully kept my distance as best I could and raked all the vines into a pile. I poured kerosene on the pile and threw a match to it. That pile of vines and the spiders with it, were burned to ashes.
As jolted as I was, I soon forgot all the danger I had been exposed to. Children are that way.
Today, I was reworking a spent Vinca bed, making way for a bed of Viola. I like to lift and sift the soil each year. It gives me a chance to remove any cut worms, wire worms, grubs and any pecans the squirrels have planted.
Wouldn't you know, in the dirt I was crumbling with my bare hands over the screen was a big, juicy Black Widow spider. I almost shook hands with her. The back side of my trowel was her misfortune.
I read recently that the bite of a Black Widow spider can make one seriously ill, but is almost never fatal. I'll let you do the research. I don't know and I don't want to find out the hard way.
One thing's for sure. I've learned my lesson. Tomorrow, Doug will don the gloves. I hope all fellow gardeners will do the same.
Use your gardening time to give your hands the spa treatment. Before you put on your gardening gloves, coat your hands with a thick coating of moisturizer. Rake your nails across a bar of glycerine soap to put the soap beneath your nails, and rub olive oil into the nails themselves. While you are gardening, your hands will be moisturized. When you finish, use a nail brush to remove the soap and wash your hands.
By Chris
Before I start working in my garden, I put a thick coat of lotion on my hands then I put on my cotton garden gloves. When I finish in the garden, I pull off the gloves and have very soft hands.

By Leslie from Brandon, MS
Want to keep your hands warm while working outside during these cold winter months? Try this: Put on a pair of thin, disposable latex gloves, before putting on your usual gardening gloves. Your hands will stay toasty warm for hours. Try it!

By Laura from Elberta, AL
I often pass by my garden, and have found that I consistently pull little weeds out from the soil. Then I have to spend a few minutes trying to get the dirt out from under my fingernails. Now I leave an extra old pair of gardening gloves outside, right by the garden.

By Kat M.
Gardening, even with gloves on, can dry out your hands. Apply petroleum jelly or hand lotion to your hands before putting on your gardening gloves and your hands will be soft and smooth after a day of gardening.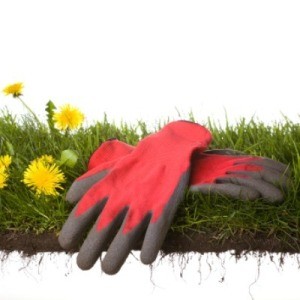 Gardening can be tough on your hands. All that digging, pruning, and weeding can leave your hands looking and feeling sad and neglected. A good set of gardening gloves is one the most important tools in a gardener's tool shed. Here are some tips for finding the perfect pair.
3 Reasons to Wear Gardening Gloves
Spend just one glove-less day working in the garden and you'll probably come up with dozens of good reasons why you should wear them. Here are just three:
Protection. No more worrying about scratches, thorns, and dirty fingernails.
Increased grip. Gloves increase your ability to grip tools, rocks, and heavy objects.
Moisture retention. Without gloves, soil tends to suck the moisture right out of exposed skin.
A Glove for Every Job
No matter what the gardening task is, a perfect glove exists to help with the job.
Working with chemicals: When spraying chemicals or handling fertilizers, use gloves made from chemical resistant fabrics like rubber, nitrile, or neoprene. These fabrics are also flexible, which allows you to pick up small object like caps and nozzles. Rubber is the most impermeable and will prevent liquids from coming into contact with your skin the best. The downside of impermeability is that it doesn't breathe as well, so you can expect your hands to get sweaty in a hurry.
Heavy-duty jobs: For jobs like pruning brambles or moving stones, you need thick gloves with long cuffs to protect your wrists from cuts, scrapes and prickly thorns. "Rose gauntlet" gloves are a perfect choice. They feature long, stiff cuffs to protect the forearms, and a soft leather hand for flexibility. Gloves made from synthetics materials such as Spectra and Kevlar are also great choice - especially when working with saws and knives. They are cut resistant, lightweight, and are designed to protect your hands when working with spiny plants or anything with a sharp edge.
Working with water: "Bog Gloves" are made from cotton that is dipped in a coating of Latex or PVC to waterproof the fingers and palms, making them the perfect choice for working around ponds and water features or when light tasks need completing during rainy or dewy conditions.
Everyday tasks: For less demanding tasks like raking, weeding, and cultivating, many gardeners prefer a medium-weight glove made from lightweight leather (usually goatskin or pigskin) or gloves made from a cotton/polyester blend. Another great fabric choice is bamboo. Not only is it lightweight and durable, bamboo is also vegan (not made from animals), anti-microbial, and offer more stretch than traditional fabrics. As an added bonus, bamboo doesn't shrink or bleed when you wash it.
Getting the Right Fit
When trying on gardening gloves, they should fit "snug" but never feel restrictive or tight. Men's and women's hands are shaped differently. To prevent blisters and avoid excess bulk, it's always best to select a glove that is made specifically for your gender.
A good pair of women's gloves will usually be cut narrower across the palms and slightly longer in the fingers to accommodate contours and fingernails of a woman's hands. If possible, try before you buy. If you're buying gloves blind (e.g. from a catalog or from an online store) try to choose among brands that feature a sizing chart.
Extra Special Features
At minimum, any gardening gloves you buy should be flexible, breathable, washable, and the appropriate weight for the job. For those who like a little more luxury, here are some other special features to look for:
Fabrics that offer UV protection.
Padded palms for extra comfort.
Gel-filled fingers to help prevent blisters.
Grommets or carabineers for easy attachment to clothing.
Velcro closures at the wrist to prevent dirt and debris from entering the glove.
One-piece construction at the fingers (no seams) to allow for greater sensitivity of touch.
Terry cloth "brow wipes" for wiping away sweat and debris (or scratching your nose).
Caring for Your Gardening Gloves
The best way to care for your gardening gloves really depends on the type that you have. Some can be machine washed; others will shrink and bleed. Check the manufacturer's care instruction on the label first. If the label is missing, try searching for the manufacturer on the Internet. Unless the care instructions specifically advise against it, nearly all gardening gloves can be machine washed in cold water using a mild detergent and dried on a low setting in the dryer.
Gloves made from cotton can be bleached. Leather and bamboo gloves can also be machine washed (cold water, mild detergent), but should be air dried. To restore their shape, squeeze them a few times and slip them on when they are nearly dry. Gloves with combination fabrics and rubber gloves should also be air-dried rather than placed in the dryer.
Another way to clean leather gloves is to gently scrub them with a pumice-based soap, such as Lava (you can do this while you're wearing them). Rinse them in a bucket of warm water and then hang the gloves on the line to dry. When they are nearly dry, put them on to restore their shape.
By Ellen Brown
Give a "thumbs up" to the solution that worked the best! Do you have a better solution? Click here to share it!