Graycie (Russian Blue - Somewhat)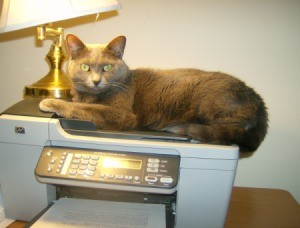 Graycie is an 8 year old Russian Blue (somewhat). We adopted Graycie from PetSmart in 2006. She climbs on anything, the higher the better and loves to sleep on our feet during the night. She also likes to sleep on the copy machine. I guess you could call her "copy-cat". We didn't think we wanted a cat at the time, but don't know what we would do without her now.
By Joan from Chesterfield, MI
Feedback
Read feedback for this post below. Click here to post feedback.

By
10/21/2012
Graycie is gorgeous, and I love the nickname CopyCat! I have a tuxedo male and a calico female who take turns sleeping on my printer, if I don't put a box on top of it. Unfortunately, in my house, the cats track dust and litter all over, and I have to keep them off the printer so the particles don't get inside and ruin it. My printer is on a trolley under the desk, so the box takes up the space and keeps the cats off, unless I forget to put it back. I guess Graycie doesn't give you these problems! Has she copied herself yet? Best wishes to you and your pretty kitty.
Post Feedback
Add your voice to the conversation.
Related Guides
Related Posts