Botanical Name:
Zea mays
Description:
Corn is a tall annual cereal grass that bears edible kernels on large ears. It has been widely cultivated throughout the world for centuries and is still a principal food crop in much of the world today.
Planting Time:
Corn should be planted in the spring when soil reaches a temperature of at least 50ºF. Cultivars with different maturity rates can be planted in two week intervals until 10 weeks prior to the first frost.
Exposure:
full sun
Soil:
well-drained, nutrient-rich soil with a pH of 5.5 to 6.8
Planting:
Sow seeds directly into shallow furrows in the garden at a rate of 3 seeds per 8 to 12 inches and 1 to 2 inches deep. Space rows at least 24 inches apart. Plant several short rows rather than 1 or 2 long rows to make it easier for plants to pollinate. Avoid the cross pollination of different varieties by planting them 250 to 300 yards from each other. Very small corn crops may need to be pollinated by hand.
Watering:
Keep soil evenly moist (not wet).
Maintenance:
Standard size seedlings should be thinned to 15 inches apart (dwarf size 8 inches apart). Cut extra seedlings with a scissors instead of pulling them out and possible damaging nearby plants. Corn plants are voracious feeders. Apply an organic fertilizer like compost tea as soon as leaves emerge and repeat applications every 3 to 4 weeks until silks appear on the ears.
Harvesting & Storage:
Corn is ready to harvest when the silk turns brown and the kernels expel a milky-colored liquid (not clear). Pick corn in the afternoon and consume it immediately or keep it in the refrigerator for up to one week. To dry corn, leave it on the stalk until the husks are dry and turn brown.
Diseases and Pests:
Corn is susceptible to damage from several types of insects and fungal diseases. Watch for signs of damage and look for cultivars resistant to common problems like wilt, smut, blight, rust and mosaic.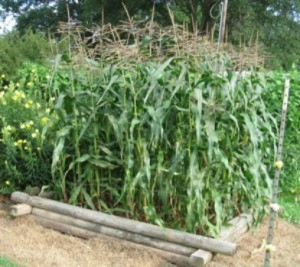 I planted corn seeds in this 8x8 foot raised bed. When they came up, I thinned to 64 plants. So there was about one plant per square foot. The soil used was a mix of potting soil and mulch that was about 6 feet deep.
I kept it watered and fertilized until it produced the corn. The variety of corn planted was Sugar Dots Hybrid, a sweet corn. The end result was 60 ears of very nice corn.
By Deanna from Spearsville, LA
August 20, 2009
0

found this helpful
Sorry about the mistake I made on the depth of soil and mulch used in the raised bed. It should be 6 inches instead of 6 feet.
Read More Comments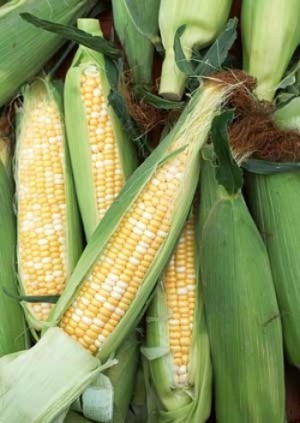 Summer just wouldn't be the same without eating juicy, sweet, corn-on-the-cob. Selecting and growing a corn variety that gives you the sweet flavor you're looking for can be a bit confusing unless you're able to sort through some names and abbreviations. Here are the basics on understanding corn varieties and some tips on growing a sweet and successful crop.
Understanding Corn Lingo
Corn is either open-pollinated or hybridized and ranges in flavor from mildly sweet, to sweet, to very sweet. There are four main classifications of sweet corn: open-pollinated (OP), normal (standard) sugary (su), sugar enhanced (se) and super sweets (sh2). Many companies assign different names within the same categories, but they all use the designated abbreviations consistently.
Open Pollinated (OP)
Also referred to as normal or non-hybrid corns, these corn varieties are the heirloom varieties that were popular during the first half of the 20th century. Pampoon' is a well-known OP variety that was grown by the Iroquois as far back as 1779. Saving seeds from open pollinated corn will give you offspring similar to the parent plant providing that the corn is kept at least 100 feet away from other varieties during pollination. These varieties tend to be less sweet then the modern varieties. Their sugars turn to starch within hours after harvesting, so they need to be cooked immediately after harvesting to preserve their flavor. If you cook a lot of southwest dishes, open pollinated varieties are good choice for your garden. Try Golden Bantam.'
Normal (Standard) Sugary (Su or SU)
These corns are mildly sweet and are known to be more tolerant of cool weather. First popular in the 1970s and 80s, normal sugary varieties also convert their sugars into starch within a few hours of harvesting and should be cooked as soon as possible after picking. These corns are sometimes referred to as normal sugary hybrids, standard hybrids and regular sweet hybrids. Developed in the 1960s, Silver Queen' is a variety that remains popular today.
Sugar Enhanced (se or SE)
Sometimes referred to as sugary enhance hybrids, these corns are a step up in sweetness from the normal sugary varieties. Known for their tender kernels and sweet flavor, SE varieties are a good choice for the backyard gardener or someone growing corn for the first time. These hybrids offer gardeners a greater window for harvesting before losing their sweet flavor and don't need to be kept isolated from other varieties. Try Kandy Korn' or Bodacious' for freezing.
Super Sweets (sh2)
The dry seeds of super sweets are wrinkled and shrived (hence the sh) because they contain very little starch. This gives them the sweetest flavor of all corn varieties and allows them to maintain their flavor for up to 10 days after being harvested. Super Sweets varieties are best suited for the more experienced gardener. They need to be kept isolated (as least 50 feet) or risk turning tough and starchy from cross-pollination, and their seeds are prone to rotting in wet soil. Try Supersweet Jubilee.'
Corn Likes to Be Warm
If you live in a cooler climate, select a variety that ripens early. Plant corn in full sun and make sure the soil is nutrient rich and offers good drainage. The rate at which corn matures varies considerably by climate conditions, but "early" corn varieties generally mature in less than 75 days, "midseason" varieties in 75-80 days, and "late" season varieties take 85 days or longer.
Sow Seeds Directly
Unless your growing season is really short, it's best to sow corn seed directly into the soil. Seedlings are fragile and have shallow roots. Transplanting them increases the likelihood of pest and disease problems. Seeds should be planted about 1 inch deep and 4 inches apart in rows that are 2 to 3 feet apart. As soon as plants reach 6 inches in height they should be thinned to 6 inches apart.
Plant Blocks of Stalks
Corn is pollinated by wind. To avoid underdeveloped kernels or the absence of developing ears, plant stalks in blocks at least 3 to 4 rows wide. If blocks are not possible, plan on hand pollinating stalks.
Feed & Water Well
Corn is one of the heaviest feeders in the garden. Apply an organic fertilizer during planting, when plants reach a height of 1 foot and again when they reach 3 feet tall. Corn needs an inch of water per week-especially during the period from tasseling through harvest. As soon as the soil warms up, mulching around seedlings will conserve water and help control weeds.
Control Cutworms & Borers
Rotate corn crops and sprinkle diatomaceous earth over the seeds after planting. Use a cotton swab or medicine dropper to apply 1/4 teaspoon of mineral oil around the base of silks as they appear. An alternative would be to spray Bt (bacillus thuringiensis) on the silks as they turn brown to prevent worms from entering. Bt is an organic bacterium and is safe to use around children and pets. It will harm all caterpillars, however, (including butterfly) so use it only on select plants and as a last resort.
For the first time I have planted a few corn plants, is it necessary to detassel, or can you leave the tassels on and still get corn?
By jim
June 29, 2013
0

found this helpful
The tassles are a necessary part of fertilization process. You should also plant corn in a block, ie say 4 rows by 4-6 in a row, to help fertilize.
July 1, 2013
0

found this helpful
You need to leave those tassels (also known as 'silks') on the new ears for a number of reasons including as a way to know when the ears are ready to harvest.
Count 21 days from the first appearance of the tassels to know when your corn is ready:)
July 8, 2013
0

found this helpful
The tassels are at the top of the plant. They send pollen down to the silk that grows from the ears of corn. The silk catches the pollen to pollinate the corn rows on each cob. Removing either the tassels or the silk will not allow the pollination process to form corn rows on the cobs. Leave both intact.
Q:
Last year I planted the same garden as I have for the last 5 years: tomatoes, peppers, corn, zucchini, green beans, exc. The problem is that the zucchini and the corn did nothing. The plants were there but the corn (I planted 6 or 8 rows) came up with only 4 corn plants which the bugs took care of. One zucchini plant came up and it got a couple of leaves and that's it, it stayed the same size and grew no zucchinis at all. Is there some nutrient or something that I should be adding to the soil besides compost? I had plenty of tomatoes and peppers.
Hardiness Zone: 5a
Pakjc from kentland, Indiana
A: Hi Pakjc,
Corn and Zucchini are both heavy nitrogen feeders, so if you are not rotating the location of your vegetables yearly, past crops may have depleted the nitrogen out of the soil. Even if you're using compost, it may not have contained enough nitrogen or it may simply not have had enough time to add nutrients to your soil. Beans fix nitrogen, which is exactly what corn and zucchini need a lot of. Try rotating your beans with your zucchini and corn by planting your corn and zucchini where your beans were last year and see what happens. This will also interrupt the cycle of certain soil-dwelling insects like wireworm or seed-corn maggots should they be present. You can also try planting a cover crop of clover (also nitrogen fixing) in the fall and tilling it in next spring. If things don't change for you this year, I would recommend getting your soil tested.
Ellen
By guest (Guest Post)
May 21, 2007
0

found this helpful
I have just planted some corn which are atleast 10 inches high, they have been ok untill today. Some of the leaves have gone brown and slightly whilted ?
can anyone help ?
By guest (Guest Post)
July 1, 2007
0

found this helpful
Some of my corn stalks are approx. 10-12 inches others are much shorter. They all seem to be yellowing and not growing like they did initially. What can I do to encourage the growth on all corn stalks and help them produce corn?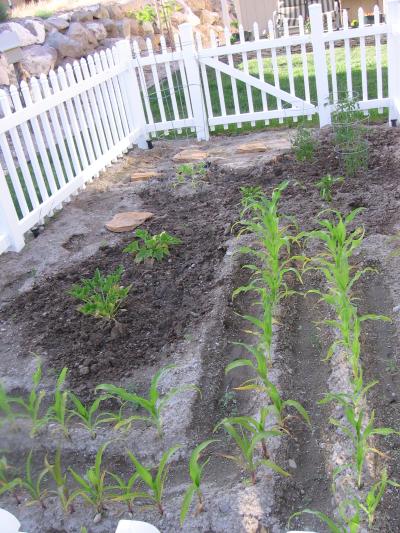 By guest (Guest Post)
November 8, 2007
0

found this helpful
I, like the guy before me, have had problems when growing corn. Six years ago I had plants about 8 feet tall and the corn was very sweet. Since then the plants have only got 3 ft tall the corn cob has only reached the lenght of 3"
The canes are extremely small. I have added the basic 10 10 10 10 I put all sorts of vegetable peels banana, ect. I took the plants over to a nursery and even that guy just scratched his head. HELP
Read More Answers
July 26, 2006
0

found this helpful
We are growing 16 corn plants in an earthbox. I don't know what to expect. Right now, the plants are at different heights 4-5 feet, but gangly and a pale green. Flower stalks have formed, but I am wondering when and if they will form corn with the silk tassels, and if I am giving it too much water. Today, I plan to give it a sea weed drink. What do you think?
Hardiness Zone: 9a
Annie from Sacramento
Answer:
From what I know about Earthboxes, it's impossible to water them too much (or too little) as long as you keep the water reservoir full. Because Earthboxes come with potting mix and the appropriate amount of fertilizer, you shouldn't need to supply your corn with additional nutrients. I'm assuming that your Earthbox was commercially purchased and that you're using the soil and fertilizer granules that came with the kit. Adding a liquid fertilizer actually defeats the purpose of the Earthbox system. It's set up to work on a gradient-nutrients move from areas of a higher concentration to areas of lower concentration. Dry fertilizer is placed in a band around the plants on the top of the potting soil. When water is added, the moist potting soil slowly pulls nutrients down to the plant's roots so the plants have a steady and stable supply of nutrients. The moisture in the soil dilutes the fertilizer and prevents the plant's roots from getting burned. Adding liquid nutrients would destabilize this process and possibly damage the roots of your plants. Gangly, pale green stalks may signal your corn is not getting enough sun. If, on the other hand, you didn't fertilize using the fertilizer supplied with your Earthbox, your corn is probably very hungry and you can go ahead and give it some diluted liquid fertilizer. Ears should form as soon as the stalks are pollinated.
Ellen
July 5, 2006
0

found this helpful
You are certainly doing okay with an earthbox but corn must have 2 things--lot's of SUN and tremendous amounts of FERTILIZER. I have been too sick to have a large garden so I planted 18 corn plants in a small raised bed. But I had to purchase the young plants and transplant them. They were light colored and sickly looking until I started giving them Fish Emulsian fertilizer each day. I will give them this food dose each day until they are healthier. The tassles will form, but if there is not enough wind or birds to spread the pollen, you can tkae your hand and shake the tassles on each other to pollinate.