Solutions
Share a solution for this guide today!
Questions
Here are questions related to Growing Rose of Sharon.
White Bugs on Rose of Sharon
I have noticed some white bugs or larvae under the leaves of my Rose of Sharon. They are powdery, and are not bothering the bush at this time. It is an established bush and this year is the first time I have ever seen these white larvae or bugs. We have had a rainy season for the last month. Could this have affected the growth of these things. Are they toxic?
By Nancy E. from Southbury, CT
Photos
Here are photos related to this page. Rate the photos that you like the best.
Click here
share a photo.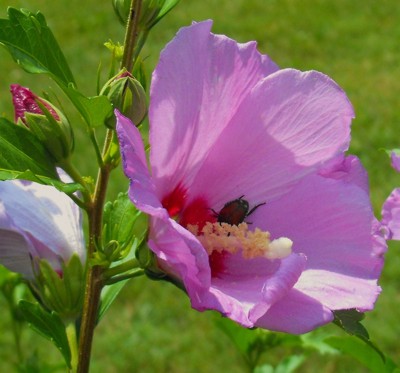 Here is a Japanese Beetle having a snack in my Rose of Sharon blossom. It is in my back yard. This year is the first year that the entire bush is covered with blossoms.
READ MORE
Archives
Here are archived discussions related to this page.
Garden: Rose Of Sharon
Wild Rose of Sharon after a summer shower.
By Chuck from Canton, OH