I planted a woody hibiscus tree that my husband dug up on the side of the road; I didn't know if it would thrive or not. My husband calls it "swamp cotton" because of the beauty of the blossom that looks like a cotton blossom. It is an exquisite decoration to my yard.
By JOSE from Collierville, Tennessee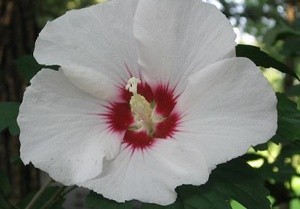 Comments
Read More Comments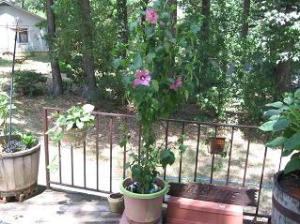 This woody hibiscus was literally "plucked" from the side of the road. My husband was on a road call for his company - he is a diesel mechanic. He spotted these plants growing on the side of the road in a ditch. He brought it home and I rooted it and planted it in a pot. This is the first year it has bloomed. We enjoy it and it is special to me because my husband "picked" it for me and brought it home. It attracts red throated hummingbirds and that is a joy to watch the hummingbirds feeding in the beautiful pink blooms
By WandaJo from Collierville, TN
Answers:
Woody Hibiscus
Pretty!(08/03/2006)

By Jean in GA
Woody Hibiscus
Pretty and how special. (08/03/2006)

Woody Hibiscus
Looks like a Rose of Sharon to me. (08/03/2006)

By Susan Ide
Woody Hibiscus
That's doubly-special because it's unique and so lovely, but more importantly your husband took the time to bring it to you! You must treat him like a king? (08/03/2006)

By Lynda
Woody Hibiscus
Our oldest son gives me one of these on Mother's Day every year and they are just beautiful. I also enjoy them. (08/04/2006)

By Trudy
Woody Hibiscus
Hibiscus and Rose of Sharon's flowers do look alike, but the leaves are larger on a hibiscus (like that one) and a rose of Sharon grows much larger, in a tree. Mine are huge and I just started a hibiscus from seed this year so it will be a while before I get flowers. (08/04/2006)
Woody Hibiscus
That is very lovely, but it is a rose of Sharon, not a hibiscus (08/04/2006)

By darrice
Woody Hibiscus
Thank you for clarifying what this plant is; I have heard them called Woody Hibiscus - in fact my mother called them by that name. I love them and to watch the hummingbirds feed on them is a treat. (08/04/2006)

By JOSE
Woody Hibiscus
A rose of Sharon is a hibiscus (a woody hibiscus), botanical name "hibiscus syriacus"

By Susan from ThriftyFun (08/04/2006)