Making foods into the shape of a heart transforms them from ordinary to special. This an easy way to celebrate Valentine's Day at home. This is a guide about heart shaped foods for Valentine's Day.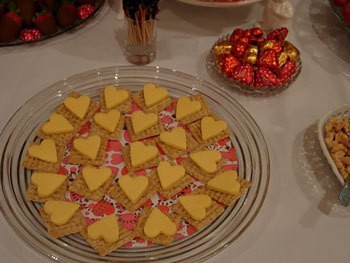 By Tina Siegl 26 71
Does anyone have any heart-shaped ideas for Valentine's Day? I'm planning on making homemade pizza made in the shape of a heart on Valentine's Day for my family. I'm also going to either make heart-shaped cupcakes or heart-shaped cookies. Do you have any heart-shaped ideas you'd like to share?
By Tina from Ashland, OR
---
Most Recent Answer
February 2, 2010
Heart shaped pancakes are easy to make and a great day to start off your valentines day served with strawberries.
---
By lalala... 731 97
Heart shaped carrots are a fun addition to any recipe calling for sliced carrots. Here is how to make them:
Peel and wash the carrot. Then using a knife, slice a "v" shape out of the full length of the carrot. Remove the middle piece.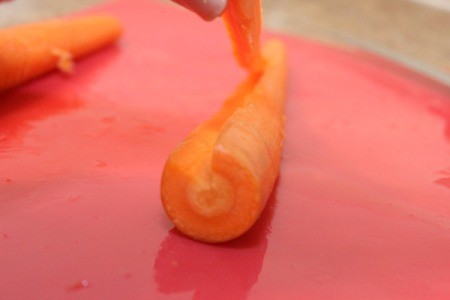 Using a potato peeler, begin shaping the heart by shaving the outside of the carrot, until it looks like a heart when looking down the length of the carrot.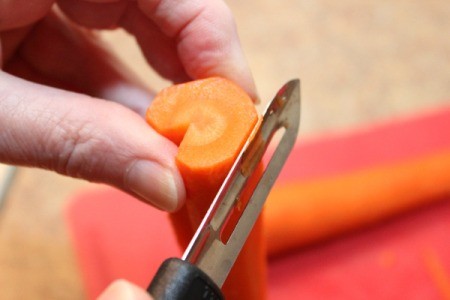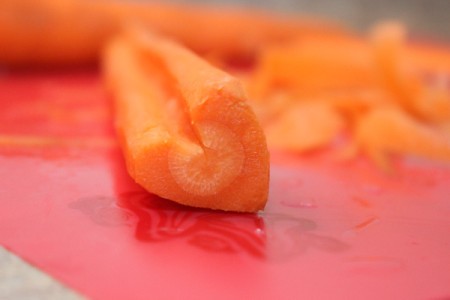 Now slice the carrot, but not too thin, to avoid them falling apart when cooked.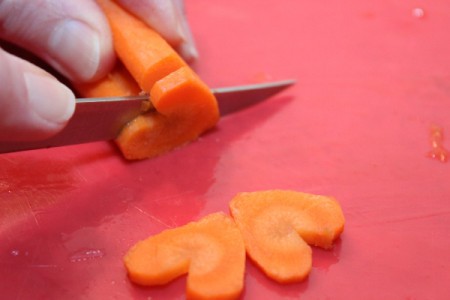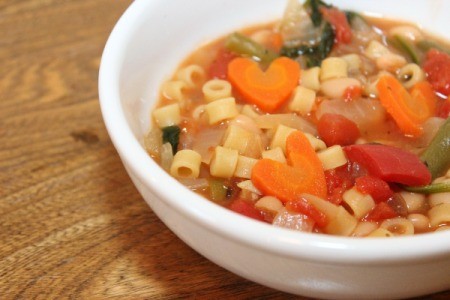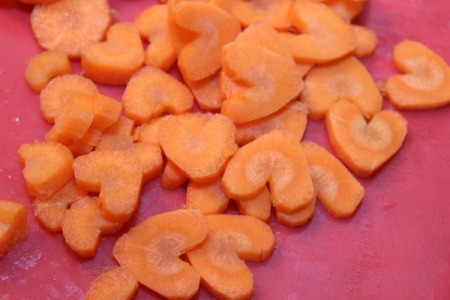 No need to buy a special heart-shaped pan when you want to make a heart-shaped cake. Use one 8 or 9 inch round pan plus one 8 or 9 inch square pan. When the baked cake is cooled, cut the round cake in half. Place the square cake on the serving plate to look like a diamond-shape. Put each half of the round cake on the top of both sides of the angled square cake to form a heart. Frost, decorate and enjoy!
By mkymlp from PA
For Valentine's Day, I make a heart shaped meat loaf. You can add ketchup or any tomato based sauce that you prefer on top. If you have a heart shaped cake pan...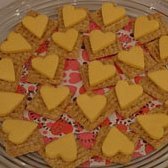 Aren't these little hearts cute? Guess you could use all kinds of shapes as long as you had the little cookie cutters. I asked the deli man to slice my cheese about 1/8" or so. I cut the shapes out out the cheese and placed it on the crackers.
By Mitzi from DeLand
Editor's Note: Here are more pictures Mitzi sent in showing the whole presentation. Great job Mitzi!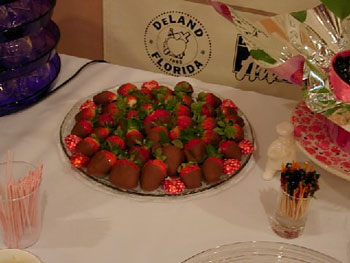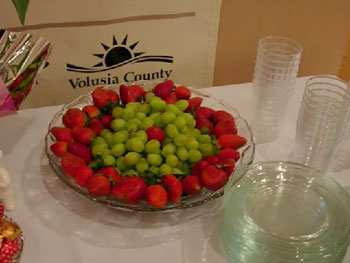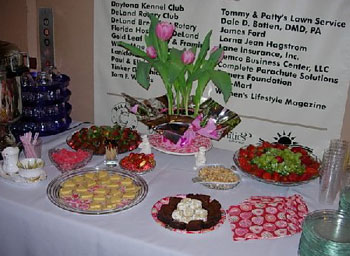 By lalala... 731 97
If your loved one loves grilled cheese, then this is the perfect lunch. :)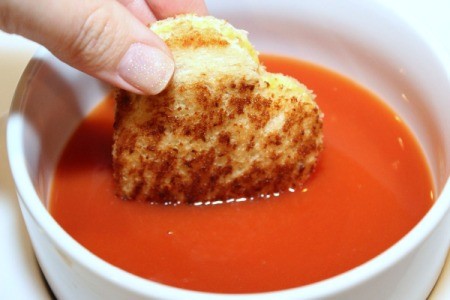 Ingredients:
bread
cheese
butter
heart cookie cutter
tomato soup (optional)
Steps:
Prepare your grilled cheese, using your favorite bread and cheese. Cook until golden brown.
Remove it from the pan and place it on a cutting board or plate. Position the heart-shaped cookie cutter in a way that will allow you to cut two hearts out of the sandwich (this make be a little tricky with some bread sizes).
Firmly press the cutter into the sandwich. While holding down the cookie cutter, gently pull the sandwich away. Then push the heart out of the cutter. Repeat with the remaining sandwich.
Serve along with tomato soup, if you desire. Enjoy!
By lalala... 731 97
Surprise your Valentine by slipping a little red heart into their milk. These heart ice cubes are made out of milk so they won't water it down and the milk will turn a fun pink color as they melt!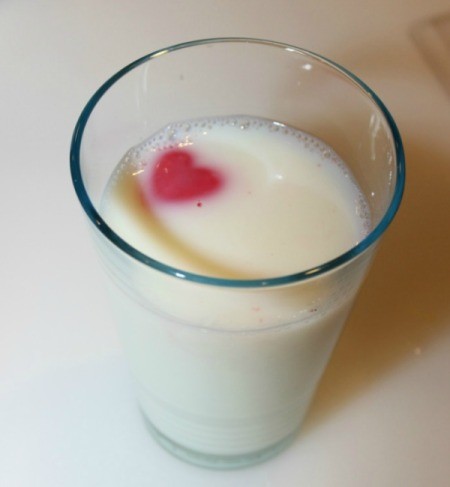 Approximate Time: 1-2 hour
Ingredients:
heart candy mold
milk
red food coloring
Steps:
Pour a little milk into a cup and add a few drops of food coloring. I used a paper one so that I could squeeze the rim for easy pouring.
Fill the candy mold reservoirs with the red milk. Place the tray in the freezer until the cubes are solid.
Add the hearts to a glass of milk. They begin to melt quickly, so wait until you serve it. Enjoy!
Here is a fun way to cut grape tomatoes for your loved one. Learn how to make heart shaped tomatoes in this short video.
Heart shaped carrots are a fun addition to any recipe calling for sliced carrots. Watch this video and learn how to make them...
Check out this video and discover how simple it is to make heart shaped grilled cheese sandwiches. This is a great lunch idea for Valentine's day.
By lalala... 731 97
These little heart shaped tomatoes are easy to make and are the perfect finishing touch on a salad for your sweetheart!
Using a knife, slice a piece of cheese and then cut out an arrow tip and end.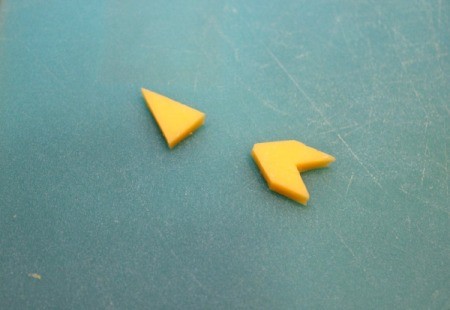 Find two grape tomatoes of equal size and shape. Slice the end off of each one, at a 45 degree angle.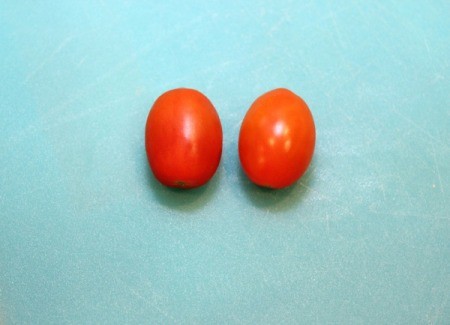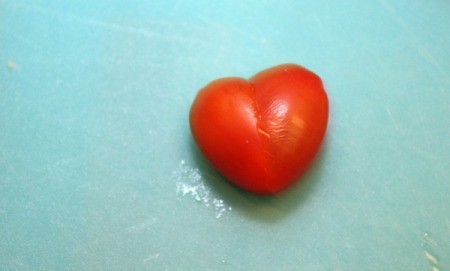 Poke a toothpick through both tomatoes, connecting them together and forming a heart.
Poke the arrow tip and end onto the toothpick.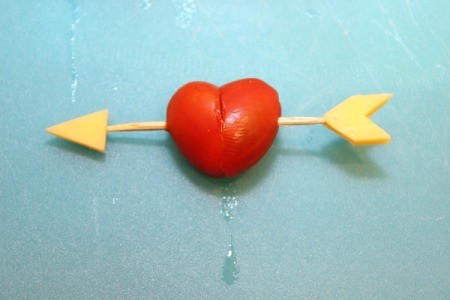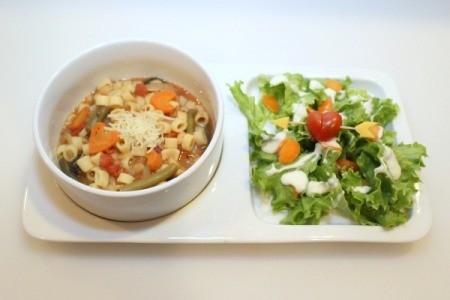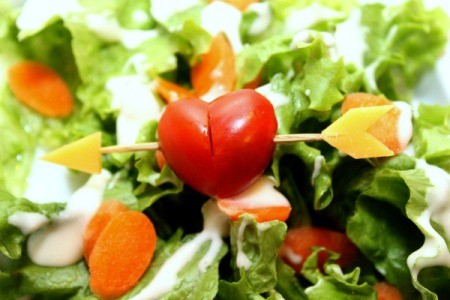 It is so easy to make mini ice cubes and you can make them any flavor. These heart shapes ones are perfect for Valentine's day! View the full recipe here: Heart Shaped Milk Ice Cubes
By Stephanie 155 243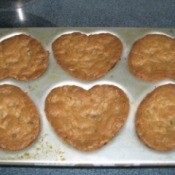 I inherited a tin for heart shaped muffins from my mother. Every year, I fill it with chocolate chip cookie dough to make large thick heart shaped chocolate-chip cookies for my husband. He loves them.
I also have heart shaped cake pans to make heart cakes and cheese-cakes. My favorite is a heart shaped red velvet cake with white frosting. Yum!
Source: My mom
By Stephanie from Hillsboro, OR