Many people like to hide a spare key to their house or car, in case they get locked out. It is important to hide your key well, so that someone else doesn't find it. This is a guide about hiding keys.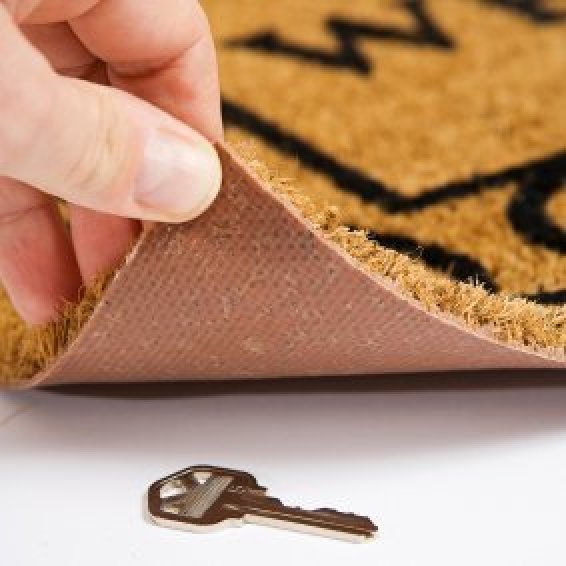 Filter

: All Articles
Sort

: Relevance
I needed a spare car key in case I locked mine in the car. However, the price of a programmed key was over $100. So instead, I took my key to the local hardware store and got a regular key made, put it inside a magnetic box, and hooked it under the car.
My uncle taught me a good way to hide a key, under the vinyl on the house. He had a spot on his vinyl siding that he put a extra key in case they were locked out, or if someone had to get in for emergency purposes. He told very few of us in the family where it was. There is a little lip on the vinyl siding that held the key in place.
By Lindaspy from South Beloit, IL
My neighbor and I exchanged house keys so that we could enter each other's homes in case of an emergency or to feed pets while one of us is on vacation, etc. I bought two magnetic key holders and gave one to my neighbor to hide (I know where) on her porch for my house key and I put the other one under my metal mailbox with my neighbor's key in it.
If someone happened to find the key holder, the key wouldn't work in the lock where the key is hidden and I doubt they would go around trying the neighbor's doors. Also, her kids often forget their keys and can get their spare after school to get into their own house even if I'm not home.
By Susan from Pennsylvania
Does anyone know of a creative, secure way to store an extra house key outside? We don't want to do something obvious like put it under the door mat, but we want it as close to the door as we can. I know you can buy fake-looking rocks to put a key in, but I was wondering if anyone has any free ideas! Thanks!

Kathy from SD
Answer
Was this helpful?
Helpful?
Yes
I use a paver that is part of a small walkway I have in my grassy area to hide a spare key. What I do is wrap my key in plastic wrap and coat it with Vaseline to retard corrosion and rust. Then put the key in a old film canister and dig a small hole under the paver in the dirt. No one has ever found it but we know where it is if we get locked out.
Reply
Was this helpful?
Helpful?
Yes
Read More Answers...
I am forever going outside to my laundry room only to return and find the door has locked itself and I am locked outside. I had several experiences of climbing in windows in the cooler months and disturbing neighbors to call my daughter on several occasions, and finding out that this is just a flaw in my lock.
Then my son-in-law bought me one of the boxes that the realtors use. Now I have a hidden spare key on the inside of the door to my outside laundry room that has a secret combination and holds a spare key. No more being locked out of my house. I have been assured these can be bought pretty cheaply at a hardware store. (He got several, all for $1 at a yard sale and you set your own code! Do I have the best son in law or what? )
Source: family solution
By Kimberly from Lakeland, FL
This is a guide about making a pill bottle hide-a-key. It is easy to have a weather proof hidden key outside your home to make sure you can always get inside.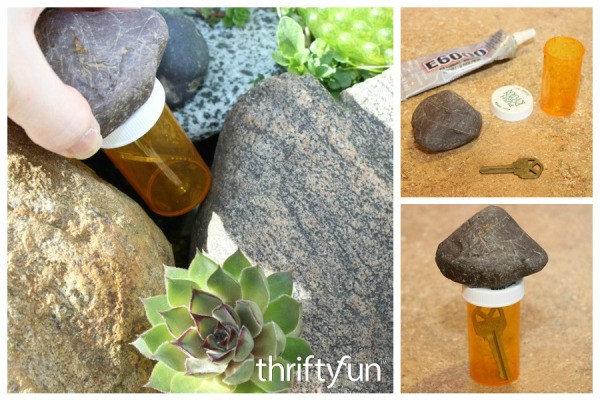 I put an extra key for my house and my car in the outside fuse box and I then lock it with a combination lock. To remember the combination, I put it down as a phone number and put the number in my storage unit. For example: if the combination is 3 24 28, I put my area code (924) then the combination 324-2800. Be sure to put a person's name in front. This works wonders when locked out of house or car.
By Macie4 from Walnut Creek, CA
I painted the inside of a mayonaise jar with white craft paint. I keep it in the refrigerator in the garage to store our house keys in. Works great and no more fumbling.
We all have our favorite key hiding places for our own use. However, to tell the location of a well-hidden key for a 911 call may not be easy, especially by the person who may be in need of emergency personnel.
Comment
Was this helpful?
Helpful?
Yes
There are many suggestions as to where to hide keys around the house, but where can you hide a car key for times when you lock yourself out of your car? It must be somewhere on the car, able to be retrieved when you're away from home. Under the hood is not good, for most cars release hood from inside the car. I have a magnetic box for this purpose, but can't figure where to hide it that a thief won't think of right away.
By Cay
Answer
Was this helpful?
Helpful?
Yes
I have an elderly neighbor who pins an extra house key inside her top, just in case she accidently locks herself out of her house. She does it every morning when she gets dressed so it is always with her if needed.
Reply
Was this helpful?
Helpful?
Yes
Read More Answers...