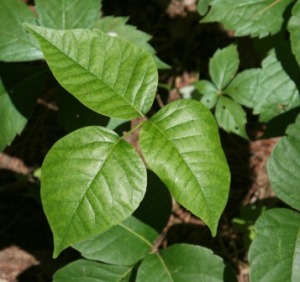 Solutions: Home Remedies for Poison Ivy
Read and rate the best solutions below by giving them a "thumbs up".
I had it all over my arms and ankles. I tried alcohol, aloe, witch hazel, dish soap, lemon, etc.! No relief, the itch was killing me. It would wake me up in the middle of the night!
Finally, what finally dried it up after a week is a spray called Tecnu. It's at Walgreens or CVS. It is awesome. It cures the itch, cools the area and dried it up. It cost me $14.00 at CVS. Just thought I would share!
Give a "thumbs up" to the solution that worked the best! Do you have a better solution? Click here to share it!
Questions
Here are questions related to Home Remedies for Poison Ivy.
Does anyone know of some homemade cures for poison ivy?

Thanks
Sandy from Bluff City, TN
---
Most Recent Answer

By Felicity H. [2]01/22/2013
If you're lucky enough to live by the ocean, a quick dip will stop the spread and clear it up in a day or so. If not, strong lye soap works well.
My brother's dog went outside and got into poison sumac and he did not know til the next day. What is good for treating my brother's skin around the eyes, mouth, and all over his face? I also need to know how to get it off the dog as well.
By Joanna G
---
Most Recent Answer

By cybergrannie [30]07/10/2013
Hi - i found lots of information just by asking the question on Google but since this seems to be all around the face I would suggest seeing a dermatologist ASAP.
Is there a good cream for the itch from poison ivy? I've had the bad experience of getting poison ivy again, this is the second year. I've never had it before until last year and this year. I've gone to the doctor and was prescribed some pills and cream for the itch and rash.
It's been over a month and I still have the rash. It's slowly going away. My question is: There is an over the counter cream called Zanfel that is sold at Walgreens in a little tube for over $35.00 that is suppose to stop the itch within 30 seconds and start clearing up the rash by the second day! Has anyone ever tried this cream and does it really work? Is it worth the money for such a small amount? I have relatives that swear that it works great, but I reviewed it and found others that would not buy the stuff and said it didn't work at all. Should I buy this or not? Is there a generic brand that would work better and cheaper? Any help would be great. Thanks.
By Linda from Brighton, MI
---
Most Recent Answer

By Tanya [4]06/18/2013
The old school way: Fals Naptha soap
Does anyone know how to treat poison ivy and how to prevent it?
By Paula M
---
Most Recent Answer

By Tanya [4]08/06/2012
To guest99. What does this jewelweed look like? Could you provide a picture so we know what leaves to look for. Do they populate the midwest or just southern states?
What can I do, short of going to my doctor, to treat poison ivy, especially the itch? I've had it before, but it's never have been this itchy!
Thankz a million in advance.
By AL from Pittsburgh, PA
---
Most Recent Answer
By Ginnee [1]08/07/2012
I use hot water. I got it on my hands one year and found a site on the web that recommended hot water to ease the itch. I hold my hand under the faucet, running hot water, (not burning hot, of course). The hot water releases the histamines that cause the itching. The itching will stop until the histamines build up again... usually in a few hours, then I do it again.
This wouldn't be practical for some areas on the body but worked great for me on my hands,
Is there a treatment for poison ivy in a pill form? I have tried all the over the counter medicines to stop the itch, etc., but nothing seems to help. Outside of going to a doctor does anyone know if there anything else I can take?
By Bren
---
Most Recent Answer

By DeAnna05/06/2012
Rub a green tomato on it several times a day and it should clear it right up after a day or too.
My husband has poison oak on his leg. Any ideas on how to cure it?
By Elizabeth D.
---
Most Recent Answer

By Patricia Hamm [4]06/28/2011
My husband can look at the stuff and break out. I buy Ivarest at the drug store and it works for him. Also, and I don't know for sure about this one but a doctor told my mom years and years ago to use Octagon soap on it. That would be an old timey cure.
I have poison ivy on my face and I have done all of the treatments and I believe that it is getting better. Well, I don't know if it's getting better because it's all dried up! Please tell me if that's good or bad. I need info.
By Bean-o from MA
---
Most Recent Answer

By Lelia Jo Cordell [49]05/15/2011
Yes, the fact that the rash is drying up is a very good sign. The liquid that comes out of the bumps is what spreads the rash. My entire family is extremely sensitive to poison ivy. Calamine never helped, but a gel called Rhuli-gel worked like a charm!
I have poison oak on my body and it is very easy for me to catch this. Are there any people out there who have home remedies for this? Help! Please.
By Jimmie
---
Most Recent Answer

By Kathryen [5]09/22/2010
I got poison ivy all over my hands and fingers one year. I found by putting them under running water (as hot as I could tolerate) would keep them from itching for almost an hour.

After cutting an overgrown yard one day, our oldest son had poison ivy all over his face. The doctor had given him medicine but it didn't stop the itching. Hot washcloths on his face every thirty minutes or so also made this bearable until it went away.
How do we use Fels Naptha to effectively treat poison ivy rash? And anything special to do with it to make laundry soap for poison ivy clothes?

Thanks,
Chris
---
Most Recent Answer

By Rosalind Brunsman03/11/2009
Well it has worked for years with us, just take a bar of Fels napha, suds it up and put the lather on the poison ivy and let it dry, after couple of batches it'll dry up and be gone.
I've heard that poison ivy hates boron-rich soil, and that an easy way to kill it off and prevent it from re-growing is to add borax to the soil. Has anyone else heard of this? And do you know if it would hurt other plants as well? I have three 100+ year old maples that I really don't want to kill. I have tons of poison ivy, and this seemed like a relatively cheap and safe way to get rid of it. Any ideas?

Hardiness Zone: 5a

Beth
---
Most Recent Answer

By Margie & Pete06/04/2009
I put on rubber gloves that the health care industry uses and then pull out that dreaded stuff. Then I hold it in my hand and take the glove off pulling the top down around the poison ivy. The ivy should end up inside the outside of the glove. Or it is inside the inside out glove. Then I put it in the trash.
Any new ideas on treating poison ivy? My arms started with the rash, itch three days ago and I am about to go crazy. Not to mention that it looks so gross!

Jan from South Carolina
---
Most Recent Answer

By Rwhittletx (Guest Post)02/15/2008
I don't know if this will work once you are in heavy break out mode but, it works for me when I do this just a few hours after contact and welts appear.

1) Get out of your contaminated clothes.

2) Apply liquid dish soap (Dawn) to area. No water. Rub in, and then wash off - don't dry.

3) Apply Baking Soda to the wet area liberally. leave on a minute or two. It will itch a little.

4) Rinse baking soda off with vinegar. (yep, the stuff in the fridge with vinegar will bubble like crazy and tingle.)

5) Rinse with fresh water and dry.

My welts were completely gone within 3 to 4 hours. It's worked for me 3 times so far. It's cheap and it's stuff I already had in the house.


Archives
Thrifty Fun has been around so long that many of our pages have been reset several times. Archives are older versions of the page and the feedback that was provided then.
Spring through fall are prime seasons for poison ivy and poison oak. Stop the itching, spread and blisters with these home and natural remedies: