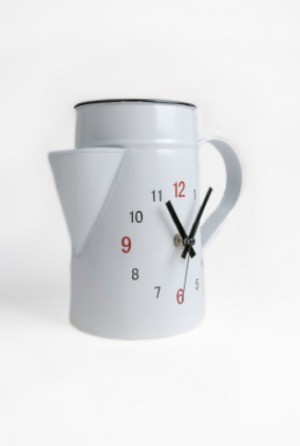 Many interesting things can be a housing for clock works. This guide contains homemade clock ideas.
Ad
---
Solutions: Homemade Clock Ideas
Read and rate the best solutions below by giving them a "thumbs up".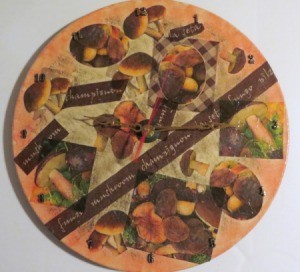 Looking for a something to do with those old vinyl records? Turn them into a kitchen clock as a special birthday gift for a friend. A real budget-friendly craft that delivers a pleasing end result!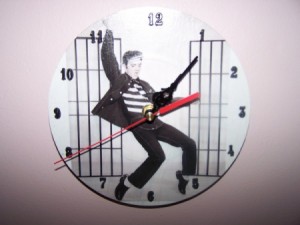 My friend's teenage son is part of a band. He loves rock music and plays the electrical guitar. For his birthday, I wanted to make a wall-mountable clock that would fit his interests.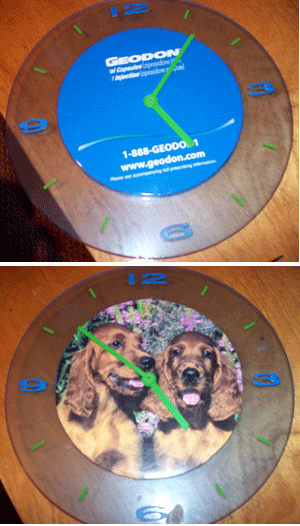 A Dog Gone Good Time (Or how to redo a Doctor's Clock) We have all seen them a million times hanging in the doctor's office, some pharmaceutical company wanting to promote their latest drug gave our doctor a free clock. Now our wonderful doctor, not wanting to be rude, hangs it in the waiting room for a couple of months until some lawyer files a suit against that drug and the clock ends up in the thrift store. Lucky us because the thrift store will sell us that clock really cheap because it has advertising on it.
I paid a dollar for the one in the picture. I loved the blue and green together and thought I need a new clock for my office. But I am not a big fan of advertising, unless it is something cute like the Campbell's kids, so I thought, "Why not try and redo it?" I found taking it apart was a snap (no harder than the kits you buy at Walmart or Michael's) and I had a calendar from last year with puppies on it that I just loved so I thought why not combine the two?
After I used the old calendar picture I got to thinking that I could have printed out any number of my pictures of my grandsons or family photos to use for this project. I also thought the an old piece of lace or embroidery or a piece of an old quilt could have also been used with a minimum of sewing. Just know what ever you use, it needs to be thin so that you still have room for the hands to move. So here are my instructions for redoing a old clock.
Time to complete: A half an hour
Materials
One old doctor's promotional clock
One old calendar picture
Some spray glue
Painters tape
Measuring tape
Instructions
First I took apart the clock and took the working clock box off the back. Then I measured the raised circle in the middle. I made a cardboard template for it and then cut out my picture from the old calendar page. I masked off the outside ring with painter's tape and then sprayed on the spray glue and affixed the picture to the center. I then put the clock back together.
Now I have a great clock for my office and it only cost me a dollar and a half hour of my time.
Happy Recycling!
By Debra Frick
I made a clock (sorry I can't send a picture) out of an 8 inch wicker wreath.
Materials
8 inch wicker wreath natural color
round of craft wood cut to fit inside the wreath
clock works
12 similar sized seashells
Rit dye in blue-green color
scrap of netting in a neutral color
hot glue
Directions
Mix the dye and following package directions dye the wreath and wood. Let dry. Drill a hole in the middle of the wood and stretch the piece of netting over it. Glue the wood and netting into center of wreath leaving enough room in the back for the clock works. Install the clock works then divide the wreath into twelve sections and glue a shell in each position. Very nautical!
By Betsy from Joplin, MO
Give a "thumbs up" to the solution that worked the best! Do you have a better solution? Click here to share it!
Photos
Below are photos related to this guide.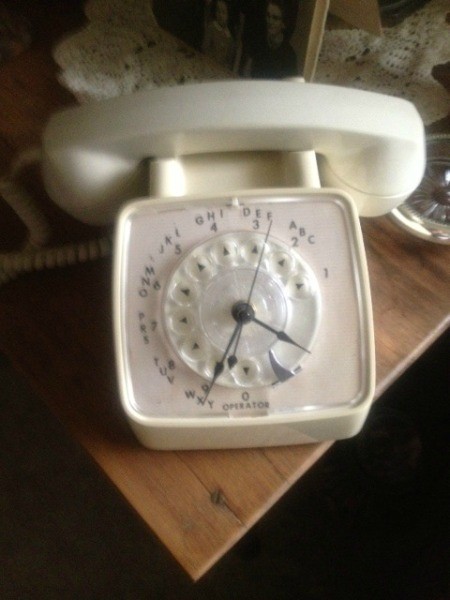 Photo Description
My husband just took the insides out and added this clock work. We wanted to keep this "oldie"
By Mary [12]