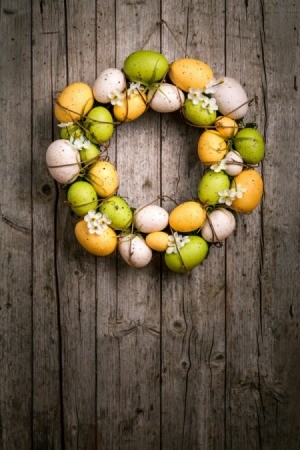 An Easter wreath is a nice addition to your holiday decorating. This is a guide about homemade Easter wreaths.
Ad
---
Solutions: Homemade Easter Wreaths
Read and rate the best solutions below by giving them a "thumbs up".
A cheery and easy wreath to welcome guests for Easter Sunday.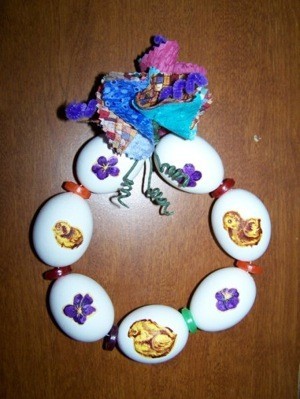 Approximate Time: 20 minutes
Supplies:
7 eggs
Lifesavers
spring fabric scraps
spring pipe cleaners
3 feet of soft wire
florist tape
wire cutters
cutouts for decorating eggs
tacky glue
decoupage
Instructions:
Carefully prick a hole about 1/8 inch across in both ends of the eggs. Wiggle a toothpick around inside the egg to break the yolk so it will blow out easily. Place one end of the egg over a bowl and blow on the other end to empty the raw egg. Run warm water into the egg and shake to clean the egg, another option is to add a teaspoon or so of white vinegar to clean the inside of the egg. Shake out all of the liquid and let dry overnight. Repeat with all eggs.
String the eggs on wire, I use aluminum wire, adding a Lifesaver in-between each egg. Twist the ends of the wire together forming a circle to hang your wreath with.
Cut three 6 inch pieces of wire and make a small circle in one end, lay these aside.
With your scraps of fabric, roughly cut out six 4 inch circles, use pinking shears (if you have them). Layer two wrong sides together and push a 6 inch piece of your wire through the center. Gather the fabric around the wire and use your florist tape to secure the fabric, continue wrapping down the stem of wire. Repeat with all three "flowers."
Gather the flowers and wrap them together then with the base of your flowers close to the bottom of your twisted wire wrap your flowers around the wire at the top of your wreath. Bring the bottom of the stems down to the center of the wreath and wrap them separately around a pencil to curl.
I cut pictures from one of my fabrics and used decoupage to secure them to the eggs, but you could decorate them as you wish.
By LATRTATR from Loup City, NE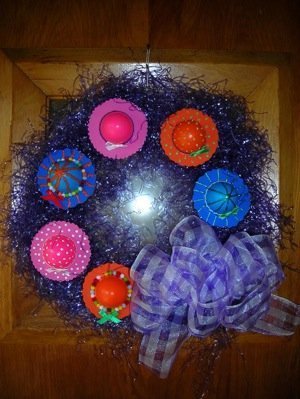 Bits and pieces of inexpensive craft items can be used to create an eye-catching Easter wreath for your front door.
Approximate Time: 1 hour
Supplies:
cardboard
cellophane grass or shredded paper
tacky glue and scissors
craft foam
colored plastic eggs
crafting odds and ends, scraps of fabric trim scraps, pom poms, small bows, puff paint
wide ribbon or a large bow
piece of string or yarn
Instructions:
Draw and cut a wreath shape from cardboard. I used the side of a cardboard box. Spread glue over the surface of the wreath shape and press cellophane grass or shredded paper into the glue. The circle I started with to make the wreath measured 13 inches across, and I cut a 6 1/4 inch circle from the middle to make the hole.
Cut 3 inch circles from scraps of craft foam. I used decorative edging shears to cut these, but any scissors will work.
Glue half of a colored egg to the center of each circle to create your hat shape and decorate your hat shapes with craft odds and ends.
Glue the little hats around the surface of your wreath, leaving space for the bow.
Make a large ribbon bow and glue it to the wreath. I used 3 yards of wide, wired ribbon to make mine, but you can use what you have on hand or use a pre-made bow.
Make a loop from a piece of string or yarn and glue one end of the loop to the back of the wreath to make a hanger.
By Marie from West Dundee, IL
Using a recycled grapevine wreath from Christmas, I bought 6 packages of different types of eggs from the dollar store. I used my hot glue gun to place the eggs. It only took about 1 hour to do, and the cost was about $8.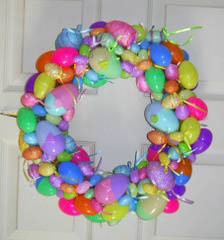 By Ragteller from Tofield, AB
An easy way to decorate your grapevine wreaths for Easter are just to run a ribbon through it's vines and then just use plastic eggs and sandwich the ribbon between the egg and close (no glue needed). Add silk flowers and then choose two colors of ribbon, cut in 12 inch strips, and tie and knot off all over the wreath and let dangle. Fast, pretty look and no use of glue. Happy Easter!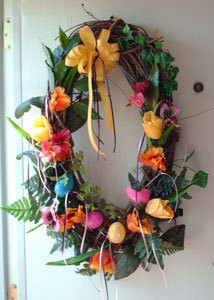 By Julie from Greeneville, TN
I recycled an old grapevine wreath. I took off all of the old flowers and decorations and put on some new fresh plastic spring flowers and hot glued one dozen plastic Easter eggs around through the flowers and on the wreath. I looks wonderful on my front door.

By Carol from West Milton, OH
Give a "thumbs up" to the solution that worked the best! Do you have a better solution? Click here to share it!
Questions
Here are questions related to Homemade Easter Wreaths.
I was just wondering if it would work the same as foam, if you used a straw wreath to decorate with plastic easter eggs?

Marilyn from P. Huron, MI
Ad
---
---
Most Recent Answer

By Marilyn S. Bulloch [3]02/27/2008
I put some $ store moss on over the straw and put on the eggs and it turned out grear!!
Does anyone know a way to make easter wreaths using bath puffs?

Betts from Florence
Ad
---
---
Most Recent Answer

By Rosa (Guest Post)03/07/2007
Get different colors (Easter colors) and with hot glue or needle and fish line and glue or sew them to a grapevine wreath, spray with poly spray and you could even hang it outside. Just a thought. rose