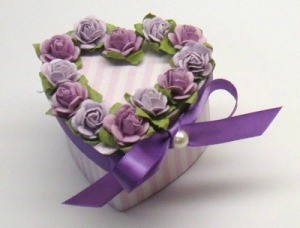 Gift boxes for all occasions can be created from a variety of materials. This guide contains ideas for homemade gift boxes.
In this short video series, Mary Gallagher-Stout, explains how to make your own homemade gift boxes for any occasion. Be sure to watch the related videos for additional steps and tips on making a homemade gift box.
Solutions
Read and rate the best solutions below by giving them a "thumbs up".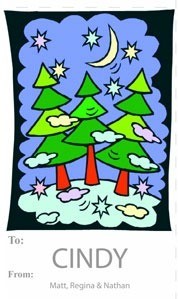 For a quick and easy gift box for a small item, why not make your own. There are a number of templates on the internet that can give you an idea of dimensions, or you can take apart a box you have and figure it yourself.
I took one that would work on an 8 1/2 x 11 piece of paper to make two box tops. I added some clip art and the "gift tag" all in the text, and printed it out on card stock. I just cut the sheet in half, scored on the folding lines with a letter opener, and folded in the sides, taping the ends with scotch tape. For the bottom I just scored a blank half sheet of paper - just inside the lines for the cover to make it a bit smaller, and folded it up the same way.
For Christmas I did these, I had made beaded zipper pulls for everyone - and just wrapped them in tissue inside the boxes. No other wrapping needed.
By Regina from Rochester, NY
Editor's Note: Regina has also provided a PDF of the box template so you can print it out if you like. Click here to download it.
Wrapping a gift is just as important as the gift itself. Paper roses, pearl sticker, pink stripe paper, and ribbon were used to create this sweet little gift box.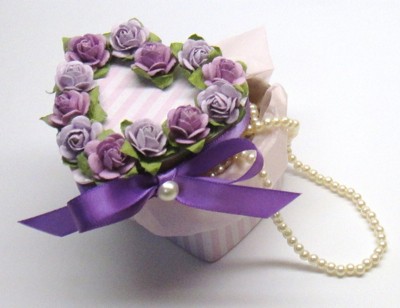 Approximate Time: 50 minutes
Supplies:
paper mache mini heart box
pink stripe patterned paper
paper mini roses
3/8" purple ribbon
pearl sticker
spray adhesive
scissors, ruler, and pencil
Instructions:
Measure the side of the heart box base and cut from pink stripe patterned paper. Apply a light coat of spray adhesive over base, then adhere.
Trace the outline of the heart box top and bottom onto pink stripe patterned paper. Cut out and adhere.
Tie ribbon around the edge of the lid into a bow, trimming ends evenly. Then add pearl sticker in the center.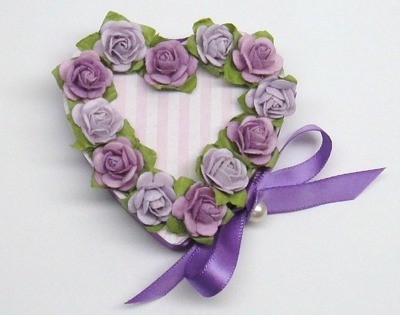 Use spray adhesive or hot glue to adhere paper roses onto the heart box top as shown.
Sources: 3M spray adhesive; Micheal's paper mini roses
By Maricel from Fairfax, VA
Paper Craft Gift Set
Design a card and gift tag by cutting flowers from your decorative paper. Create a coordinating basket to make it a wonderful gift.
Materials:
cardstock: white
patterned papers: floral and stripe
adhesive rhinestones
pink satin ribbon
double-sided tape
glue stick
hot glue
decorative edge scissors
scissors
hole punch
bone folder
paper trimmer
Instructions:
Fold 10 x 5 1/2 inch rectangle from white cardstock to create the card blank.
Trim the bottom edge using decorative edge scissors and punch holes on each scallop.
Cut a 5 1/2 inch x 1 1/2 inch of stripe patterned paper. Adhere to the bottom of card with double-sided tape.
Using scissors, cut flowers from floral patterned paper and arrange them on the card. When you are happy with the arrangement, glue in place.
Next, embellish the trimmed flowers with adhesive rhinestones.
Hot glue the pink satin bow centrally onto the stripe patterned paper, as a final touch.
Tag:
To make the tag, cut a 3 inch x 2 1/4 inch from the same cardstock as you are using for the card. Punch hole on one side of the tag.
Decorate using the same materials as the card. Thread the tag with a length of pink satin ribbon, then finish the end with a bow.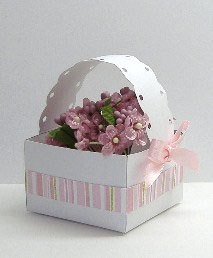 Treat Basket:
Print out basket pattern. Size as needed.
Trace pattern onto white cardstock.
Cut out on the lines. Score and fold all solid lines.
Apply adhesive to the "A" tabs and glue to the side marked with a "B".
Tape the edge of handle "C" and secure it to handle "D". Note: You may want to trim the handle using decorative scissors.
Decorate as desired and fill with treats.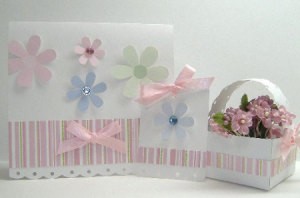 By Maricel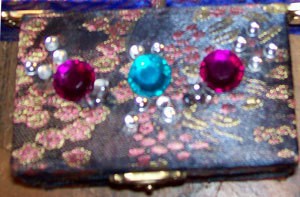 I bought the boxes at the dollar store and thought to myself that even though they were pretty I thought they could use some sparkle. I had some leftover beads from making Christmas ornaments so I decided to sparkle up my boxes.
That this was a craft that I could do in front of the TV was a big plus; I couldn't miss my cooking shows. I also thought this would be a great way to jazz up those decorated cardboard boxes we all have that may be looking a little tired.
Time:
1/2 hour maximum depending on how many of them you are doing
Materials:
Dollar store boxes
left over gems, small tri-beads pearls, and any other small sparklers
good strong glue
I used regular white Elmers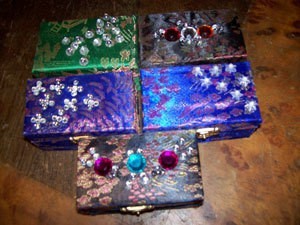 Directions:
The boxes I used had a oriental feel so I chose to bead where ever there was a flower on the fabric. On the green box I free formed a branch on the fabric. I took the white glue and straight from the bottle I applied a small dab of glue and the pushed on a small bead. On the boxes that have two layers of beads I let the first bead dry then added a second bead. This could be used to decorate any fabric or wooden box.
When you open up a gift, for any occasion, save the box. When you open up a box of food, save the box. These are the rectangle boxes that oatmeal cookies come in. You can cut them in half and these boxes can be turned into the most charming little gift boxes for children to give gifts in, or even adults!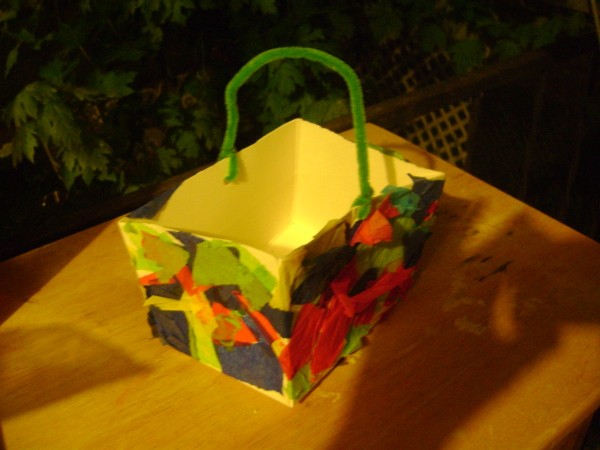 Approximate Time: 30 minutes or less
Supplies:
glue sticks
tissue paper
box from a gift or a food box
pipe cleaner for handle
paper to hide pictures on box
hole punch or Phillips head screwdriver
Instructions:
Take your rectangular shaped box and cut it in half.
Cut out paper to fit on each side of box. Glue paper on.
Glue pieces of torn tissue paper on the paper, all around the box.
Punch a hole on either side of the box for attaching pipe cleaner to make a handle. You could use the Phillips head screwdriver to punch a hole if you don't have a hole punch.
Attach pipe cleaner on each side and make sure there are no sharp ends on the pipe cleaner that are not turned under.
I didn't attach a ribbon to mine, but it would be a cute extra touch if you wanted to.
Put photos, gifts, or candy in these, and they are so homemade and cute, anyone would love to receive one!
By Robin F. from TN
I received a gift in this adorable box. I couldn't bring myself to throw it away. And after looking at it closely, decided I could make one myself with supplies I already had on hand.
Simply take apart the one you want to recreate. Now use it as a template for your new one. I chose a similarly patterned cardstock, but any thick paper would do.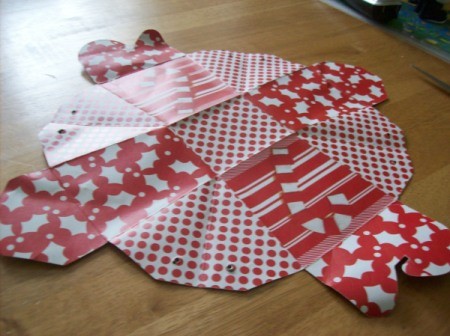 With the folds clearly defined on the template, it was easy to mark the folds on the new one.
For the handle, I used a stiff shoelace instead of the wire handle you see on food containers of the same design. But you could use whatever you like or have around the house.
I think it turned out great and will make more when I need them. I'm keeping my template in a file I have especially set aside for that purpose.
By Gloria from western NY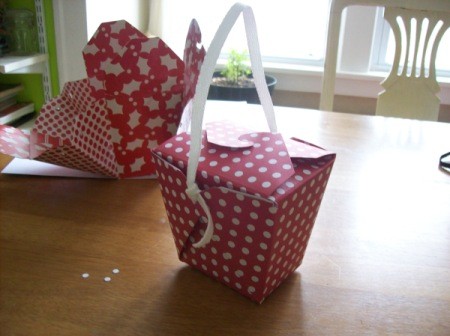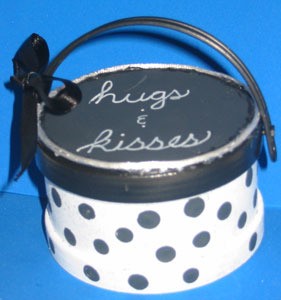 I was wanting a small inexpensive thank you gift for the young girl who had helped me at physical therapy. So, I came up with this "hugs and kisses basket". I had the container left from buying my husband some nuts and bolts from Dollar Tree. The only thing I had to purchase was the candy. There's plenty left over for more "baskets".
Materials
plastic container with lid and handle
(These come stacked in two containers topped with one lid.)
plastic or acrylic paint, black and white
round piece of poster board to fit top of lid
I used black.
paint marker
small piece of ribbon
craft glue
Hershey's Hugs and Kisses (about five each)
Instructions
Clean the container well with soapy water and allow to dry.
Paint bottom of container with white paint. I use a sponge, it gives it a more textured look and you don't have to worry so much about it covering.
When white paint is dry make black dots by dipping a pencil eraser in your paint and pressing firmly onto surface. Set aside to dry. If you are not using plastic paint, you'll need to spray the container with some sort of clear sealer.
Write "Hugs and Kisses" on your round circle of poster board with the paint marker. Allow to dry.
Glue this to the top of your lid.
Tie on ribbon.
You can add shredded paper as a filler or fill the entire container with kisses.
By Artlady from Edmond, OK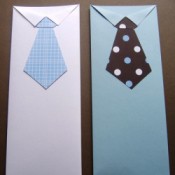 This shirt case is perfect for a handkerchief or necktie. Write a message on a small label or card and place inside the case.
Approximate Time: 15 minutes
Supplies:
8 1/2x11 inch lightweight cardstock
patterned paper
glue
pencil
ruler
craft knife
scissors
finished size: 4x10 3/8 inches
Instructions:
Make a pocket from lightweight cardstock.
Snip the upper edge of pocket at the front center, 1 inch long. Then fold to make a collar.
Using a pencil, draw a necktie shape from patterned paper. Cut it out.
For added dimension, trace the top part of the necktie; trim and glue on top of that.
Glue the necktie to the case and then glue the collar.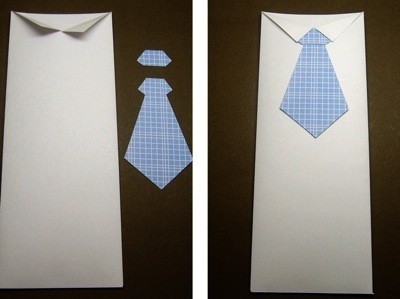 Note: You can adapt the design to create a shirt bag. You can also use various types of paper such as scrapbooking paper or wrapping paper.
By Maricel from Fairfax, VA
Share Your Feedback: Once you try any of the above solutions, be sure to come back and give a "thumbs up" to the one that worked the best for you. Do you have a better solution? Click "Share a Solution" above!