June 2, 2016
4

found this helpful
Best Answer
We had 19 feeders, and 15 hummingbirds that enjoyed them every day for years, and when the bees came, every single hummingbird left within a few days. We then bought the feeders with the bee guards on them, and those don't work for nothing! Finally, we bought what they call Flat Feeders, and those WORK. The bees absolutely cannot, at all, get to the juice and the bees will continue checking to see if they can for a day or two, then they'll leave as they see there's nothing there for them.
August 21, 2016
0

found this helpful
What's a flat feeder? I have yellow jackets
August 23, 2016
0

found this helpful
What is a flat feeder and where did u get them?
September 1, 2016
1

found this helpful
What do the Flat Feeders look like? I just looked on Amazon and don't see them. Any help would be so appreciated
September 16, 2016
3

found this helpful
Best Answer
I believe this type of feeder is referred to as a flat feeder.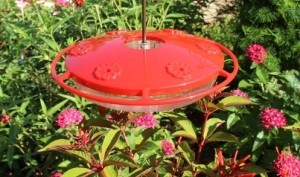 October 7, 2016
0

found this helpful
When you say flat feeders what do they look like.can you send pic thanks
November 12, 2016
0

found this helpful
I have a flat feeder with no yellow in it. The bees Still cover the entire hummingbird feeder
April 14, 2017
0

found this helpful
What exactly is a flat feeder. I also get bees.
June 10, 2017
1

found this helpful
Absolutely works. I have thrown out a dozen "cute" feeders because I could not keep the wasps away. I now have 2 of the flat feeders. Not only keeps the wasps away, but are very easy to take apart and clean.
July 20, 2017
0

found this helpful
Thank you very much!! I have 11 feeders because I have so many hummingbirds but they All seem to be taking over by bees!! So upsetting because I love my hummingbirds and don't want them to leave.. I'm going out now and buying the round flat basins you suggested! I truly hope this helps my little cuties to come back! Thanks again for the tip! I will keep you posted!
August 27, 2015
0

found this helpful
I have 10 feeders out....we have a ton of hummingbirds. Now the honey bees showed up (for the past four years). A family in our neighborhood has hives. We can't even sit on our deck. There are hundreds of them. All my feeders have bee guards...they do not work. I have one Oriole feeder. The bees also love this feeder...they fall in the holes, float to the top and die. How do we get rid of honey bees from out feeders.
August 8, 2016
1

found this helpful
Use PIC wasp traps with a solution of apple juice spiked with a couple of tablespoons of sugar and a dash of apple cider vinegar, which seems to mimic the fermentation of fallen apples. Add a couple of drops of dishwashing liquid as a surfactant so wasps hitting the surface sink. Use a Q tip to coat the entrance holes with the mixture, do this before adding the Dishwashing liquid. Use the other end of the Q tip dipped in sugar and coat the farthest end of the entrance holes to entice the wasps into the trap. Hang the traps adjacent to your hummingbird feeders. I have been battling this problem for years and this is the best solution I have found. The PIC traps are only around $5 and last forever and can be ordered from Home Depot. Regardless of which traps you use, try the above solution and don't forget to coat the entrance to the trap with solution and sugar.
August 11, 2016
0

found this helpful
After trying many unsuccessful remedies, we've found that a light dusting of food-grade diatomaceous earth stops bees and related insects cold, but doesn't bother hummingbirds. Re-dust after rain when insects return.
September 17, 2016
2

found this helpful
Those are generally yellow jackets. I like the feeders I have as they are wide mouthed and easy to clean. 2016 seemed to be yellow jacket year and I tried everything but I'm keeping those feeders, come hell or high water! Feeder holes are too big so on back side I filled half of the hole with hot glue. Too small for yellow jackets to enter but the hummers can easily get their tongue into the hole. Problem solved, had to share!