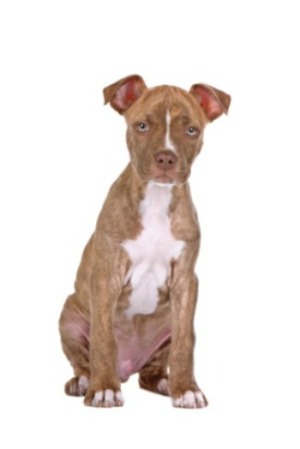 Training a puppy to relieve itself where you want, takes consistency and patience. This guide is about house training a pit bull puppy.
Ad
---
Questions
Here are questions related to House Training a Pit Bull Puppy.
My puppy is peeing everywhere. He is 11 weeks old and he is a Pit Bull terrier. He uses the wee wee pads sometimes and other times he goes anywhere in the house.
By loridanny
AnswerWas this interesting? Yes No
Ad
---
---
Most Recent Answer
By Robyn [369] 02/26/20130 people found this helpful
Hi, Depending on how old he is, he might or might not be able to hold his bladder.

The main thing is to take him out all the time and never let him have run of the house. When he is in the house, out free, he must be under constant supervision so you can help him not make mistakes.

When you see him start to pee, then take him outdoors, while happily saying "Lets go potty" or "outside". When he does his job and eventually he will if you take him out enough, praise him and clap and "yaaa".

Anytime a puppy gets up from a nap, or runs and plays, or drinks or just a little while has gone by, it is time to take him out to do business.

There are sprays you can use that help the puppy know where to go.

Very young pups cannot hold their urine a long time, nor should they be asked to.

Make it fun for your pup, use lots of treats, and make him have good days during potty training.

Potty training can be one of the happiest times for you and your puppy.

Invest in a wire crate and have him in it when he is not able to be watched. This is so important in managing his environment.

Here are some resources for you to look at:
http://www.ehow.com/how_4780000_house-train-pit-bull-puppies.html
ttp://www.pbrc.net/training.html
http://youtu.be/YH_QaTn9epU

Blessings,
Robyn from Tennessee
As much as I want to train my dog, I am only with him for 2-3 days in a month, because I work away. He lives at home with my parents who are also busy. I wanted to train him not to potty inside the house, but I don't know where to start and if my time with him is enough. I highly doubt it is. Another problem is he is always excited and always likes to nibble with us. He doesn't bite, but his teeth are quite sharp. He's about 5 months now. Thank you.
By JM
AnswerWas this interesting? Yes No
Ad
---
---
Most Recent Answer
By Jeanne [1] 01/06/20130 people found this helpful
i guess this must be your first puppy. It will be entirely IMPOSSIBLE to house train a puppy 2-3 days a month just as it would be a person. Two ideas: have your parents get involved or hire someone to do it. It is very easy to house train a puppy. Find a favorite treat and ONLY give it to the puppy when he 'goes' outside and lavish him with praise. That's positive reinforcement and it won't take him long to want that special treat, make you want to praise him and go outside. Obviously he will need to go outside a little while after eating.

Never use negative feedback when he makes a mistake- that's your fault, not his. He doesn't understand what you want or he would go to the door and let your parents know he wants out.

If you and your parents are leaving him alone all day as a rule at least build him a doghouse and run outside and hire someone to walk him every single day.

If you can't get your parents involved: sell him to a family that will love and care for him or if you can check them out, give him away. Just make sure it's not a single person that will sell him to a laboratory. As for the nibbling on you, find toys he likes and play with him when he starts biting you. He could grow up to bite if you don't then you're going to have a huge problem. Direct his attention to something he CAN nibble on and play with him with that thing.

Bottom Line: Dogs are creatures that want to please you, protect and love you. The joy and fulfilling relationship you have with him is going to be a direct result of the time you put in to him. Who he becomes is your responsibility.
I have a 5 month old gator Pit Bull mix. When I got him I was told he was house broken. However, ever since I have had him, he is persistent in pooping and peeing in both his crate and the rest of the house. How do I break his habits?
By J.W.Roberts from San Antonio, TX
AnswerWas this interesting? Yes No
---
Most Recent Answer
By Sherri [10] 12/02/20100 people found this helpful
Hello, how long is he in his crate? All day? He will need to go potty about 20 minutes after he eats or drinks.
---
How do I potty train my 5 month old Pit? She is not aggressive at all. If she makes an accident how do I show her that's wrong without being aggressive?
By Stephanie from Kentwood, MI
AnswerWas this interesting? Yes No
---
Most Recent Answer
By Lizzyanny [9] 11/29/20130 people found this helpful
Showing a dog their mistake is a dated training technique. It has been abandoned because it never did work. There are many training techniques on this site and on the web that will work. The successful ones require you to praise and reinforce positive actions only. If you keep that in mind many techniques will work for you.
My Pit Bull puppy goes poo outside, but still pees in the house. How do I break her of this? She is only 5 months old.
By Jason
Solutions: House Training a Pit Bull Puppy
Do you have knowledge about this guide topic? Feel free to share a solution!