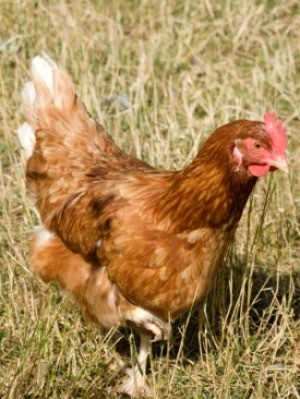 Many chicken owners prefer to have them wander free range, at least part of the time. Even though the girls will help keep garden pests down they can do damage to your garden and flower beds. This is a guide about keeping chickens out of your garden and flower beds.
Ad
---
Solutions: Keeping Chickens Out of Your Garden and Flower Beds
Read and rate the best solutions below by giving them a "thumbs up".
Plant marigolds and spray vingear around the area you don't want your chickens to play, or destroy, LOL.
Give a "thumbs up" to the solution that worked the best! Do you have a better solution? Click here to share it!
Questions
Here are questions related to Keeping Chickens Out of Your Garden and Flower Beds.
I have a client I work for who has chickens, hens, roosters and ducks. She has also planted a garden and the animals are eating/ruining her tomato plants. Is there a way for her to keep them away from her garden, short of keeping them cooped up? She likes to let them out to roam during the day. Thanks for any help on this.

jmz2005 from Illinois
Ad
---
---
Most Recent Answer

By marieaa65 [2]08/21/2008
I have my garden on the other side of the fence, I have free range chickens and ducks and geese, They have a acre I got a space as big as your kitchen table for my garden, think there somthing wrong with this picture, But I do have a weed free lawn out of it, with only 2 geese 2 hens and 6 ducks, Whom are so funny at the best of times They make the world a better place just watching them
Any ideas on how to keep chickens out of the garden and flower beds? Last year they kept digging up new flower plants as quickly as I planted them. They dig them up and then lay in the hole they have dug.
By Margo from Ogden, UT
Ad
---
---
Most Recent Answer

By Tammy06/19/2010
Hi! I know most of you don't work at Mickey D's and may not have access to alot of coffee grounds but I use old coffee grounds to keep my chickens out of my flower beds. At first they went into them (maybe they thought they'd like it) but I haven't had a problem since the first or second time they tried it.

I tried using moth balls to keep my rabbits from eating my husband's small trees and found out that at least one chicken ate one. I cooked some eggs and noticed a distinctive flavor. It took awhile but I recognized it as mothballs! Luckily the customers that purchase our eggs didn't notice anything "off".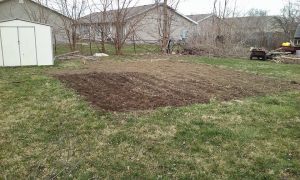 I have a neighbor that has chickens and they are free range. I plant a garden every year and it is about 20' by 25'. Every year those damn birds eat more of my crops than I do and yes I have put up chicken wire and it does not work. Any suggestions on how to keep them out? Thanks.
By Ron
---
Most Recent Answer

By 4TruLady [8]04/03/2015
Since it appears that you and your neighbor can't see "eye to beak" on this, here is my suggestion. There is a product out there called electrified poultry netting. You can plug it into household current, and its very portable. You can move it around and configure it in any way you wish, and it's very effective, especially if you water the grass around the perimeter of the garden well before the little villains are let out in the morning.

We have used three strands of hot wire around our garden effectively for several years, (5', 10", and 24" off the ground) but you have to make sure the ground is soaked before the chickens approach the hot wire. It does not kill the chickens, but it's a very unpleasant experience for them, and they usually avoid it after that.

Otherwise the only suggestion I have is taking your neighbor a bill for last years veggies, and if they refuse to pay it, smile broadly and tell them from now on you'll just take it out in fried "trespasser".
I need to know how to keep chickens out of my garden.
By Jean from Hoosick Falls, NY
---
Most Recent Answer

By Deanj05/12/2012
You don't say how big your garden is but maybe driving some wood stakes in the ground around the perimeter of the garden and then attaching chicken wire to the stakes. When you are finished your garden will be ringed with chicken wire and that should keep the chicks out.
Will a hot sauce mix deter chickens from eating my plants?
By Ralph
Archives
Thrifty Fun has been around so long that many of our pages have been reset several times. Archives are older versions of the page and the comments that were provided then.
My next door neighbor has a problem with another neighbor's chickens crossing the street and visiting her newly laid, expensive flower beds. They are digging up the plants, etc. This isn't a rural area, but there are no laws on the books about poultry in people's yards. Any suggestions that won't harm the chickens, yet keep them out of the flower beds? Thanks, Holly Editor's Note: I guess this explains why the chicken crossed the road! To eat some flowers. Sorry...
---
RE: Keeping Chickens Out of Flower Beds
I used to have chickens and my dad would use chicken wire along the ground, and let the plants grow up through it; and if the base of the plants get too big you can always cut out a little section of it to make it bigger. Then there is the possibility of asking whoever owns the chickens to keep them in a pen. Oh and by the way your won't even know the wire is there if you cover it with bark, mulch, or pine straw. (04/29/2005)
By jtg90
RE: Keeping Chickens Out of Flower Beds
Letting your chickens roam and destroy others' property is just as bad as having a dog that does that! I would suggest asking the neighbor to fence in the chickens or you will call the police. Also, take photos of the chickens in the act. Maybe have a lawyer write a letter to the neighbors about the chickens destroying her property. After a fair amount of warnings I would be making some chicken soup!-from a former owner of a small chicken flock (04/30/2005)
By Peach
RE: Keeping Chickens Out of Flower Beds
Huh? I don't understand how chicken wire covered with mulch will keep my chickens out of the flowers. Do you mean that they will eventually scratch the mulch away and get caught in the wire and then I will end up having to rescue mad, panicked hens from the wire? (05/27/2005)
By KS Sherry
RE: Keeping Chickens Out of Flower Beds
The idea is that chickens don't like walking on chicken wire. Probably any similar type of fencing would work. I doubt they would get caught in it if you laid it flat on the ground. It does surprise me that it would be effective with mulch on it but maybe it would be with a thin layer, that's assuming that chickens don't like walking on wire in the first place. I don't have chickens so I personally couldn't test it. Pretty cheap and easy solution to try out in a small area. (05/27/2005)
By ThriftyFun
RE: Keeping Chickens Out of Flower Beds
I have chickens and my mother simply puts vinegar around her flower bed. It seems to help (08/12/2005)
By Chickenboy14
RE: Keeping Chickens Out of Flower Beds
I just read on another web site that using mothballs is both toxic to the chickens and to humans. So please don't try this method. (04/13/2006)
By taterbug
RE: Keeping Chickens Out of Flower Beds
My grandfather put an electric fence around his yard. There are two wires running parallel to the ground, one about 6" off the ground, and one 1' off the ground. It only took the chickens a couple of times to learn their lesson. Now they stay away from his gardens and bird feeders. (04/16/2006)
By
RE: Keeping Chickens Out of Flower Beds
Are you sure there are no laws about chickens roaming in a residential area. You should call your town Code Enforcement Office. I had that problem. They destroyed my flowers, messed on my new concrete driveway constantly, etc., etc.. I had no complaint with the chickens, but with their owner. I nicely explained to him what his chickens were doing to my property. He still let them run loose. I then had to let him know I didn't want anymore chickens in my yard or he would be paying code enforcement a big fine and surrendering his chickens. They were only 3 chickens, but they did enough damage for 20. (06/14/2007)
By Stngray
RE: Keeping Chickens Out of Flower Beds
I have called Zoning and there is no anti-chicken rule in my residential neighborhood. However, they have rules about lions and tigers. So helpful. (06/15/2007)
By cookwie
RE: Keeping Chickens Out of Flower Beds
Just use a garden hose with a jet attachment, chickens hate getting wet and they'll soon associate the flower beds with getting wet! (11/05/2007)
By Brian Kenneth
Does anyone know how to keep chickens out of flower beds? They are destroying the mulch.
How do you keep chickens out of flower beds?
By Zoe2 from Dallas, TX
---
RE: Keeping Chickens Out of Flower Beds
Would small fences around the flower beds help? (08/12/2009)
By lorraina
RE: Keeping Chickens Out of Flower Beds
I put an electric fence around my flowers. There are two wires running parallel to the ground, one about 6" off the ground, and one 1' off the ground. It only took the chickens a couple of times to learn their lesson. Now they stay away from gardens and bird feeders. Good luck. (08/13/2009)
By kffrmw88