April 2, 2015
0

found this helpful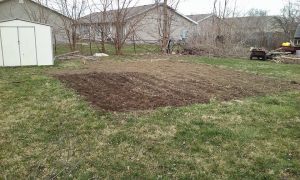 I have a neighbor that has chickens and they are free range. I plant a garden every year and it is about 20' by 25'. Every year those damn birds eat more of my crops than I do and yes I have put up chicken wire and it does not work. Any suggestions on how to keep them out? Thanks.
By Ron
April 3, 2015
0

found this helpful
Best Answer
Motion activated sprinkler.
http://www.youp QCFQ6MaQodgWIAVA
It attaches to your hose and will spray the chickens when they come within range. No harm no fowl!
April 2, 2015
0

found this helpful
Does not your neighbor have some responsibility in this problem? Appears, however, the most workable fix would be a strong and tall wood, stone, etc., fence around your garden.
April 3, 2015
0

found this helpful
Since it appears that you and your neighbor can't see "eye to beak" on this, here is my suggestion. There is a product out there called electrified poultry netting. You can plug it into household current, and its very portable. You can move it around and configure it in any way you wish, and it's very effective, especially if you water the grass around the perimeter of the garden well before the little villains are let out in the morning.
We have used three strands of hot wire around our garden effectively for several years, (5', 10", and 24" off the ground) but you have to make sure the ground is soaked before the chickens approach the hot wire. It does not kill the chickens, but it's a very unpleasant experience for them, and they usually avoid it after that.
Otherwise the only suggestion I have is taking your neighbor a bill for last years veggies, and if they refuse to pay it, smile broadly and tell them from now on you'll just take it out in fried "trespasser".
May 6, 2016
0

found this helpful
I use stiff bird netting at least 2 feet tall staked by weaving short bamboo stakes. Freezer baskets over plants.....Chickens won't eat tomato plants but they scratch the heck out of them.....so I cut the bottom out of black plant pots and place around the base of each when planted & push them down into the dirt about 1" or so. The pots warm the plants when they're young and also help runoff of water. Then there's the pecking at red fruit. Light weight bird netting is easy and they hate it.
June 3, 2016
0

found this helpful
if you use 5 feet or 6 feet chicken wire it works
September 4, 2016
0

found this helpful
Bologna! My chickens are destroying my and my neighbors tomatoes
I have a client I work for who has chickens, hens, roosters and ducks. She has also planted a garden and the animals are eating/ruining her tomato plants. Is there a way for her to keep them away from her garden, short of keeping them cooped up? She likes to let them out to roam during the day. Thanks for any help on this.

jmz2005 from Illinois
July 2, 2007
0

found this helpful
Best Answer
Either coop up the animals or coop up the plants.
July 2, 2007
0

found this helpful
Best Answer
I have planted my garden in cages, my chickens run free, I have learned how long their necks are. I have purchased the framing for canapés and put them around my garden, I have pig fence 3 ft. high and plastic bird netting the upper 3 ft.
I have bantys, they fly, between clipping wings and an overhang of netting here and there I actually have a bird free garden, I have several little gardens all over my backyard 16 x16, 8 x 12, 6 ft. round for beans, this is the only way I have been able to garden with my birds, Chris Cross on the framework I grow radishes, green onions, parsley, basil, and of course strawberries in hanging baskets, it's a bit crowded but at least I have my garden.
August 21, 2008
0

found this helpful
Best Answer
I have my garden on the other side of the fence, I have free range chickens, ducks, and geese, They have a acre; I got a space as big as your kitchen table for my garden, think there's somthing wrong with this picture. But I do have a weed free lawn out of it, with only 2 geese, 2 hens, and 6 ducks. They are so funny at the best of times they make the world a better place just watching them.
By guest (Guest Post)
July 2, 2007
0

found this helpful
Walmart sells some inexpensive lightweight plastic chicken fencing. I found that just draping it around some fence posts around the garden works very well. It is best not firmly upright because the chickens just hop over or perch on it before hopping in and helping themselves. If it droops a bit, the chickens quickly learn that their feet get tangled and it's not worth it. This reminded me that I need to put up my fence RIGHT NOW!! Thank you.
By guest (Guest Post)
July 2, 2007
0

found this helpful
tell her to spread cayenne pepper powder around her garden and around the plants that they really like, most animals can't take the heat and will leave the area alone!
By guest (Guest Post)
July 3, 2007
0

found this helpful
and the natural way would be to surround the garden with human hair and coffee grounds i tried it and it works well
July 11, 2007
0

found this helpful
I put coffee grounds and hair in my compost pile (Last week I put 4 big from Starbucks in)that does not slow the chickens down. Theyre rummaging around in the pile all day . I guess worms are more attractive than the fear of coffee grounds and hair.
By guest (Guest Post)
February 18, 2008
0

found this helpful
Hot pepper doesn't effect birds.
July 5, 2016
0

found this helpful
My problem was a little different, but the solution might also help in this case. Everyday, the chickens were making a mess by scratching the mulch up in my flower bed. But,I believe I have found a great solution! I stuck a long twig (about 3-4 tall) in the ground and tied a shiny aluminum pan to it. When the wind blows, it spins and bangs against the twig. Then I added 2 shiny pinwheels in the mulch around the edges of the area which is about 10 x 12. Has been about 2 weeks and so far, this solution has worked like a charm. Cheap and no ugly fence!
August 14, 2016
0

found this helpful
Going to try it I also use the motion sensor sprinkler to keep them off my back Porch and it works fantastic
Read More Answers
May 12, 2012
0

found this helpful
I need to know how to keep chickens out of my garden.
By Jean from Hoosick Falls, NY
May 12, 2012
0

found this helpful
You don't say how big your garden is but maybe driving some wood stakes in the ground around the perimeter of the garden and then attaching chicken wire to the stakes. When you are finished your garden will be ringed with chicken wire and that should keep the chicks out.