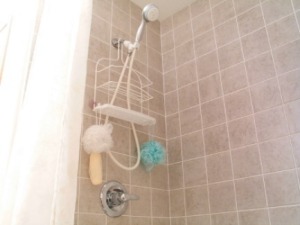 Finding a good way to keep hair from going down the drain is important. This guide is about keeping hair out of your shower drain.
Ad
---
Solutions: Keeping Hair Out of Your Shower Drain
Read and rate the best solutions below by giving them a "thumbs up".
Place an old, used fabric softener sheet over the drain. The hair will stick to the sheet, allowing the water to flow smoothly down the drain. When you're done, just toss the sheet into the wastebasket.
By Lynda from Kearny, NJ
My husband and I have been blessed with thick hair, which we wear rather long, but this posed a problem with our older home's shower plumbing. Tired of seeing him having to snake out the drain every few weeks, I purchased the old fashioned steel mesh drain cups and placed it in our shower. We were astonished at the fast collection of our hair and we are happy to report that it's been four years since having to snake the plumbing!
By Trisha from Ventura CA
Place a piece of scrunched up nylon netting into your shower drain to stop hair from going down the drain. When you pull the nylon netting out, the hair will come out with it!

By CDR
Give a "thumbs up" to the solution that worked the best! Do you have a better solution? Click here to share it!
Questions
Here are questions related to Keeping Hair Out of Your Shower Drain.
How do I stop my hair from clogging the drain in the shower? My hair that comes out in the shower is continually blocking the drain in the shower of our family bathroom? Cleaning it out is hard and often involves cleaning out some of the pipes too.

Emily from Melbourne, Australia
AnswerWas this interesting? Yes No
Ad
---
---
Most Recent Answer
By Nancy in NC [1] 03/17/20090 people found this helpful
Hi, Emily,
These mesh hair-catchers do work! But how about brushing your hair really well before you get into the shower -- much less is likely to be shed that way.
Good luck,
Nancy in NC
---
Archives
Thrifty Fun has been around so long that many of our pages have been reset several times. Archives are older versions of the page and the comments that were provided then.
How do you keep hair out of the shower drain?

Thomas
---
RE: How Do You Keep Hair Out of The Shower Drain
They sell strainers for this. You can buy them in WalMart and Target, and almost any place. They will be on the aisle with the toilet brushes, soap dishes and other bathroom stuff. If you have a choice get one made of soft plastic. You can smush those right into the drain. The hard plastic ones tend to pop out. (08/11/2007)
RE: How Do You Keep Hair Out of The Shower Drain
Empty after each use or the drain becomes very slow. (08/14/2007)
By cookwie
RE: How Do You Keep Hair Out of The Shower Drain
I have very fine hair and the plastic strainers did not do so well for me. Look for the metal strainers which are made of a finer mesh and catch everything. Target, Home Depot, Lowe's, and many of the dollars stores carry them. Either one, however, is better than a clogged drain. (08/14/2007)
By Sheilamay
RE: How Do You Keep Hair Out of The Shower Drain
Use a scrubby made of nylon net! Cheap. (08/14/2007)
By Lindajean
I am most pleased about the hair catcher I put in my bathtub drain. It is a wire basket that fits right into the drain. It can be purchased for $2-3 in a hardware store. It saves me from having to use a drain opening product every few months.
By Donna Hunt from Mpls., MN
---
RE: Hair Catcher for the Drain
I did the same with a plastic one that doesn't sink into the drain, but covers the top of the drain in a large marshmallow shape. Got it from a mail order catalog and can't recall which one. You can probably find one locally without having to pay for shipping.
This gizmo catches a lot of hair and as I have long hair, apres each shower I mentally thank myself for having the insight to place one of these over the drain because I think about how much I have saved by not requiring the drain cleaning company. (02/07/2006)
By cookwie
RE: Hair Catcher for the Drain
I just use part of a plastic "scrubber" (02/15/2006)
By