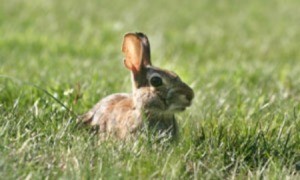 Tips for keeping bunnies out of gardens from the ThriftyFun community.
Use Hair Clippings
Go to your local hair salon and ask them for a bag of hair sweepings. Get a large bag full and spread it around the perimeter of your garden. You may have to repeat this after each rain fall but as a hair stylist, I know that we always have plenty to spare at the shops where I have worked. Many folks around my town know that animals do not like the scent of humans and will avoid it at all costs. Also, the hair is biodegradable and will nourish you garden as well. This is free and a easy solution to prevent wild critters from entering your garden.
By Honeydoya
Chicken Wire
Surround the garden with a chicken wire fence. Bury about 4-5 inches of it into the ground to keep bunnies from digging under it.
By Carol
Sweet Alyssum
I was told that bunnies don't like sweet alyssum because of the sweet scent. Where I live, we don't have a rabbit problem. Just scatter the little white seeds among the plants, they re-seed and grow with no problems.
By Rosebud
Marigolds
Bunnies do not like marigolds. You could plant them around the edge of your garden!
By michelle h
Bury A Bottle
I've heard that planting an empty beer or soda bottle wih just enough of the neck exposed for the wind to make it whistle will scare them away.
By Siris
Plastic Snakes
I read that if you purchase a couple of plastic snakes from the dollar store and put them into your garden, it will keep the bunnies from entering the area. Good Luck.
By Watinwood
Several Bunny Proofing Ideas
I have heard that you can put hot sauce in a spray bottle with some water on the plants and that can ward off their little taste buds. I have also heard to buy plastic snakes and put them in the garden. I haven't personally tried either one. I usually put up a wire bunny proof fence bought at the local hardware store. This year my husband cut the bottoms out of some 5 gal. buckets and placed them over the tomato plants while they were still small. Push them down a tad bit into the dirt. This kept the plants out of reach. Typically, I only seem to have trouble with my tomato plants, not my lettuce, which you think would be the main problem.
By momof2girls
Urine
If you're not thrilled about spreading your hair clippings around, human urine works as well. I try to remember to take a late-evening whiz in the mulch near my Asian Daylillies every now and then. The local rabbit now understands that it's my territory and doesn't munch on them anymore.
Wolf urine works too, but it's very inconvenient to chain a wolf in your yard and force him to drink coffee. I haven't tried it.
By Backyardigan
They are cute and fuzzy, and only too eager to share the fruits of your gardening labor. Nothing is more frustrating than watching your hard work literally get nipped off at the bud. Here are some tips for helping you win the war against rabbits.
Ecology and Behavior
In order to keep them out, first you've got to understand them. The three most common garden rabbits are Jackrabbits, brush rabbits, and cottontails - with cottontails being the most widespread. Rabbits are active both day and night, but feeding usually begins in the early evening hours and continues throughout the night and into the next morning. Most rabbits have a small home range consisting of a few acres, and as long as local resources are plentiful (food and shelter), they are happy to stay put in one area.
Females give birth to an average litter of 2-3 "kittens" and can have as many as 5-6 litters per year. The babies are born in shallow nests in the soil (called "forms"), which are covered by leaves, branches, rocks or other debris. The kittens stay in the nests for several weeks, with the mother leaving them hidden during the day so as not to attract the attention of nearby predators. (Note: If you find what appears to be an "abandoned" rabbit nest, it's likely that the mother is hiding close by. She'll come back at night so leave it alone! The mortally rate for baby rabbits is high - even higher for those raised by well-intentioned humans!).
Signature Signs of Damage
Rabbits consume as much as 1-1 1/2 pounds of vegetation each day. If something has been stripping bark from your young trees, nibbling vegetable seedlings, or mowing down your ornamentals, you may have a rabbit problem. Most damage is inflicted close to the ground (lower than 2 feet), except during winter snows, which can elevate rabbits to greater heights. Using their incisors, rabbits make a characteristic diagonal cut that is at a 45 degree angle. Deer don't have upper front teeth and must twist and pull when browsing. They tend to leave a ragged cut on branches. The rabbits' knife-like teeth leave a clean cut.
Trees, Shrubs, And Plants Rabbits Love
Almond trees
Apple trees
Beans
Beets
Blackberry bushes
Blueberry bushes
Broccoli
Carrots
Cherry
Cilantro
Citrus
Lettuce
Ornamental flowers (e.g. coneflower, black-eye Susan, Asiatic lily)
Parsley
Peas
Pistachio trees
Plum trees
Raspberry canes
Strawberry plants
Various other shrubs, trees, and turf
Management Tools
Fences:
This is the best and most effective long-term solution. Erect a fence around garden beds or individual plants. The fence should be at least 48 inches high to prevent rabbits from jumping over. Bury bottom of the fence 4-6 inches into the soil and turn the fence outward to prevent rabbits from digging underneath. If the bottom is not buried, the fence should be staked down around the perimeter to discourage digging. Poultry wire works great for this, just make sure the mesh size is no larger than 1 inch to exclude baby rabbits from entering. If a rabbit should get in it may not get out, so check fenced in areas often.
Trunk Guards: Individual plants and small trees, shrubs, and vines can be protected using homemade or commercially bought trunk guards. To make them yourself, simply roll 1 inch mesh into a 18-24 inch cylinder (or larger if needed) and surround the plants. Close the seam using thin gauge wire or zip ties. Make sure to make the cylinders large enough so the rabbits can't browse on leaves through the mesh. Bury them into the ground a few inches or secure them with stakes to keep them securely upright.
Repellents
Like all prey animals, rabbit have a keen sense of smell. Some gardeners have reported success with odor repellents (e.g. blood meal, powered fox urine, dog or human hair, cat litter, rotten eggs). Whether homemade or commercial, these products need to be reapplied frequently (especially after it rains) and tend to lose their effectiveness after a period of time. Still, they may work long enough to get young plants to a growth stage where rabbits are no longer interested in them (is there really such a stage?).
Live Trapping
Live trapping of rabbits is only a temporary fix and not recommended for a variety of reasons. Rabbits tend to panic and injure themselves when trapped. Are you prepared to deal with an injured animal? Although rare, rabbits can transmit certain diseases to humans when handled.
Trapped animals need to be relocated to somewhere. Laws may vary locally, but many times this requires a written permit to do so. Once trapped rabbits are moved out of the area, those same resources become available and new rabbits move into the area. The cycle simply continues to repeat itself.
If you do decide to use live traps, check with your DNR or animal control regarding laws first. Always locate traps in the shade, check it daily, keep pets away, and have a release location planned before you set the trap.
Altering Habitat
Another way to manage rabbits is by altering their habitat. Remove cover (brush piles, stones, debris) to discourage cottontails and brush rabbits, especially in urban areas where alternative hiding spots are limited. You're also wise to start with plants that rabbits prefer not to eat. Here is a partial list:*
Allium (flowering onion)
American Holly
Astilbes
Azaleas
Bamboo
Boxwood
Buddleia
Campanula
Cat Mint
Clematis
Daphnes
Epimediums
Euphorbias
Foxgloves
Gaultherias
Hardy germaniums
Hostas
Hydrangeas
Hypercium
Hypericums
Irises
Juniper
Leucojum
Lonicera (including Honeysuckle)
Monkshood
Pampas grass
Peonies
Peppers
Philadelphus
Poppies
Red Hot Pokers
Rhododendrons
Spotted dead nettle
Spruce
Sunflowers
Thyme
Vinca (periwinkle)
Winter Creeper
*You'll find much larger lists than this is you search various Internet sites. Just remember, rabbits can't read. They are also animals and highly unpredictable. I've personally had rabbits damage several "rabbit proof" plants, including several from the above list. Yes, these plants may be less appealing to rabbits than others, but large local colonies competing for limited amounts of food and rabbits coping with severe winters are not as picky.
How do we keep the rabbits from eating the bulbs I plant for next year's growth?
Hardiness Zone: 5a
By Rox from Champaign, IL
October 10, 2009
0

found this helpful
Thank you, that is a great idea.
April 13, 2010
0

found this helpful
Best Method Ever
All my friends and their parents use this method and not only do they have zero problems, but their plants are bigger and happier, too. First step -find someone with a pet rabbit. Go to rabbit.org for a state by state listing of rescue chapters. They would be happy to hook you up with someone in your city. Second - ask for a ziploc bag of poop. Don't worry, it does not smell. It's dry and crumbly and pellet shaped. Scatter these pellets around or through your veggie patch and voila, no more wild rabbits.
Why this works? Rabbits are very territorial and will fight to the death in many cases over land. Since domesticated rabbits are much larger than their wild cousins, a wild rabbit will see the poop (or smell it a long ways off) and give your plants a wide berth. The poop tells them a giant rabbit lives there and they will want nothing to do with your plants! Also, rabbit pellets make great fertilizer that will never, ever, burn your crops. It's a win-win situation.
I have a House Bunny who's litter box is just like a compost bin. He makes my yard happy and is the best companion I've ever had.
April 14, 2010
0

found this helpful
Wow, that is awesome info, thank you very much....I love to see the rabbits in our yard, but I do want it to stay pretty with flowers and shrubs and since my little dogs chase them the info on rabbits being territorial is very good to know.