Problems with the spark, fuel or air intake can cause problems with your mower. This guide is about lawn mower won't stay running.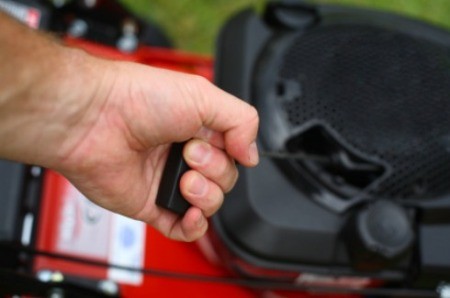 I have a John Deere 1500 series lawn mower. I can get it to start but as soon as I start the blades it cuts off. Does anyone know why? I have already checked to see if there is something caught in the blades.
---
Most Recent Answer
April 2, 2010
Usually there' a bad safety switch causing the problem. These are usually gray in color and look like a push button. Like the one you can easily see under the seat. Also a bad PTO switch will do this. There even a safety switch attached to the transmission on a JD tractor! See the loose wire?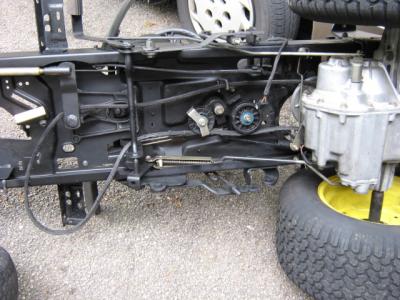 ---
By robinfuller26 1 1
My riding lawn mower will not stay running unless I keep the choke on.
By Robin
---
Most Recent Answer
---
I have a 16hp 42in John Deere riding mower; it will start and run fine until I engage the blades. What's the problem? It runs great then when I engage the blades it dies. Any solution?
By Brandon from Indianapolis, IN
---
Most Recent Answer
February 12, 2014
It may be the seat switch. Sit on the seat before engaging blades. If that fails, look for a connector under the seat. Unplug it, test, short it, test. You may end up with the safety feature defeated, so always turn off the blades before getting off the mower.
I have a Poulan pro riding lawnmower; it turns off after it has been running for 5 to 10 minutes. What could it be?
By JJ from Bancroff, LA
---
Most Recent Answer
By JazzyMe 12 79 Flag
May 18, 2012
That sounds like a problem with the fuel line where it gets hot and a vaccumn forms. If you wait for 5 to 10 min. does it start up again? If so that is the problem. Wether it is or not you'll need to take it to a mechanic.
I have a Murray riding mower. It will not stay started. I put gas in the carburetor and it starts and then cuts off.
By Kevin
---
Most Recent Answer
By beaverlaker 1 15 Flag
May 1, 2012
Not only check for water in your gas can, but you may have gotten a bad batch of gas when you filled up your can (this just happened to us this past weekend). Somehow water got in our gas can, but when you have warm days and very cool nights, water condenses in your mower tank and gas can.
Keep 'Dry Gas' on hand for all your gas engines, especially for the spring and fall months. My husband spent 2 whole days getting water out of the John Deere riding mower we had because it just 'shut off' a few days ago. Water was in the fuel line, tank, filter, AND ended up in the oil because somehow on this engine L105, there's a line that runs to the oil from the gas--don't ask me why.
We weren't sure what the problem was, but we certainly had to get all the water out of there. A trip to town to get more gas, a trip to town for new spark plug, gas filter, air filter, another trip to get an oil filter and an oil filter wrench because ours broke; the process of elimination with simple things....before taking it to be repaired. It worked. It WAS water in the gas.
By matgomery 1
My 13.5hp, 38in Yard Machine mower runs till it gets warm then shuts off. It won't start back till it cools down. Any ideas why?
My mower went through 3 batteries last season. If you have a charge it will stay running, but as soon as you take the battery charger off, it shuts off in like 30 seconds. It doesn't act like it has anything to do with the gas. It is like a bad alternator, but they don't have one.
By J.P. from central, PA
I have a Poulan riding lawn mower and it keeps shutting off after about three seconds. What is the problem?
By Stephen from Suffolk, VA
I have a 14.5hp Briggs and Stratton mower. It starts and runs, but then it stops.
By Joe
My 19 hp Craftsman lawn tractor runs for a while and then will quit and act like it is overheating. After I let it sit for a few hours it will start up again. Any ideas?
By Richard O. from Rutland, VT
I have a 18 horse power Pro, it runs good when the blades aren't engaged. However, the motor dies out when the blades are engaged.
By Luann from TN