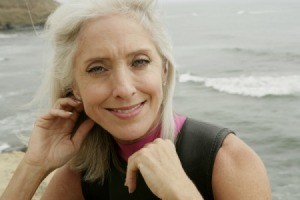 Some women, after dyeing their hair for years decide to go natural. This is a guide about letting gray hair grow out.
Ad
---
Questions
Here are questions related to Letting Gray Hair Grow Out.
I've been coloring my grey hair. Now, with 1 inch grey showing, I want to remove the brown and go grey. What is the best way to remove the brown?
By Carolyno from Vancouver, WA
Ad
---
---
Best Answers

By Paula12/07/2010
When I wanted to go from tinted to natural I got a real curly perm, so the curls hid the roots. Then as soon as it was long enough, I had my stylist cut my hair real short so only the natural color was left. I did it over the summer and it was a shock to my students when school started up in the fall, but it was the easiest, cheapest way to go natural.
---
Best Answers

By Lilac [18]12/06/2010
Don't try this yourself. Go to a hairdresser and have them strip the color from your hair. It will then be a nasty shade of pale. Then have her color your hair grey. It will look lovely and grow out naturally. It will cost something but will be worth it in the end.
---
Best Answers

By CDC [53]12/05/2010
I would suggest heavily highlighting your colored hair, or you could go with a lighter color just where your hair is colored that will blend more with the grey so you won't see the lines of demarcation as much. The fastest and easiest way is just get a short haircut that will remove as much of the colored hair as possible.
My hair is gray and I color it medium blonde. I'm in the process of letting it grow out gray. How can I make it look better until it's grown out?
By Linda from Jackson, TN
Ad
---
---
Best Answers

By Linda [38]01/20/2010
My beautician suggested I go to a lighter color each time I DO color my hair. Non-permanent works best, until I get to the lightest I can go and the gray blends in. Not there yet!
---
Best Answers

By Ashley01/18/2010
Hi, Linda!
Try a temporary color. They last about 6 weeks and fade over time. You have to go a little darker and it covers your blonde and your gray. Continue coloring it every 4 weeks or so. Once the blonde has been cut off, you can let the darker, temporary color fade away to your beautiful, natural color!
Solutions: Letting Gray Hair Grow Out
Do you have knowledge about this guide topic? Feel free to share a solution!