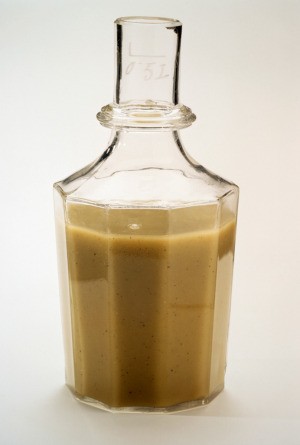 Homemade liqueurs are fun and easy to make in a variety of flavors, including fruit and other delicious choices. This page contains liqueur recipes.
Solutions
Share a solution for this guide today!
Questions
Here are questions related to Liqueur Recipes.
I want to know how to make liqueur chocolates at home.

Kimberly
---
Most Recent Answer

By Dena Roberts02/12/2009
My sister made liqueur cherry chocolates once. She misread the directions, and, instead of the cherries soaking in brandy for 2 days, they soaked for 2 weeks! Those were VERY good chocolates! She found the recipe on line, on the Kraft Foods site.
Does any one have recipes for home made liquors?
By oneoften from Bowen, Queensland
---
Most Recent Answer

By Anonymous07/17/2012
Baily's Original Irish Cream

1 cup light cream
1 14 ounce can sweetened condensed milk
1 2/3 cups Irish whiskey
1 tsp. instant coffee
2 Tbsp. chocolate syrup
1 tsp. vanilla extract
1 tsp. almond extract

Combine all ingredients in a blender on high speed for about twenty seconds.
Transfer to a clean bottle with a tight fitting lid. Store, refrigerated, and shake well before using.
I would love to make some homemade drinks such as Tia Maria and Irish Cream. Are there any other of these sort of drinks which would be good for Christmas for myself or gifts? Thanks.
By Lyn
---
Most Recent Answer

By hopefulau11/23/2013
Another Great Site
http://www.wisebread.com/10-homemad ... o-bottle-now-for-tasty-holiday-gifts

hopefulau