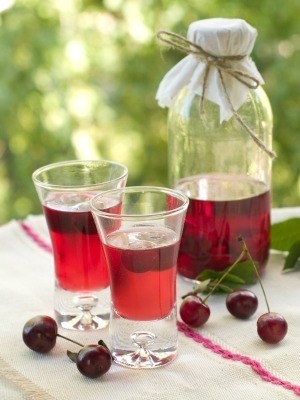 Easy! A delicious cold after dinner liqueur.
Ingredients:
750 ml. bottle of grain alcohol
7 or 8 large lemons (make sure they're organic and not sprayed, you're using the peel)
5 cups water
3 cups sugar
Directions:
Wash the lemons thoroughly and scrub them clean of all residue. Using a peeler, take off the skins being careful not to get any of the white lemon "pith" onto your peelings or it will add bitterness to your limoncello. Put the peels into a large, open-mouth jar with the alcohol and seal the lid tightly.
Put the date on the bottle. Put the jar in a cool, dry place for one week. Once a day, shake the contents well to remix everything. You'll notice the color of the liquid changing to yellow and the color of the lemon peels fading.
One week later, dissolve the sugar completely in water by heating it on the stove. Then cool the sugar-water mixture to room temperature. Strain the lemon peels out of the alcohol and then mix the alcohol with the sugar-water. Usually the color of the alcohol changes from clear yellow to cloudy yellow when it's combined with the sugar-water. Pour the mixture into bottles which can be sealed tightly and store them in the freezer. If the limoncello is kept "frozen" until serving, it becomes thick and syrupy.
By RULLA8 from Creta, Greece
Read More

Comments
Has anyone ever tried or have this recipe "Cherry Booze on a High, Safe Shelf"? I tried it and it didn't turn out like the description in the recipe. I searched and found the person who submitted the recipe, but was unable to contact them. The e-mail address is no longer available.
The sugar is hard like a rock and the cherries have lost their color, but did not dissolve as described.
I would hate to throw it away so I am trying to find a way to fix it if possible. Does anyone have any ideas? Thank you. This is the recipe:

Cherry Booze on a High, Safe Shelf
1 lb. big perfect Bing cherries
1 lb. sugar
1 fifth gin, vodka, or brandy, 90 proof, if possible
Wash and stem the cherries very gently so as not to bruise them. Dry on a towel. Place them in a clean 2-quart jar. Pour the pound of sugar over the cherries. DO NOT stir or shake. Pour the liquor over the sugar and cherries. DO NOT stir. Cover with a lid.
Put the jar on a high, safe shelf and let it stand three months. Strain into two 1-quart bottles. The cherry meat will be dissolved and the color is "gorgeous" and the taste "divine". Trust me!
Note: Instead of the cherries, you may substitute 1 pound of most any fresh fruit, such as tangerines, oranges, peaches, apricots, plums, etc. Use the fruit unpeeled and follow the above recipe.
By it's.only.me from NE PA / USA
Answers
March 4, 2011
0

found this helpful
I haven't tried that recipe, but I can honestly say I have never seen any fruit completely dissolve in home brew that we (hubby and I) have made. Granted ours wasn't using vodka or any other hard stuff, but I would think it would act similar. The stuff we have made has set up to 6 months and still had fruit to some degree in the end. So far we have used blueberry, strawberry and oranges in different recipes.
However when I read your post it did remind me of a recipe I remember my mom making a few times when I was a kid. I can't say that I remember eating the brandied fruit, but I do remember her making cake from the fruit. Here is a link to the recipe it reminded me of.
allrecipes.com/.../Detail.aspx
March 7, 2011
0

found this helpful
We have made this for years. The fruit does not mush down and can be eaten after the liquor is strained off. It is best left for a number of years as it becomes more mellow with age. Soft fruit like peaches does break down more than cherries, blueberries, etc. We use a gallon jug, fill it 3/4 full of fruit add several cups of sugar and fill jar to the top with a cheap vodka. Then we stir until the sugar dissolves, cap it and place in the back of the closet and forget about it for a few years. After it is strained and decanted into a nice bottle you have a very nice liquor for after dinner!
March 7, 2011
0

found this helpful
Here's a link, a longer, detailed process with wonderful pictures. Perhaps you can read this and discover what you can do to salvage it.
www.homebrewunderground.com/.../
March 7, 2011
0

found this helpful
Years ago I knew someone who made something called "Cherry Bounce" that used frozen pie cherries....not Bing cherries. Maybe that's the answer. I don't have the recipe or I'd post it for you. Good luck.
March 7, 2011
0

found this helpful
Oops! I guess Deeli and I know the same person who made Cherry Bounce, since we are both from the State of Washington! *LOL*
Answer

this Question