Over the years, I have tried to use less commercial products and make more of my own products for myself, my family, and my home-naturally, simply, and economically! I saw how many I bought and how much these products cost in both my grocery bill and our health when I worked for an organization that helps people deal with lung diseases.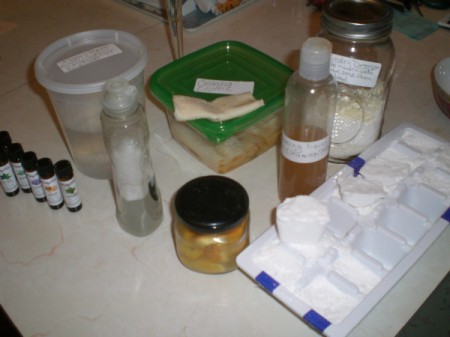 Many allergies, asthma, other respiratory and even skin issues are caused by unhealthy chemicals in products that we come into contact every day! I make my own natural and economical products including: toothpastes, mouthwashes, deodorant, healthy room scents, dish and laundry detergents, dryer sheets, floor cleaner, cleaning sheets, shampoo and conditioner, hair spray, sink, tub and toilet cleaner, just to name a few! They work just as good and smell wonderful, but are not toxic to family, pets, or the environment!
Studies says that women in particular potentially use at least 25 chemically produced products a day (which contain hundreds of individual ingredients). That may not be in our best interest for health and some have even been proven to be hazardous to our health!
They include: hand soap, toothpaste, mouthwash, liquid shower soap, shampoo, conditioner, hair spray/mousse or gel, deodorant, perfume, sink cleaner, toilet cleaner, tub/shower cleaner, floor cleaners (both vinyl and/or wood), wood polish, counter cleaners, dish detergents, clothes detergents, dishwasher cleaner, laundry softener, laundry dryer sheets, wrinkle release, air fresheners, make up, and hair dye or coloring.
Pictured are just a few of the products that I make myself. In future months, I will be sharing some of these individual cleaning projects and their ingredients on Thrifty Fun, when I get time to take some photos while making them.
Living simply with gentle, non toxic products make me and my family's life healthier, wealthier, and happier!
May 29, 2015
0

found this helpful
There have been multiple studies over the years on the chemicals in products. One resource you can to check out is:
psr.org
(physicians for social responsibility) a non-profit educational website.
Here is a excerpt from their website under:
Toxic Chemicals and Cosmetics..
Personal care is big business in the US. The $50 billion beauty industry produces such products as shampoo, deodorant, makeup, moisturizer, diaper cream, perfume, and toothpaste, and these products literally touch almost every American every day. According to the Campaign for Safe Cosmetics, the average American uses about 10 personal care products each day, and is exposed to more than 100 unique chemicals from those products.
Some of the toxic or potentially toxic chemicals that have been found in cosmetics include formaldehyde (in nail polish, hair straightening formulations, and other products), lead and other heavy metals (in lipstick, eyeliner, and other products), hydroquinone (in skin lighteners), and 1,4-dioxane (as a contaminant in shampoo and other sudsing products).
These products are regulated by the Food and Drug Administration under a 70-year-old statute that does not assess ingredients for safety before allowing them on the market. It is legal to formulate cosmetics with chemicals linked to cancer, infertility, birth defects, endocrine disruption, and other adverse health effects. An industry-funded panel, the Cosmetic Ingredient Review Panel, issues non-binding recommendations on the safety of cosmetic ingredients, and assesses the safety of only a fraction of the ingredients used in beauty products.
An overhaul of cosmetics regulation is long overdue.
The Safe Cosmetics Act would effectively address the shortcomings of the Food, Drug, and Cosmetics Act of 1938, and protect Americans from toxic chemicals in beauty products. Provisions of the Safe Cosmetics Act would include:
Phase-out of ingredients linked to cancer, birth defects and developmental harm;
Creation of a health-based safety standard that includes protections for children, the elderly, workers and other vulnerable populations;
Elimination of labeling loopholes by requiring full ingredient disclosure on product labels and company websites, including salon products and the constituent ingredients of fragrance;
Worker access to information about unsafe chemicals in personal care products;
Required data-sharing to avoid duplicative testing and encourage the development of alternatives to animal testing; and
Adequate funding to the FDA Office of Cosmetics and Colors so it has the resources it needs to provide effective oversight of the cosmetics industry.
Resources:
The Campaign for Safe Cosmetics
The Story of Cosmetics
EWGs Skin Deep Database
I have worked for both the American Heart Association and the American Lung Association for over 17 years and spent many hours in educational symposiums/programs regarding various health issues including the chemicals we use in our everyday life. As a matter of fact, I just attended a seminar on creating these healthier home cleaners that had a local physician (Asthma and Allergist specialist) give part of the presentation, but I invite you to just count how many products you have used already today..I count 8 already and it's still early!
Now if you'd just check all those products you've used and google the ingredients. How safe they are?