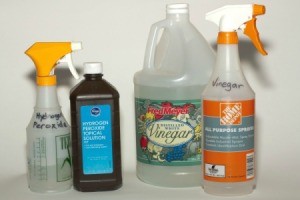 Avoid toxic chemical cleaners and go green. A few common household products can create eco-friendly cleaners to get the job done. This page contains homemade natural cleaning ideas.
Ad
---
This green cleaning method is a great way to sterilize those yucky places in your home. Check out this video and learn how easy it is to clean green.
Solutions: Homemade Natural Cleaning Ideas
Read and rate the best solutions below by giving them a "thumbs up".
It's that time of the year to spring clean. It's better to make your own cleaners; no harsh chemicals, cheaper, and it's better for the environment. To clean my kitchen and bathroom counters, I sprinkle baking soda on them and then scrub with a cleaning brush. To clean windows, I use 2 tablespoons of white vinegar with a gallon of water. Put in a spray bottle and you're all set. You can also use lemon juice instead of vinegar which smells good.
Instead of buying expensive drain cleaner for clogged drains, I use 2 cups of baking soda. Pour into the drain and then pour hot water from the teapot in. It works really well.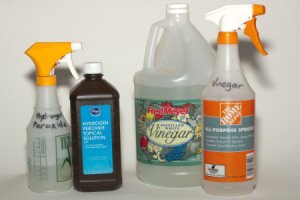 This non-toxic method was developed by Susan Sumner, from Virginia Polytechnic Institute, as a way of sanitizing food. Not only does it work great for that but I have found it useful elsewhere around the home.
Supplies:
Hydrogen Peroxide
Vinegar
2 Spray bottles
Cleaning cloth
The trick is to keep the two substances in separate bottles.
WARNING: If you mix them together beforehand, not only does it lose it's effectiveness as a sanitizer, but it produces peracetic acid which is not something you want around. Therefore, DO NOT mix them together in the same bottle.
Instructions:
Fill spray bottles with hydrogen peroxide and vinegar, separately.
Spray the surface you want to clean with a light coating of hydrogen peroxide. Let it bubble for a moment.

Note: You can actually do steps 1 & 2 in any order. However, I like spraying the hydrogen peroxide first because it can help me spot the worst places when it bubbles.

Now spray the surface with the vinegar. Again, let it sit a moment.
Wipe down with your cloth and toss the cloth in the washing machine when you are done.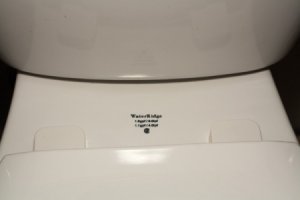 This works great in the bathroom and is totally non-toxic. I have even killed mold with it successfully.
Source: The Urban Homestead by Kelly Coyne and Erik Knutzen
By Jess from Hillsboro, OR
Valencia, Spain (no date)
A drop of lemon, say citrus-fruit experts who have been meeting here in annual conference, can:
Remove tea spots from table linens.
Remove rust, especially from clothing.
Clean a rusty knife or blade.
Remove an ink spot from ivory.
Polish a calf handbag or belt.
Bleach a marble fireplace.
Olive dealers who were gathered in another part of town promptly added that with a few drops of oil you can:
Clean objects of mother of pearl.
Remove spots from linoleum.
Clean bronze objects (if the oil is mixed with a little vinegar).
Source: This is from a very old newspaper clipping. Copied as written.
By Great Granny Vi from Moorpark, CA
Don't throw away those lemons after you've used them. They are great for scrubbing the kitchen sink. Simply take half a squeezed or unsqueezed lemon, dip it in some baking soda and scrub away. The baking soda will act as an abrasive while the lemon will help remove stains. You can also squeeze some lemon juice down the drain to help freshen it. For stronger odor elimination, just use some of the peel and turn on your disposer. Lemony fresh results every time.
By Liliane from Milpitas, CA
Give a "thumbs up" to the solution that worked the best! Do you have a better solution? Click here to share it!
Questions
Here are questions related to Homemade Natural Cleaning Ideas.
I like to make homemade cleaners to save money, but are they any better for the environment? For example, the one I make the most is basically a little lemon ammonia and water with a squirt of Dawn in it. I make a whole bottle for pennies, but is the ammonia bad? Do you have any cleaner recipes that would be better? I have not had good luck with just vinegar and water. Thanks.

Cindy from Lorain, OH
Ad
---
---
Most Recent Answer

By Joy_could12/10/2008
I can't use ammonia since I am allergic to it. My favorite cleaner is homemade and I use it on everything but glass.
1 cup borax (found in laundry section)
1/2 cup baking soda
When I mix this up I use 2 teaspoons to 2 cups of water. If I want to have a sudsy cleaner I add a small squirt of hand washing dish soap to it. I put it in a sports type of bottle to use. I also use it as an abrasive cleaner bu putting it in a shaker, like an empty spice bottle. I use it as as laundry booster too.
How many and which herbs can be substituted for the traditional rather toxic store bought cleaners, i.e. rug cleaners, laundry bleach, fabric softeners, window cleaners, etc.?
By Joyce
Ad
---
---
Most Recent Answer

By Lisa [2]05/09/2011
Herbs can't be substituted for everything but I think you'll find this list helpful:

http://www.msue.msu.edu/objects/con ... 99694/workspace_id.-4/01500631.html/