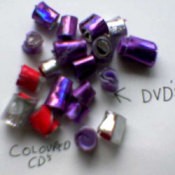 These beads were made from recycled CDs. When you make them, they are a bit stinky so use a well ventilated area or a mask.
Do be careful - They get hot!
I hope the pictures show you all you need to know. But here are some instructions to help I hope.
Heat CD over heat-gun.
Cut CDs into small strips wide or narrow (about a 1 cms or 1/2 inch works best).
Hold one end in pliers and other end in needle nose pliers over heat gun.
As they begin to become soft and wobbly, roll up the end held in the needle nose pliers (Like a Swiss roll or paper bead. Do Not Touch as they are Hot!)
Heat the end over heat gun and press hard with pliers or worksurface top to end the bead and so nothing is sticking up.
It takes a bit of trial and error to get them right, but that's the basic idea. Anyway have fun. DON'T INHALE THE FUMES! BEWARE BECAUSE THEY DO GET HOT!
If you discover an idea to modify the making or something please let me know! Have fun!- Cathy :o)
By Cath from Bradford West Yorkshire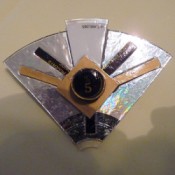 Beautiful brooches and earrings made from recycled CDs.
Approximate Time: 1/2 to 1 hr, not including drying times
Supplies:
CDs
heavy kitchen shears
"'Glossy Accents" liquid
embellishments
crafting glue
Modge podge, if using paper to decorate
jump rings, earrings, pins, bails - jewelry findings
glitter glue or glitter snow, if desired
Instructions:
Cut CD's carefully into shapes desired using heavy-duty kitchen/utility shears.
Decorate brooch and earring shapes as desired with cut-out paper designs, stick on rhinestones, etc. using crafting glue.
If using paper designs, cover with Modge Podge. Let dry.
After jewelry pieces are dry, apply a layer of "Glossy Accents" (available in craft stores in the scrapbooking area). You may wish to apply it with a small paintbrush.
After this dries, you can add glitter glue or glitter snow if desired.
When your design is completely dry, glue on the appropriate jewelry findings (such as attaching jump rings and earrings) for the earrings or brooches.
Voila! Lovely recycled jewelry!
By Carol from IA
I am interested in making earrings from perhaps old CDs, DVDs, etc. Does anyone have instructions on how to cut, mold, and use them for this purpose?
By Linn
July 4, 2012
0

found this helpful
Though I have not made jewelry out of cd cases, I think this is a good idea. You an cut the shape that you want with old heavy duty scissors. Remember to sand the edges, Just drill holes for the findings and you are all set.