Making a Baby Bib
To save on laundry, regularly use these garments to keep food off of your baby's clothes. This guide is about making a baby bib.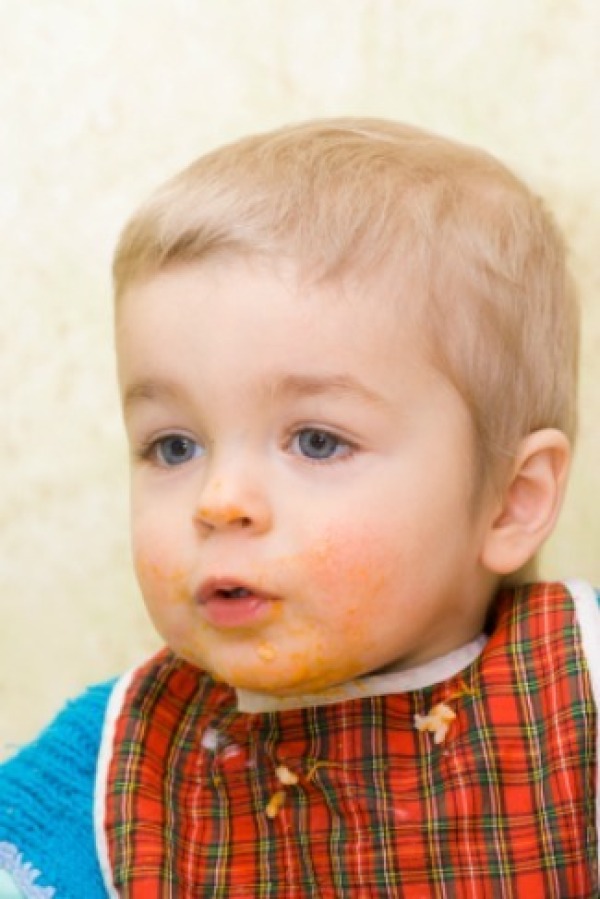 Filter

: All Articles
Sort

: Relevance
This bib was based on the need for a larger bib for my children when they were young. I noticed that when babies started eating solid food you could find waterproof large bibs, the only draw back is they don't absorb much when they drool when teething or spit up. I took a small (short) infant bib and used a food bib to make the measurements for this bib.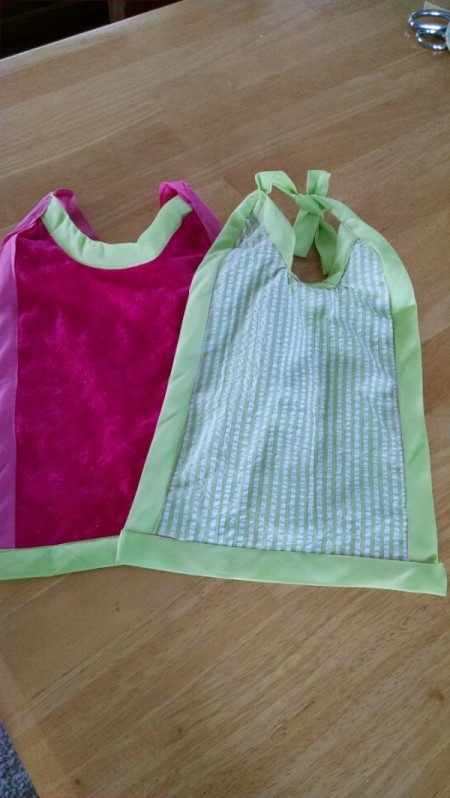 Total Time: About 1 1/2 hour
Yield: 1-2
Supplies:
spool of thread
needle
1/2 -1 yd flannel
straight pins
pin cushion
bias tape
1 baby bib or a store bought pattern.
sewing machine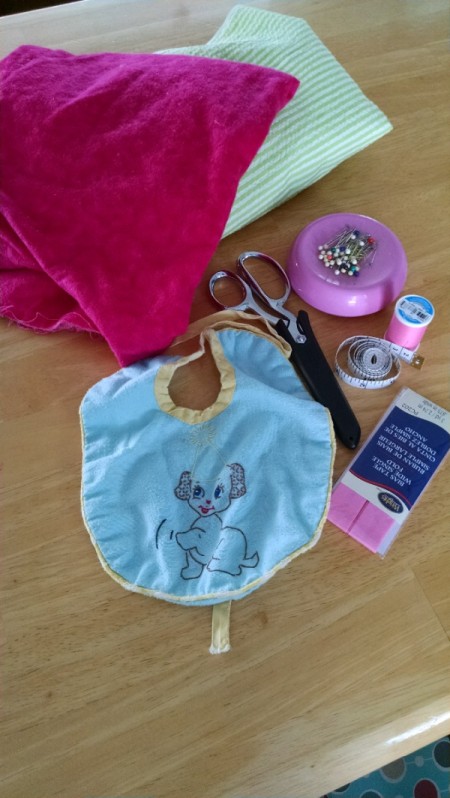 Steps:
Pin bib of your choice to the fabric. If you would like a longer bib, measure to desired length. Measure across for width.
Cut out bib (2).
Turn wrong sides together.
Remember to clip curves. Pin bias tape around edges.
Stitch bias tape to fabric. Stitch in the fold of the bias tape.
Trim seam an 1/8 inch from seam.
Fold bias tape over trimmed seam, pin, and stitch along open edge.
Add 10 inches of bias tape to length beyond top of bib for ties. Pin bias tape to sides and stitch in fold.
Trim fabric of seam.
Fold over bias tape. Stitch along edge of open edge. Repeat for other side.
For the bottom I used the above sewing directions, but added a 1/4 inch to each end.
Fold in the 1/4 inch on each side and hand a stitch closed.
Repeat on the ends of the ties.
I use handkerchiefs as a bib for my baby. I have bought lots of them in different colors and like to coordinate them with his outfit.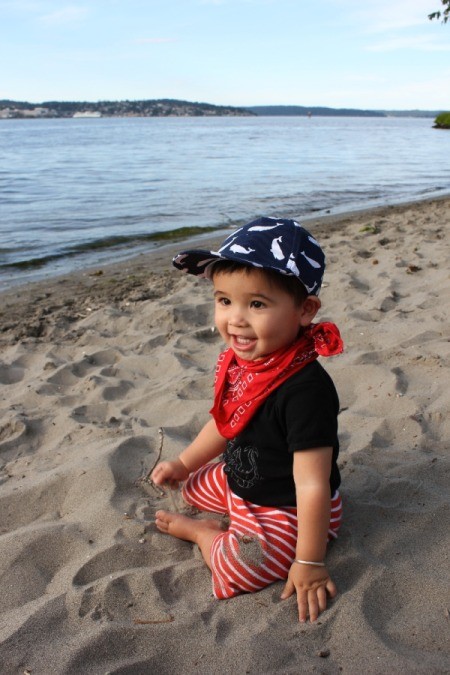 Handkerchiefs make the best bibs for a drooly baby. Not only are they much cuter than traditional bibs, but are absorbent and quick to dry. I keep several of them in the diaper bag and once one has gotten too wet, I hand wash it really quick and lay it out to dry. When we are out and about I lay it on the car dash to dry. They completely dry within an hour or two and much quicker on a nice day. When in a pinch I use a public restroom hand dryer, car heat vents, or a hair dryer.
It is important to pay attention to the quality of the fabric and not just get the cheapest ones you can find. The fabric should be 100% cotton and should be completely dyed rather than the design being screen printed on. I have bought some handkerchiefs for $1 a piece and they have turned out to be useless. The fabric, although saying it was 100% cotton, was not absorbent and the design peeled off after a few washes. So, now I splurge and get better quality ones knowing that when my little one outgrows needing a bib, I can still use them as snot rags as my father called them.
If you're handy with a sewing machine or unlike me, don't mind hemming you could save tons by buying scrap fabric and making your own. This way you could get lots of cute designs as well.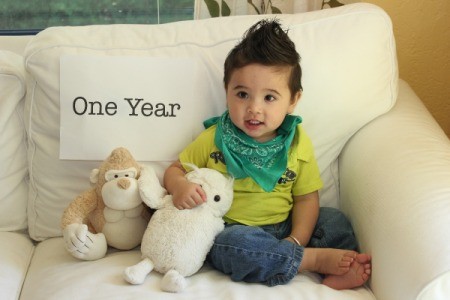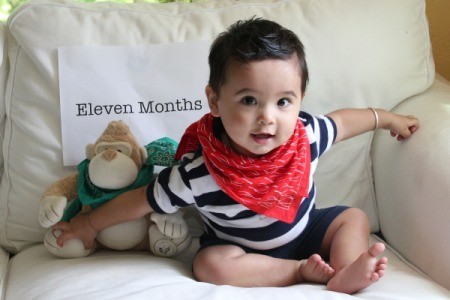 Makes a very inexpensive, fun gift! Obtain bandanna (or cut similar fabric into the same shape) and wash cloth (or similar fabric cut into the same shape)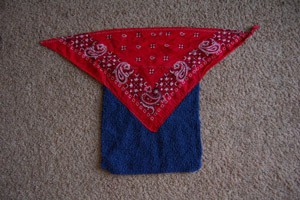 This is a reversible baby bib, made using worn denim blue jeans and cotton fabric. Create a bib in the shape desired. Cut one piece of denim from this pattern, and one piece of cotton for the reverse side.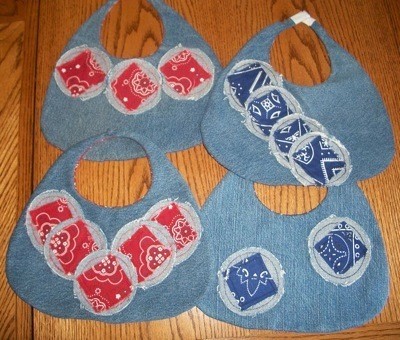 When you need to protect your clothing while eating, use a towel with binder clips as a "bib".
Tie the ends of a lightweight cord or yarn, long enough to go around your neck plus a bit more, to two binder clips.
Using a small towel or something of that nature, attach the binder clips to two corners and you have a quick "bib" for whenever you are eating something messy. Detach when done, wash the "bib" and either take apart the "bib" holder or put away for another time.
I would use this for an older child. I don't know if it would be safe for a baby or toddler because of the metal clips.
By Mkymlp from NE PA
Handmade one-of-a-kind keep-on bib: cute and comfortable for a new little baby.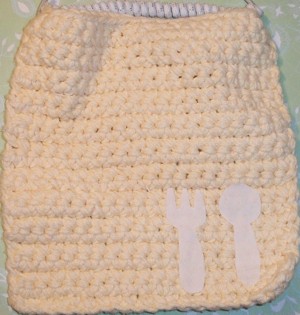 My daughter-in-law needed a bib for spaghetti night and we couldn't find anything. She had an idea to use an old receiving blanket. She cut a slit in it for her head and made a poncho-like bib.
How do you make terry cloth bibs?

Janet from Salem OR
October 10, 2006
0

found this helpful
When my daughter was younger (now 4 1/2), I took dish towels and cut a hole for her head. I tried to sew velcro on them to attach in back, but could never get it to stick or it would pull off, so we finally ended up just clasping it in back with a clothes pin at meals. She still wears these to paint or do crafts.
TC in MO
October 11, 2006
0

found this helpful
Use seam binding (in color of terrycloth so no fading onto bib) to hem, leaving long enough ends to tie in back of neck. It will do better to cut the half circle at top. I made many of these when my twins were little and found that thick terrycloth was hard to work with. (Twins are now 45, so you can see this idea has been around for awhile!)
Read More Answers...
I am looking for a pattern for pocket bibs for toddlers. And if it crisscrossed in the back, it would be great, but not absolutely necessary. Thank you.
By Susan from Phoenix, AZ
December 21, 2009
0

found this helpful
I used the pattern at http://sewing.org/html/child_bib_sleeves.html. I used a copier to enlarge the pattern pieces and then pieced them together. There isn't a back on this pattern, but if you're wanting one, you should be able to easily make some straps to button/snap/velcro across the back. I used a towel for the main part of the bib. Hope this helps.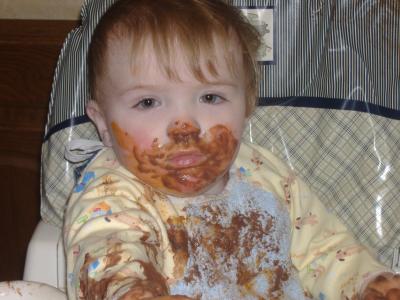 December 21, 2009
0

found this helpful
I would consider NOT using the cross ties in back because they could get tangled in them if they tried to get out of chair as they will when they get older. Maybe regular with a little tab of velcro. Probably have free patterns on web.
Valentine towel bibs can easily be made with just a couple of fabric items. You just take a simple tea towel or dish towel and fold over one end about 5 inches, cut a u-shape in the center and then add ribbing fabric to the neckline with a single machine straight stitch.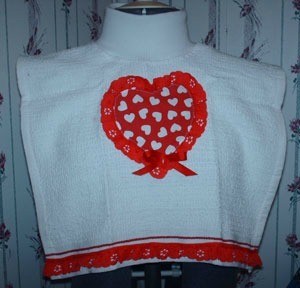 I am looking for a bib pattern for a baby/toddler that has long sleeves and Velcros in the back. Thanks very much.
Related
© 1997-2016 by Cumuli, Inc. All Rights Reserved. Published by
ThriftyFun
.
Page
generated on August 30, 2016 at 11:28:53 PM on 10.0.2.132 in 3 seconds. Use of this web site constitutes acceptance of ThriftyFun's
Disclaimer
and
Privacy Policy
. If you have any problems or suggestions feel free to
Contact Us
.