To save on laundry, regularly use these garments to keep food off of your baby's clothes. This guide is about making a baby bib.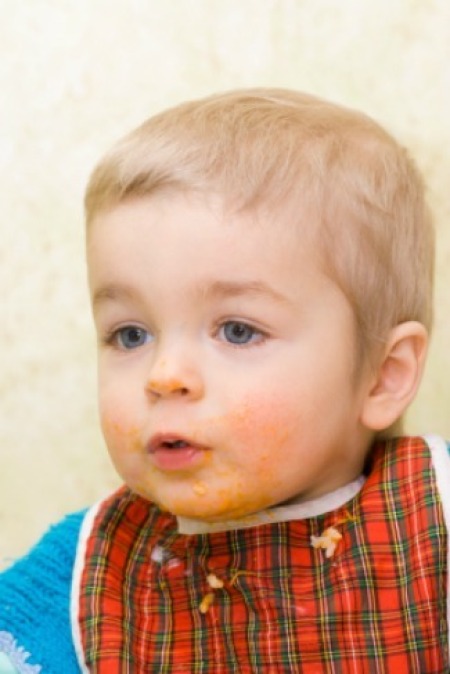 This bib was based on the need for a larger bib for my children when they were young. I noticed that when babies started eating solid food you could find waterproof large bibs, the only draw back is they don't absorb much when they drool when teething or spit up. I took a small (short) infant bib and used a food bib to make the measurements for this bib.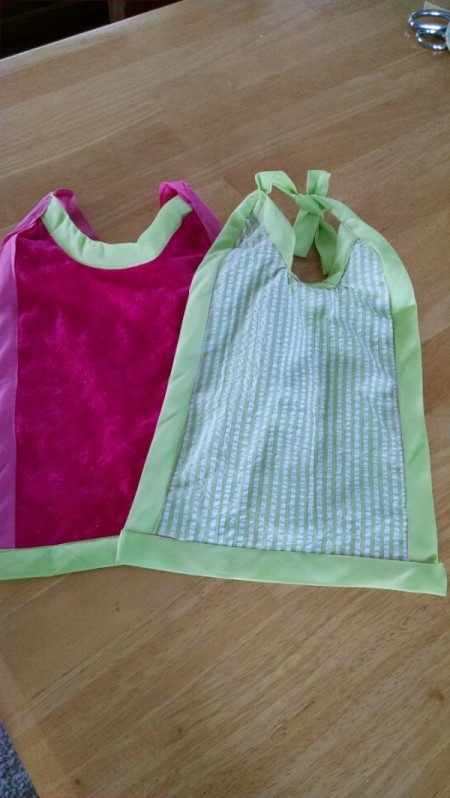 Approximate Time: About 1 1/2 hour
Yield: 1-2
Supplies:
spool of thread
needle
1/2 -1 yd flannel
straight pins
pin cushion
bias tape
1 baby bib or a store bought pattern.
sewing machine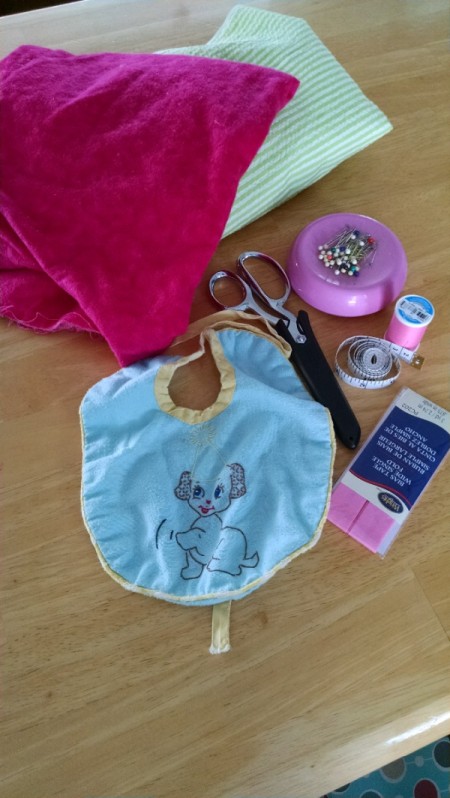 Steps:
Pin bib of your choice to the fabric. If you would like a longer bib, measure to desired length. Measure across for width.
Cut out bib (2).
Turn wrong sides together.
Remember to clip curves. Pin bias tape around edges.
Stitch bias tape to fabric. Stitch in the fold of the bias tape.
Trim seam an 1/8 inch from seam.
Fold bias tape over trimmed seam, pin, and stitch along open edge.
Add 10 inches of bias tape to length beyond top of bib for ties. Pin bias tape to sides and stitch in fold.
Trim fabric of seam.
Fold over bias tape. Stitch along edge of open edge. Repeat for other side.
For the bottom I used the above sewing directions, but added a 1/4 inch to each end.
Fold in the 1/4 inch on each side and hand a stitch closed.
Repeat on the ends of the ties.
I use handkerchiefs as a bib for my baby. I have bought lots of them in different colors and like to coordinate them with his outfit.
Handkerchiefs make the best bibs for a drooly baby. Not only are they much cuter than traditional bibs, but are absorbent and quick to dry. I keep several of them in the diaper bag and once one has gotten too wet, I hand wash it really quick and lay it out to dry. When we are out and about I lay it on the car dash to dry. They completely dry within an hour or two and much quicker on a nice day. When in a pinch I use a public restroom hand dryer, car heat vents, or a hair dryer.
It is important to pay attention to the quality of the fabric and not just get the cheapest ones you can find. The fabric should be 100% cotton and should be completely dyed rather than the design being screen printed on. I have bought some handkerchiefs for $1 a piece and they have turned out to be useless. The fabric, although saying it was 100% cotton, was not absorbent and the design peeled off after a few washes. So, now I splurge and get better quality ones knowing that when my little one outgrows needing a bib, I can still use them as snot rags as my father called them.
If you're handy with a sewing machine or unlike me, don't mind hemming you could save tons by buying scrap fabric and making your own. This way you could get lots of cute designs as well.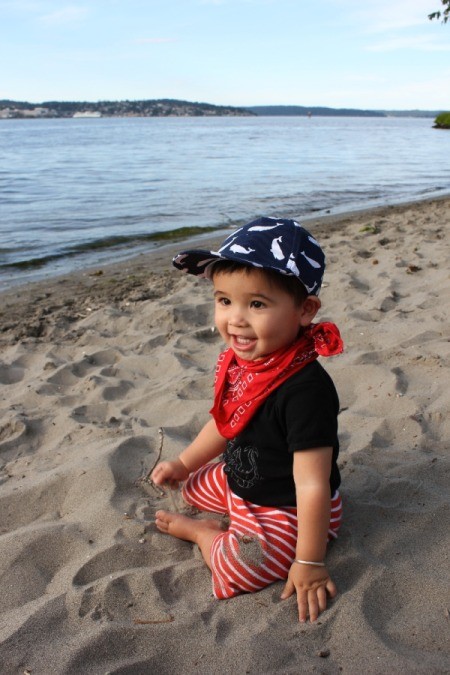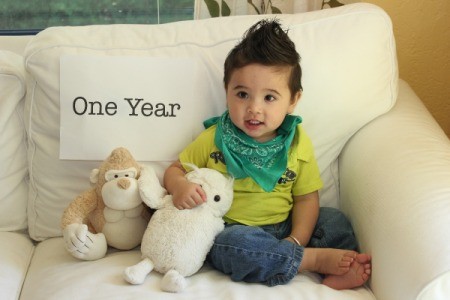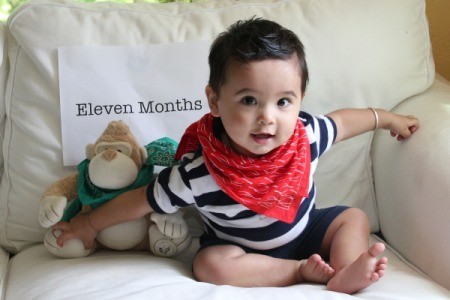 By Monica 296 58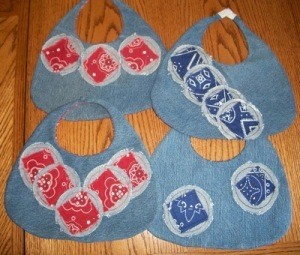 This is a reversible baby bib, made using worn denim blue jeans and cotton fabric.
Approximate Time: 1 day
Supplies:
old denim blue jeans
cotton fabric for backing
sewing machine
sewing thread
sewing needle
scissors
Velcro
steam iron
fishing line or invisible thread
Instructions:
Create a bib in the shape desired. Cut one piece of denim from this pattern, and one piece of cotton for the reverse side. For my design on the front of the bib, I used the neck hole piece cut from when I cut the bib from the pattern fabric.
Press fabrics and sew right sides of fabric together, leaving a small 3 inch opening at the bottom to turn. Turn and press.
Use fishing line or invisible thread to sew the opening closed, being careful to turn the edges under to conceal them.
If you are including an applique, this should be done before sewing the bib pieces together. I deliberately used a regular stitch, to cause the applique to fray with each wash.
After the front is stitched closed, topstitch the bib all around the edges and sew a small piece of Velcro on each side of the top closure. Fold the Velcro over the top when sewing and sew down each side to insure the bib is reversible.
By Monica from Cortez, CO
Makes a very inexpensive, fun gift!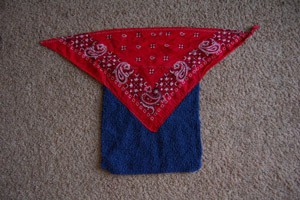 Approximate Time: 20 minutes
Supplies:
bandana (or other fabric)
wash cloth (or other fabric)
scissors
sewing machine or serger
thread
Instructions:
Obtain bandana (or cut similar fabric into the same shape) and wash cloth (or similar fabric cut into the same shape).
Sew or serge edges of each piece of fabric.
Sew two portions together until all are completely attached (basically in a triangle pattern).
All done!
By Ci Ci from Yakima, WA
Handmade one-of-a-kind keep-on bib: cute and comfortable for a new little baby.
Approximate Time: 15 - 20 minutes
Supplies:
1 crochet washcloth
1 springy, no-tie shoe lace
(Heat N Bond or other brand) iron-on adhesive
fabric scraps for applique
iron
fabric scissors
Instructions:
Gather materials. The springy, no-tie shoe laces can be purchased at Payless Shoe Source (a pair for about $2). Also, for the bib, I bought a soft, thick, light yellow crocheted washcloth from Goodwill for 50 cents.
Insert one end of the curly shoe lace into a corner hole of the crochet wash cloth. Knot the shoe lace twice over the crochet yarn or until secure.
Leave the other end of the shoe lace free, or pull through the other side of the crochet washcloth, but "do not knot" this side. One end of the shoe lace should be able to be pulled out by an adult if and when the bib is to be removed, i.e. for big messes as to not get the child messy. (Leaving one side loose will stay put due to the coiling of the shoe lace. A couple of loops can serve as an extra anchor.)
For the homemade applique, decide on an original idea of your own, or a baby fork and spoon as pictured. This is the fun part, consider other shapes such as a bottle, plate, animal, monogram letter, etc.
Follow simple directions on the iron-on adhesive package to quickly bond the back of your fabric, using as little as needed to conserve adhesive and fabric.
Once bonded, use the scissors to cut your desired applique shape(s).
Iron the applique, face-up onto the self-appointed front of the crochet bib in the area of your liking. (For my bib, I designated the front side of the bib based on having the knotted end of the shoe lace in the top left corner of the crochet wash cloth.)
Your handmade, one-of-a-kind Keep-On Bib is done and ready to be gift-wrapped for a special, new baby.
By Erin R. from Seffner, FL
Valentine towel bibs can easily be made with just a couple of fabric items. You just take a simple tea towel or dish towel and fold over one end about 5 inches, cut a u-shape in the center and then add ribbing fabric to the neckline with a single machine straight stitch.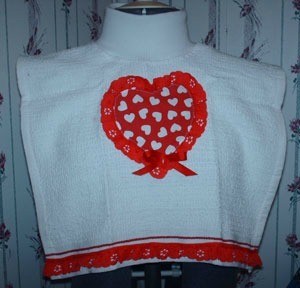 When you need to protect your clothing while eating, use a towel with binder clips as a "bib".
Tie the ends of a lightweight cord or yarn, long enough to go around your neck plus a bit more, to two binder clips.
Using a small towel or something of that nature, attach the binder clips to two corners and you have a quick "bib" for whenever you are eating something messy. Detach when done, wash the "bib" and either take apart the "bib" holder or put away for another time.
I would use this for an older child. I don't know if it would be safe for a baby or toddler because of the metal clips.
By Mkymlp from NE PA
By Janet 1
How do you make terry cloth bibs?

Janet from Salem OR
---
Most Recent Answer
---
By Linda R. 2 2
My daughter-in-law needed a bib for spaghetti night and we couldn't find anything. She had an idea to use an old receiving blanket. She cut a slit in it for her head and made a poncho-like bib. It worked great and was washable and thrifty!
By Susan 1
I am looking for a pattern for pocket bibs for toddlers. And if it crisscrossed in the back, it would be great, but not absolutely necessary. Thank you.
By Susan from Phoenix, AZ
---
Most Recent Answer
By PENNY K 14 564 Flag
December 21, 2009
I would consider NOT using the cross ties in back because they could get tangled in them if they tried to get out of chair as they will when they get older. Maybe regular with a little tab of velcro. Probably have free patterns on web.
---
By JeanneFox 9 1
I am looking for a bib pattern for a baby/toddler that has long sleeves and Velcros in the back. Thanks very much.

Jeanne from Englewood, FL
---
Most Recent Answer
September 15, 2008
Have a look here, its a great resource for free sewing patterns for baby - http://www.babies-blog.com/free-sewing-patterns-for-baby/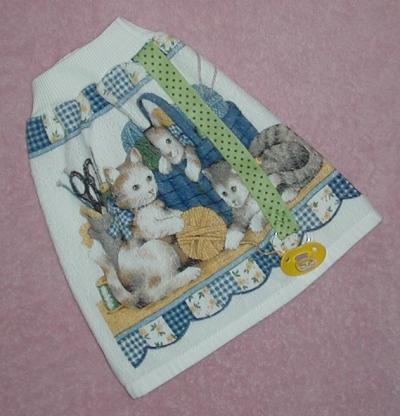 ---
By Vi Martin 8 10
When making baby bibs or burp cloths, I cut a piece from a mattress pad a little smaller than the bib or burp cloth and slip it between the two pieces of material. I close the end then I sew across the bib or burp cloth and make a design, usually a diamond. That way, it keeps the pad from balling or bunching. Then I edge it with bias tape. This makes a great shower gift and it is inexpensive.
By Vi from Mobridge, SD
Would anyone know where I can get a free pattern to make a baby bib with sleeves?

Nicole from Canada
Answers:
RE: Free Baby Bib Pattern With Sleeves
I had no idea of what a baby bib with sleeves looked like, until I googled the information. I didn't find any free patterns, but you may have better luck than I did.
http://www.mccallpattern.com/item/SBF854.htm?tab=sew_baby&page=1
Wait until a sewing shop in your area has a sale on patterns and you might be able to get one for $1-$2.
Marge from NY (09/29/2007)

By MCW
RE: Free Baby Bib Pattern With Sleeves
How about getting some old shirts and opening the seams and making a pattern? You can trace on a paper sack and trim. Just remember to add some on for seam allowance. You could use remnants to make cheaply, use towels, old sheets etc.
Just brainstorming out loud here....
Granny (10/02/2007)

By Granny Marcia
RE: Free Baby Bib Pattern With Sleeves
You can try this: someone once told me to go to a thrift store or Goodwill and buy some old sweatshirts in a size one or two bigger than my kid. Cut the back out up to the ribbing on the collar and to the sides to the seams under the arms. Keep the arms attached to the collar and the front of the shirt, removing the rest of the waistband from whole bottom of the sweatshirt. I admit I have never tried it myself but sounds like it's worth a try especially if you can get the sweatshirt for under a buck. (10/05/2007)

By
RE: Free Baby Bib Pattern With Sleeves
I know I have also been looking for a pattern for a bib with sleeves, and I stumbled across this site. Here is the link
http://www.sewing.org/enthusiast/html/esb_child-bib-sleeves.html Hope this helps! (12/16/2007)

By Heather