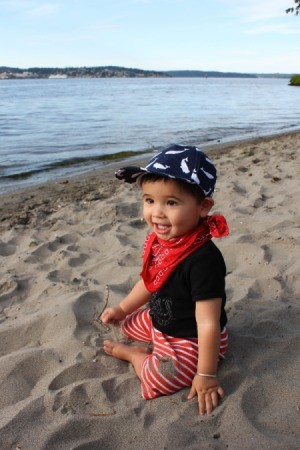 I use handkerchiefs as a bib for my baby. I have bought lots of them in different colors and like to coordinate them with his outfit.
Handkerchiefs make the best bibs for a drooly baby. Not only are they much cuter than traditional bibs, but are absorbent and quick to dry. I keep several of them in the diaper bag and once one has gotten too wet, I hand wash it really quick and lay it out to dry. When we are out and about I lay it on the car dash to dry. They completely dry within an hour or two and much quicker on a nice day. When in a pinch I use a public restroom hand dryer, car heat vents, or a hair dryer.
It is important to pay attention to the quality of the fabric and not just get the cheapest ones you can find. The fabric should be 100% cotton and should be completely dyed rather than the design being screen printed on. I have bought some handkerchiefs for $1 a piece and they have turned out to be useless. The fabric, although saying it was 100% cotton, was not absorbent and the design peeled off after a few washes. So, now I splurge and get better quality ones knowing that when my little one outgrows needing a bib, I can still use them as snot rags as my father called them.
If you're handy with a sewing machine or unlike me, don't mind hemming you could save tons by buying scrap fabric and making your own. This way you could get lots of cute designs as well.