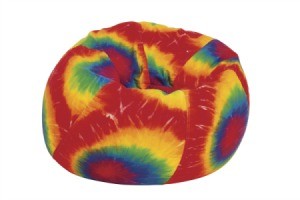 Bean bag chairs have been around for decades. These comfortable lounge about chairs can be cheaper to make than they are to buy. This is a guide about making a bean bag chair.
Solutions
Share a solution for this guide today!
Questions
Here are questions related to Making a Bean Bag Chair.
I would like to make some beanbags for my grandchildren. Real beans did not work well with their parents (they got wet!). What is available now for "stuffing" and where can I buy it?

By Annie

---
Most Recent Answer

By susan (Guest Post)07/01/2008
If you use rice or beans, put them into a plastic bag first. It would have to be the cheap sandwich bag without the ziplock feature. Close it with a tight yarn wrap, not a rubberband (they deteriorate). Or seal it with a proper adhesive.
I am looking for a free bean bag chair pattern to download.

Sam
---
Most Recent Answer

04/19/2009
http://www.alternative-windows.com/beanbag.htm

http://www.budget101.com/crafts/fcp2.htm
Is it possible to make your own bean bag chairs?

Carol from Lancaster, PA
---
Most Recent Answer

By Rose Anne Hutchence11/02/2006
Here are a few links, Carol.

http://www.budget101.com/Crafts/fcp2.htm

http://www.sewyoungsewfun.com/freeprojects/beanbag/beanbag.html

These are free, and all I did was go to www.google.com and enter "free pattern for bean bag chair."

There's are a lot of great free patterns out there!

Cheers,
Rose Anne