Buying your dog a coat at the pet store can be very pricy. A less expensive alternate may be to make one. This is a guide about making a dog coat.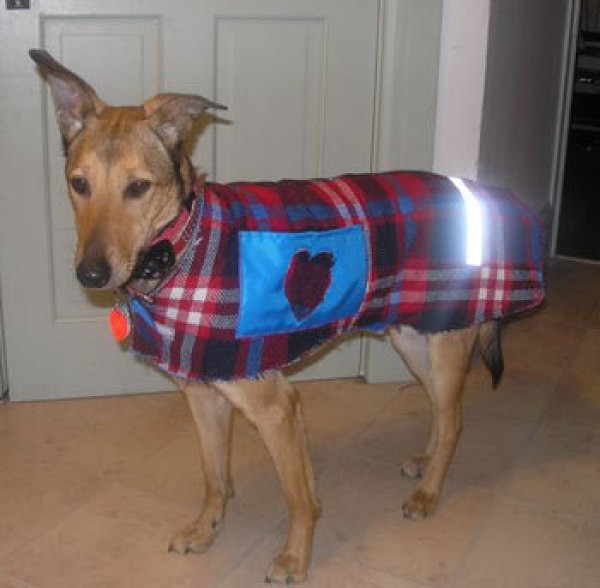 Filter

: All Articles
Sort

: Relevance
My elderly dog was getting cold and shivery on her daily walk-abouts in the back yard. I looked at dog sweaters, but she's a good-sized dog and they were $30! I went to the Salvation Army store, picked up a kid's sized fleece zip-up vest. I put her front legs through the arm holes and zip it up over her back. She stays cozy and best of all, it cost me $1.25!

By Marna from Hartford, CT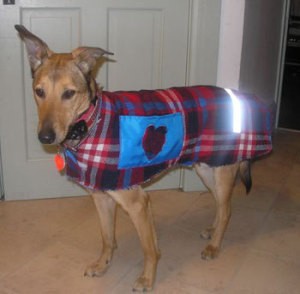 I was determined to have a coat for my 18-month-old dog Honey. We walk in all weather and she does not have a whole lot of fur on her underside. I wanted something warm and waterproof. I found the perfect coat at Pet Edge. Even though it was a very good price, my husband lovingly reminded me that our budget does not have a "dog apparel" line item! So I did what any smart mom would do. I set out to make my own.
I had some fun with a picnic blanket and a "free" pattern from the Circle of Crafters website.
In all, the coat cost me about $2.50 and a few hours (spread over two days) to make. I had to buy some more Velcro, but I already had everything else. I had purchased the reflective tape in the fall to sew on all of our coats. I love reflective tape! I was very happy with the value and service that I got from Identi-Tape Inc. I purchased sew-on reflective tape from them online.
You can hardly tell that this cozy coat used to be a picnic blanket. It is quilted for warmth and has been treated with waterproofing spray for those early morning hurricane walks. Naturally, it is reversible: One side revealing a traditional tartan, the other a bold blue vinyl with an urban edge. Practicality has not been lost to fashion, as this blanket coat has a pocket on each side, appliqued with a charming heart. The design also puts safety first with a reflective strip on the back of the coat.
Happy playing,
Karla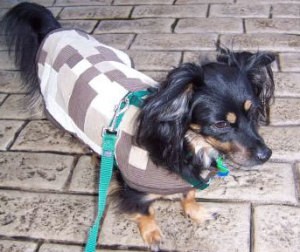 This is a coat I made for my little dog. She gets cold in the winter time and store bought dog clothes are so expensive so I decided to make my own.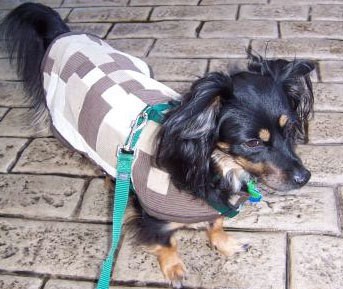 I looked carefully at the shapes of clothes sold at the store and decided on a shape that I liked. I measured my dog and sewed scraps of corduroy from some old pants together to make the top. I cut an old sweatshirt for the lining and I used some fabric I folded and ironed to make a piping I sewed around the edges. I used Velcro at the neck and waist to fasten. I sewed some elastic on the inside to pull over her back legs to keep the back of the coat in place. Now my dog will be toasty warm this winter!
By Hillary from Dublin, CA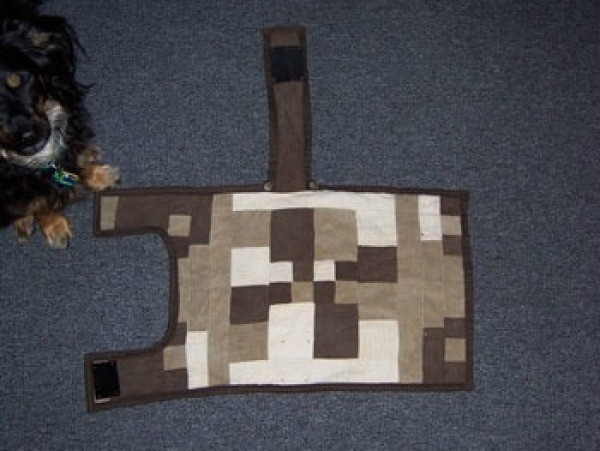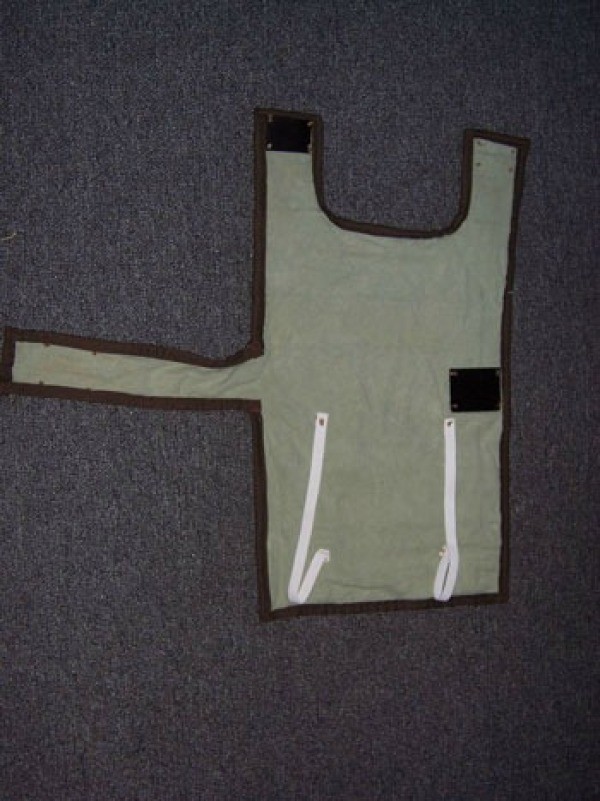 I'm trying to put new Velcro over the old. The adhesive doesn't stick well enough to stay. My dog has 3 coats she can't wear for this reason. Any ideas anyone?
By LIz from Greenwich, NY
Answer
Was this helpful?
Helpful?
Yes
Jean is spot-on - you need to SEW that velcro:) You'll need to buy an inexpensive leather or upholstery needle set - they come in sets of three to five, usually a curved needle in a couple of sizes and then two or three more 'heavy duty' needles with wicked looking points!
The sets cost less than $5USD and can be found in just about every store in the USA - grocery, drugstore, big box, sewing centre, and hardware. I've even seen them on racks at convenience stores on visits to family (I live in the UK but spent over 50 years in the US).
If you're not in the US, try your country's Amazon site, use the search term 'upholstery heavy-duty sewing needle to bring up dozens of choices.
You'll want to use a heavy duty sewing thread, too - also available in the same places as the needle set. Look for something that matches or is about the same size and thickness as the other stitching on the item you're trying to fix.
Finally - use a knot on the thread, but make sure the knot (doubled for strength) is on the outside to avoid painful rubbing on your dog's skin.
Reply
Was this helpful?
Helpful?
Yes
Read More Answers...
Is your doggy cold, but you just can't justify spending $25 on a "special" sweater? Go to your local GoodWill and pick up a toddler sweatshirt cut off the arms an inch down from the shoulder seam and "viola" you have a doggy sweatshirt. This will only cost $1.25. Not only will your doggy be warm and happy, but you will also be supporting a great service for our disabled community.

By Kat
How do I make a dog coat from a t-shirt?
By Sandy J
Answer
Was this helpful?
Helpful?
Yes
If the tee shirt fits the dog, meaning the sleeves are not too long on the front legs, and the body is short enough so the dog can pee without hitting the shirt underneath the body, then the only thing you need to do is put elastic through the bottom hem of the tee so it will stay covering the dog. If the dog wears a harness, you may want to put a buttonhole (a slit with the edges blanket stitched) to clip the leash to.
Reply
Was this helpful?
Helpful?
Yes
Does anyone have a pattern for a Greyhound dog coat? It could be knit, crochet, or sewn. Greys have a different shape compared to most dogs with their deep chests and long torsos. My boy is very tall and about 80 lbs. Much thanks.
By Marlene from Billerica, MA
Answer
Was this helpful?
Helpful?
Yes
I just bought a dog coat pattern (10 different coats, 4 knitted and 6 crocheted), at JoAnn Fabrics. It shows how to measure the dog to get the coat to fit, and then gives a scale for the blocks for 12 sizes. It is book #934, Dog Sweaters to Knit & Crochet, from Leisure Arts. Don't know the price as I bought several items.
Reply
Was this helpful?
Helpful?
Yes
Read More Answers...
Have any of you had luck with turning a pullover bib for a baby into a little Chihuahua coat by putting a Velcro band to go under the dog's belly? If so, can you tell me how you did it?
By Robyn from Hampton
Answer
Was this helpful?
Helpful?
Yes
I'm going to try making Dixie, my chi a sweater from one of my old sweater sleeves. Just stitch where you cut for leg holes and where you cut the sleeve off. She hates clothes but she's going to need something warm this winter.
Reply
Was this helpful?
Helpful?
Yes
Read More Answers...
I got a puppy for my birthday. He's a Chihuahua and gets very cold but I didn't want to spend that kind of money to buy dog clothes, so I went to the thrift store and bought a bunch of baby clothes and turned the legs, arms, and torso of the baby clothes into doggy shirts, pj's, hoodies, and a pup pouch.
The pup pouch is so that I can zip him (it's actually a bag with a hood on it) to keep him warm but allowing me to carry him around outside without having to wrap him up in my coat and getting covered in little black dog hairs. These are the first things I've sewn in a very long time! Please let me know what can I do differently? Thanks!

Marisa from Santa Maria, California
---
Making Dog Clothes Out Of Baby Clothes
I made a nightgown for Ginger out of a leg of a flannel pair of pajamas. She just loves her new pink nightgown. (03/24/2008)

Making Dog Clothes Out Of Baby Clothes
Those are very cute, you did a nice job. I have two Chis and they love their fleece. I have made them coats out of it and they have tons of fleece blankets all over the house. We live in a cold climate (SD) so they have heating pads in their beds, which I leave on low ALL WINTER. If there is a spot of sun....they find it. Mine are adults and very small, about 4 pounds each. (03/24/2008)

By PrairieLady
Making Dog Clothes Out Of Baby Clothes
I'm very impressed! (03/25/2008)

By cookwie
Making Dog Clothes Out Of Baby Clothes
Aww, that's so adorable! My boy David is about 20 pounds so he fits into baby clothes. Here is a pic of him and his dad in their flannels. The sleeves even fit him just right! (03/26/2008)

By Lily 59
Making Dog Clothes Out Of Baby Clothes
And here is Mr. David in his Chicago Bulls coat. These came right from the local Goodwill store! (03/26/2008)

By Lily 59
Making Dog Clothes Out Of Baby Clothes
Adorable, great job! I have done this for a long time, buying cute baby clothes for my tiny Yorkie. I used to get the cute Christmas kitchen towels adding Velcro to make him quick coats. With my shih/poo I do the same thing. I buy infant clothes and adjust to his size, though the 3 month vests fit him perfect and I prefer the sweater type. I did find a lot of cute fuzzy fleece vests and they have buttons. So cute. I think your doggy is precious and quite the model! If you run into sizing problems Velcro is a quick fix and easy.

Your idea is great and lots will learn. I always cut arms off old sweaters for my doggy. I just got some cute sweaters for dogs on clearance at a pet store. We just go to visit. Have fun and enjoy your fur baby. (03/26/2008)

By meoowmom
Making Dog Clothes Out Of Baby Clothes
You know what's funny? My sister always thought it might be cruel to put clothes on dogs, until she figured out that her little dog actually LIKES to get dressed up! What happens is: Whenever my sister gets the box with the dog clothes out of her closet, her dog starts jumping up and down. And when my sister picks out what the dog will wear that day, the dog takes it in her mouth and runs around the house with it, then brings it back for her to put it on. My-Oh-My! The dog actually LIKES to get dressed up! Surprise, surprise! (04/02/2008)

By Cyinda
Comment
Was this helpful?
Helpful?
Yes
Does anyone know how to make a coat for a small dog? What I would like to do is use a baby coat. Any suggestions would be greatly appreciated.

Thank you.
Torrie
---
Making a Dog Coat
Torrie, how small is your dog? Have you thought of the premie baby clothes? That is what my sister-in-law uses for her two teacup poodles. She gave me a snow suit for my dog, but when I put it on Ruby she just laid down in the snow with her feet straight up in the air and wouldn't move. (11/06/2006)

Making a Dog Coat
Premie and newborn baby tops and sweaters worked for my dog when she was a puppy. Both my dogs I've had since I've been married were babies when I adopted them. I would get used baby clothes to keep them warm, just make sure they aren't restricting their movements, like jumping or walking as they can get hurt. Besides, they look darling and everyone smiles and says "Oh, how cute." (11/06/2006)

By Gepe
Making a Dog Coat
My friend wants to make our dogs snow and rain suits. She went to these websites which show very detailed photos and diagrams about how the coats are made, sized, and what fabrics we should be using as dogs don't sweat and they need to be able to have their skins "breathe" while wearing a coat. I think when you see these sites you"ll be able to make the coats for your dogs, too.
<a href=" http://www.rvrg.com/Snowsuit.html">rvrg.com
Their other page about arctic fleece dogsuits is here: northcoastmarines.com (01/06/2007)

By sarainelkins
Making a Dog Coat
I used the leg of a pair of old sweat pants to make a quick simple coat for my small dog. The ankle went over her head. I cut it the length of her body, two slits for her front paws and I was done. It took me 5 minutes total. And there was no sewing. You could use different size pants depending on the size of your dog. My dog loves hers and its been washed alot. (01/26/2007)

By ERIKA
Comment
Was this helpful?
Helpful?
Yes