The dog had a nice shiny healthy coat this past winter (and he would eat 1 fish oil pill daily). But now he won't go near the fish oil and his coat is somewhat dry feeling.
Help! His dog foods always say, "complete" nutrition and he gets about 4 times a week, plus 2 scrambled eggs.
Answers

May 12, 2008
1

found this helpful
I meant to say that the dog gets scrambled eggs 4 times per week in addition to the complete nutrition dog food.
He also gets 1 slice of american cheese (full fat) and 1 tblsp organic peanut butter each morning which I stuff into the Kong toy to keep him happy and occupied.

May 12, 2008
1

found this helpful
I have a beagle and she has a beautiful coat. What I do is always buy cat food that has either salmon, tuna or other mixes of fish. (Canned food). The cats get their fill from the small can, and the dog then begs for the rest.
Normally there is over a half a can that the dog gets. This is a treat for her about 3 - 4 times a week and she gets the needed oils for a nice coat.

May 12, 2008
1

found this helpful
My Lab when I got him 6 months ago had terrible dry skin,
All I did was pour it over his food,
Use different kinds, canola, Vegetable, Sunflower, It all works good and I'm sure you have some in your kitchen,
Tired of the fish taste, Try another type then,
My Vet was totally amazed at how healthy my labs skin is now,
My Lab was in terrible condition when I got him, He gained almost 20 lbs in the first two weeks, He's Absolutely Beautiful Now, & Not a touch of Dry skin,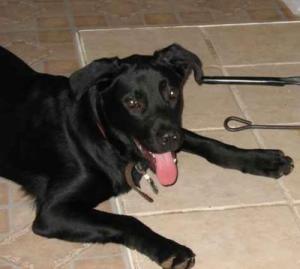 By Me (Guest Post)
May 13, 2008
1

found this helpful
Dogs & cats shouldn't be eating each other's food. There are ingredients in each that the other's body can't process well & it could be dangerous. This is the only article you need to read. I know it's lengthy but once you learn it will be a no-brainer to pick out a quality food. I have my dogs on Wysong currently but there are many good human-grade foods available.
My vet's have always commented on how healthy & shiny my dogs coats have always been. I don't give them any supplements for skin & hair but it wouldn't hurt to do it.
www.api4animals.org/.../PetFoodReport_05-07.pdf[/downloads/pdf/petfoodreport_05-07.pdf]false
By beckie (Guest Post)
May 13, 2008
0

found this helpful
First off I have always been told that cheese can kill dogs, you might want to look into that. Also, if you are brave, a raw egg is better for his coat. Also, a little olive oil in or over his food will help. You gotta watch the oils though, they will give dogs diarrhea.
By reader (Guest Post)
May 13, 2008
0

found this helpful
For our dog whom lived almost 13 years, we would also share egg yolks. We even added olive oil to his food. When buying on sale chicken quarters, we would boil up the left over skin then freeze into different shapes for much chewing enjoyment.
By Dorene from Illinois (Guest Post)
May 13, 2008
0

found this helpful
I care for my neighbor's 13 yr old dog and give him a huge multi vitamin and my blind chow two bilberry with lutin caplets. I buy those 49 cent packets of meat at the store and everyday I tear a small piece off and wrap the pills in it and tell them to be nice and both take them without a problem.
The slices of meat last a long time by tearing a small piece off to wrap the pills. It has been a huge success for me and hope it will help you with you pooch. You could also open the capsules and put in over the food (real messy) or if you just feed the dog ex. a cup of food just drop them in.

May 13, 2008
0

found this helpful
I have a Malamute and I have always fed her Iam's dog food and she had a beautiful coat. One month I was running short on money and bought another brand and I really noticed the difference in the quality of her fur. It wasn't as shiny and she shed a lot more. I think the quality of dog food makes a big difference. Try Iam's and see if it helps. They did have 10 dollar off coupons on their website, don't know if they still do.

May 13, 2008
0

found this helpful
Omega Fatty Acids are what is in your fish oil. Find a dog food that has that already added. Hill's Science Diet has added them to most of their formulas.
Also make sure you dog is on a heartworm prevention or has been dewormed for whipworms lately.
By Jan (Guest Post)
May 14, 2008
0

found this helpful
I use a little safflower oil on my dogs food. Helps the dry skin itch, dander, and keeps her coat shiny. She loves the taste and she is very picky.

May 14, 2008
0

found this helpful
Worms is my best guess if the dog is on premium food.
Jennifer
Northern Virginia

May 15, 2008
0

found this helpful
He's been on a different dog food for a week now and I can see the difference in his coat. Thank you for your suggestions.

May 16, 2008
0

found this helpful
The new dog food that worked miracles is from Petco and called, "Nutro Natural Choice Large Breed Adult". This is dry kibble. We mixed it 50-50 with the old dog food to use up the old stuff and to introduce him to the new stuff.
Wish I'd known about it sooner!
Answer

this Question

What food would produce the best coat on my American Eskimo puppies?

Tim from Springfield, MO

Answers

August 26, 2008
0

found this helpful
I assume this would work on Huskies as well as dalmatians... my parents put a raw egg into their two dalmatians' food each Sunday and their hair is super soft.
The other way you can ensure its feel is up to par is to brush often. The brushing will move the oils up and down the coat and it will look and feel better.

August 26, 2008
0

found this helpful
Your puppy would love the Raw diet. I use it for my two German Shepherds and it is worth it simply for the drastic reduction in output at the other end. You can join Yahoo or Google groups that help you on your way. rawpaws is a good one.

August 27, 2008
0

found this helpful
About a year ago, I changed my Golden Retriever's food to Avoderm Dry (Chicken). This food has avocado in it and after several weeks, I could notice a big change in her coat. I was impressed and she loves the food too!
Answer

this Question