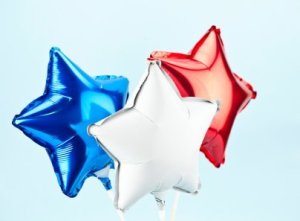 Mylar balloons are made of durable material and are usually bright and colorful. There are lots of ways to recycle them into something new. This is a guide about new uses for mylar balloons.
Ad
---
Solutions: Reusing Mylar Balloons
Read and rate the best solutions below by giving them a "thumbs up".
Both of my kids recently had birthdays, complete with Mylar balloons. My friend was helping me clean up, and gave me this tip. Cut old Mylar balloons into squares and use to wrap small gifts for other birthday parties. Great idea, isn't it?
By AlaskanAurora from Dutch Harbor, AK
If you have no other use for the deflated Mylar balloons, simply save them to be reinflated on another occasion. If you insert a straw at least 6-8 inches in length up into the hole where it was originally inflated, you can press out the remaining helium in order to store the balloons flat. The straw has to be inserted beyond the point of the interior "straw" which enables the pressure of the gases inside the balloon to seal the helium inside.
Once this point is passed, the remaining gas inside can be releases. Sometimes the opening of the inflate hole is semi-sealed with a sticky substance but carefully working the end of the straw up through that spot should be fairly easy. I've not seen a Mylar that I could not deflate entirely.
You can buy small helium tanks to reinflate them yourself or ask the local party store what they'd charge for helium only. Some won"t charge as much, others will charge almost as much as a new filled balloon, but it doesn't hurt to ask. Especially if you are buying additional supplies or additional balloons.
By Leslie
I have a few ideas for the shiny metallic-looking Mylar balloons that would otherwise go to a landfill:
Crochet
Cut them into one long continuous strip about 1/2 inch wide, and use them to crochet throw rugs, place mats, thermal cup & drink can holders, dog bed liners, potted plant coasters, bathtub mats, even window shades (these would probably hold in and/or reflect heat and light, too).
Placemats
Sandwiched between two pretty pieces of fabric and stitched together, you would have a place mat which keeps the plate warm a little longer! Cut a slit in the round upper part and you have a thermal dish taker-just fold over the end you slit, and tape it or tie it with ribbon.
Flowers
Cut the balloons into squares and use to make "tissue paper" flowers for a shiny bouquet reminder of the day. Hot glue-tack them onto a piece of mat and place in a picture frame with a photo of the recipient on their birthday or other occasion;(another reminder); or glue onto a cheap wooden picture frame to cover it and spray with clear polyurethane spray.
Donate
You could always find someone at a Senior Citizen center who would be glad to have the strips to crochet or knit with. A day care center, Headstart or Kindergarten class could use the uncut colorful part for art projects. Contact your local school's art teacher.
Fuse Together
You could use a seal-a-meal or other heat source to join together big squares-thermal quilt for games, etc.!
Thermal Shades
If they would stand up to laundering, they could be used in the lining of a quilt or sewn in between two blankets,the large squares could be joined and hung over a window with the shiny side facing out toward the sun and the printed side hidden behind your curtains. Instant thermal and blackout shades!
Have fun!
By Dollyslaffn from Darien, GA
Re-use old Mylar balloons by cutting out the outer balloon designs; tape next to, and around photos for scrap booking. You can also cut the balloon apart to make a background for the picture in a frame, or as a border around the picture. Use the inside, outside design, or both, for your creations. Many pictures can be decorated from one balloon.
Save mylar balloons from any special occasion, round ones work best. Frame in embroidery hoop, just like you would cloth, dress hoop edge with ribbon, lace or any trim - just apply with hot glue gun or leave edge plain. This is a great way to enjoy balloons longer and an economical way to decorate a nursery or child's room.
By Dana from Charlotte, NC
Give a "thumbs up" to the solution that worked the best! Do you have a better solution? Click here to share it!
Questions
Here are questions related to Reusing Mylar Balloons.
How do you reuse a giant mylar balloon?

Shena Anglin
AnswerWas this interesting? Yes No
Ad
---
---
Best Answers
By Tedebear (Guest Post) 06/03/20050 people found this helpful
Hi Shena,

Did you know they can be refilled? Otherwise, turn it upside down, cut into strips and hang from the ribbon in a tree. It will flutter in the breeze and remind you of the special reason you got the balloon in the first place. You can also use it as wrapping paper for a small gift. Enjoy!
---
By Connie (Guest Post) 06/04/20050 people found this helpful
Any store that sells balloons will usually refill the balloon for about .50 cents. They last a couple of weeks.
When you want to store it you can let it deflate naturally or put a pin hole in it and use a wooden hoop used for needle point and frame the balloon to display or just save and it keeps it's shape.
---
By B 1 56 06/16/20050 people found this helpful
If you can't refill it you can use it to wrap a gift.
---
I thought I read here about other frugal uses for Mylar balloons?
It is very shiny and colorful.
By MotherShip from Chino Valley, AZ
AnswerWas this interesting? Yes No
Ad
---
---
Best Answer
By Mary Lou 14 765 02/22/20110 people found this helpful
Sandwich between two piece of clear adhesive backed vinyl like Mactac Seal firmly and squeeze our bubbles. Cut in the shape that fits best, leaving a small margin around the outside. Voila, place mats!
---
By Dorothy Myers 22 53 10/20/20090 people found this helpful
I carefully slit them open giving me 2 pieces. I then put a potted plant in the middle, pull up around the cheap pot, and tie around with a ribbon. It's great for giving as a gift. Doesn't really matter which side you leave facing outward. Once it is tied up you don't really see whatever the greeting was. I do this for Mother's Day and Easter for giving Grandma a plant. She is frugal too so this idea appeals to her.
By Cyinda 214 1,287 10/20/20090 people found this helpful
Great ideas! I've often wondered if you could use mylar in place of the metallic plastic they sell for ironing on to fabrics & for making metallic foil crafts with... That plastic-foil on a roll or in sheets can be QUITE costly!

I bet you could glue the backs of these balloons to cardstock & make an awesome hanging mobile! Usually, I'll use the silver Aluminum tape from the hardware store... I bet this might go nicely with mylar.

Mylar sheets will stick to a moist window & it makes an awesome insulation in the winter time. I bought huge mylar sheets at the dollar store in a 50% off after Christmas sale. The mylar was originally made to cover your front door for decoration at Christmas. I used it to keep the heat in or the sun out! Just hold it to your window & it it will usually stick by itself! If not, you can either use a washable children's glue or any kind of tape to hang the mylar.
By Sumit 1 04/08/20100 people found this helpful
This year I had a great idea for a party. A nice touch to any celebration is Balloons. Decorating my party with Balloons enhanced the happy party atmosphere. Now you might first think of helium filled balloons, the latex (or rubber) kind or the Mylar (foil) type. I got a few of those nice Mylar balloons that coordinated to my party theme.

For the other balloons, I went with a more economical solution that made a rich party décor look without a high price. Then I thought about all of this running around for balloons was not really what I wanted to do. What if the balloons broke before I got them home? What if I realized later I didn't buy enough? Would I have enough time to go back to the store and buy all over again?
 
That's when I listened to my friend who recommended to me a great company called Life O ' The Party. Since 1980 Life O' The Party has been the place for Balloons, Décor and Entertainment for every occasion, anytime, anywhere, nationwide. The home for exquisite event décor, custom centerpieces and props, costumed messengers, party entertainers and so much more.

When I called them they said no order is too big or too small and I liked that very much. Life O' The Party has grown steadily to become the metropolitan areas premier novelty telegram, balloon, DJ and entertainment company. They have appeared many times on television as well. They appeared regularly on the NBC hit series "ED," Third Watch" and "Law and Order", on the very first "The Morning Show" on CBS, on Entertainment Tonight (ET), USA Networks"UP All Night" and Fox Television's "Good Day New York."

Macy's Thanksgiving Day Parade 2009 featured 15,000 of their balloons, while World Cup USA welcomed their balloons on the field at Giants Stadium in New York and Foxboro Stadium in w:st="on"Massachusetts for Opening Day festivities. In the movies, their balloons are featured in the blockbuster Spiderman 3, Ron Howard's movie Ransom, You've Got Mail, starring Tom Hanks and Meg Ryan and Oliver Stone's latest epic 'w:st=on World Trade Center.
 
Life O' The Party deals in balloons, decorating, party balloons, balloon delivery, party planner, clowns, magicians, DJ's, musicians, fortune tellers, caricaturists, air-brush artists, singing telegrams. Karaoke, centerpieces, props, casino games, carnival games, entertainers, party entertainers, confetti cannons, balloon arches, balloon sculptures, balloon release, balloon drops, balloon bouquets, classic balloon décor, event decorating, photo favors, balloon printing, party favors, musicians and balloon twisting.
 
Its real specialties are Balloons (bouquets, centerpieces, arches & sculptures), Décor (centerpieces and total room makeovers) and Entertainment for every occasion, anytime, anywhere, nationwide.
 
Life O' The Party can be reached at 800-74-PARTY or 201-342-2121 or online at www.lotparty.com and by e-mail at info@lotparty.com and I very much recommend you contact them. They were great to work with!
By Fay Poulish 9 10/24/20100 people found this helpful
Lots of ideas here. Love the crochet idea. Flowers would be great to make from one balloon. Can put any contrast color with them and brighten up someone's day.
Archives
Thrifty Fun has been around so long that many of our pages have been reset several times. Archives are older versions of the page and the comments that were provided then.
Mylar balloons are expensive; so don't throw them out. You can use them again. Here's what I do when a Mylar balloon gets tired. I use a plastic drinking straw with one end trimmed into the shape of a fountain pen nib to help me let every bit of air escape. I insert it into the balloon through the base and up through the rubber gasket. Then I press out as much air as possible, remove the straw, and fold and store the balloon. My local grocery store will refill used balloons with helium for a quarter. Sometimes I inflate them like ordinary balloons, and other times I use them just partially filled as packing material when mailing boxes. They easily fill empty space in a box. No more Styrofoam peanuts!
By Kathy
---
RE: Reusing Mylar Balloons
Another use for these beauties is to use them as wrapping paper! Be careful to slice the bottom of the balloon and insert gift with tissue wrapped around it. It makes a beautiful one of a kind wrapping, and you were able to use it two times. Plus it's free wrapping. (02/05/2005)
By casaroble
Refill Mylar Balloons
Save your old mylar balloon and have the florist reinflate it for about .75 cents. By Dede (05/20/2005)
By ThriftyFun
RE: Reusing Mylar Balloons
Refilling the Mylar balloons does not always work! If you are refilling it, is probably because it leaked in the first place.
Been there done that! (05/20/2005)
By Syd
RE: Reusing Mylar Balloons
Here are the proper instructions for reusing a balloon.
Use a medium width drinking straw and insert it into the self sealing valve of the balloon. Once you get to the end of the sealing valve you will here a puff of air escape. Then slowly push the air out of the balloon. Before refilling a foil helium balloon you should remove all the helium from the balloon. The old helium inside will interfere with float times of the balloon.
One important note is to not use something like a pen or anything else hard to remove the helium. That risks stretching the balloons self sealing valve and therefore damaging the self sealing valve. You should be able to get many uses out of a mylar balloon if you following the proper instructions. (11/29/2008)
Whenever you receive those Mylar balloons for birthdays ,showers, etc, save them! Cut the "tail" off and carefully peel both sides apart at the seam. Then you will have 2 pieces of very pretty wrapping paper. They come in all shapes: circles, hearts, characters, etc. and are event appropriate: birthday, Valentine, shower, favorite characters, the list goes on.
They are great for those hard to wrap items. Just place gift in the middle and gather wrap over the top then use decorative ribbon the balloon came with to secure it; no tape needed! You can also wrap and tape an easy to wrap gift as well.
I found this tip out quite by accident when I forgot to buy wrapping paper for a gift and didn't realize until the last minute. Someone in our family had balloons left over from their birthday, and the sagging balloons caught my eye.
The gift recipient thought the wrapping was beautiful. You can get these balloons empty or filled at the dollar store. You can't go wrong with this one! God Bless!
By Crazy Amy from Rochester, NY
---
RE: Reuse Mylar Balloons As Gift Wrapping
This is a great idea! I love shiny wrapping paper, so it's a double win for me! (02/19/2010)
By WildIrish