Painless Ways to Save Money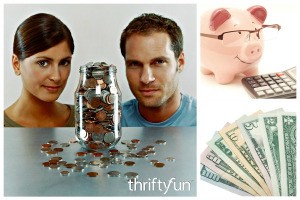 I'm in my 60s and have always done little things that add to our savings. Neither hubby nor I were ever promoted at work, so our paychecks were on the smaller side. Even so, we paid off the mortgage on our home, paid cash for our car, have no debt, and look forward to retirement next year.
Don't consider the dollar amount when making a purchase. Instead, calculate how many hours you will have to work to pay for it.

For example, when I wanted to wallpaper the house, the estimate PER ROOM was $300 plus the cost of the wallpaper. I get sick when I'm around some adhesives and other chemicals so I thought I couldn't do it myself. Then a friend suggested nailing it to the wall with gold nails that blended with the scrolling around the floral design. The $300 cost was reduced to $10 for nails. Since I earned $10 an hour at that time, my cost was reduced from 30 hours of my paycheck to just 1 hour of my pay.

I use coupons when I shop but I take it a little further. Your receipt will tell you how much you saved in coupons. I take that amount and put it in an old popcorn tin. The last time the tin was filled, it was enough to carry us through several months when hubby lost his job. The current tin is earmarked for a retirement cruise.
I file the receipts and save the box tops from food and appliances for rebates. Rebates range from $5 to $50 or more, although the largest I've ever collected was $30. Over the course of a year, you can easily collect $150 or more in rebates. Again, if you earn $10 per hour, that money represents at least 15 hours that you didn't have to work.
I was raised in an Irish-American working-class family, which means never spending too much on food but serving nourishing meals. Instead of buying ground beef that has ground bone and fat, I buy whatever chuck roast or bottom round roast is on sale. I cube part of it for stew and grind part of it in my food processor. The ground beef tastes much better because no junk has been added to it.

I do the same with chicken. If whole chicken is on sale, I'll buy several and freeze them. The other day, however, I found 10-pound bags of leg quarters on sale at Save A Lot for 59 cents per pound. Three bags, 30 pounds of chicken, cost less than $18, or less than 2 hours pay for 15 meals.
I'd love to hear what you do to save money.
Read More or Comment...
Related Content
In This Guide
Categories
Guides
More
Categories