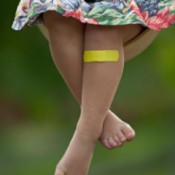 This tip may only work for families with boys. There may be a way to adapt it to girls but, as a mother of five boys ranging in age from 10 to 30, I can only attest to its effectiveness with the male species. Any parent can probably relate to the bandaid dilemma. Kids seem to think they need a bandaid for every bump, bruise, scrape or whatever they receive. This can cause a shortage of bandaids when one is really needed.

I solved this problem with my male children one day when I received that troubling phone call at work that I needed to stop at the store and buy bandaids. Looking at my choices (always looking for the best deal), I came across some "Hello, Kitty" bandaids. Knowing that my manly children would only wear those if the need was REALLY there, I bought those and it worked!
Now, no more careless and extravagant uses of the bandaids. Sometimes, it's hard to get them to wear them even if I think they need to, but it has worked out really well for me. I don't know what parents of girls could do to make it work for them but it sure works for me!
By Janis from Cinebar, WA
Read More Comments