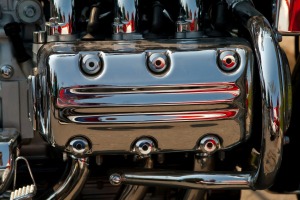 When you want to paint instead of polishing this metal surface, there are a few things to keep in mind. This guide is about painting over chrome.
Ad
---
Questions
Here are questions related to Painting Over Chrome.
I'd like to know the proper technique to paint over chrome.

Captnronoh from Toledo, OH
AnswerWas this interesting? Yes No
Ad
---
---
Best Answer
By Skyler (Guest Post) 06/29/20080 people found this helpful
Honestly, painting over chrome doesn't have to be very costly. All you have to do is go to any home improvement store (Lowes is the most reliable) and talk to one of the paint specialists. Instead of using sand paper, you'll need to get a finishing pad to rough up the surface of the chromed metal you are wanting to paint over. Then, you'll want to buy a high performance spray paint for metal (like Rustoleum) to then spray on to the surface that's going to be painted. I've personally done this for marching band. We had to re-spray the rims of our drums black (they were previously chromed) and the only places where the paint chipped off was where the rims themselves were hit from doing rim shots. Other than that, the rims get painted every four years.
---
I just bought a bike from a friend and it is chrome. I want to know the best way to prep the chrome to paint over it.

Charlie from Staunton, IL
AnswerWas this interesting? Yes No
Ad
---
---
Most Recent Answer
By Cajun 59 327 10/16/20090 people found this helpful
You can use an application of TSP (Trisodium Phosphate). Use with very warm to hot water. This application is used to paint glass, so it should have no problems on chrome (do a small test area). TSP is available in the Paint Dept.
---
I wanted to paint the lugs of my drum set chrome to black. First, I have to take them off individually from their shells. Do I have to have them individually sanded before painting? You can just imagine I'm dealing with at least 80 small chrome items or maybe more. What's the easiest way to do this? I know spray painting them is a lot easier than going through the pain of sanding them individually. Please help.
By Hubert from Seattle, WA
AnswerWas this interesting? Yes No
---
Most Recent Answer
I've found a couple of old fashioned chrome bar stools. The chrome is pitted and rusted. I would like to paint them. What would be the easiest way?
By Norma Z
Solutions: Painting Over Chrome
Do you have knowledge about this guide topic? Feel free to share a solution!