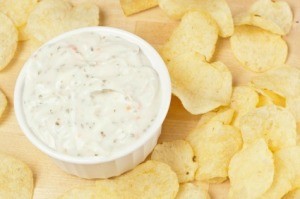 There doesn't have to be a party to enjoy dips for your potato chips. This page contains potato chip dip recipes.
Ad
---
Solutions: Potato Chip Dip Recipes
Read and rate the best solutions below by giving them a "thumbs up".
I am not a fan of sweet pickles but I am sure, minus the minced onions, this recipe would work well using sweet pickles too! I like to dip jicama or plain ruffled potato chips in this dip ;-)
Ingredients:
8 oz cream cheese, softened
2 Tbsp. dill pickle juice
1/2 cup dill pickles, finely chopped
1/2 tsp dried minced onions
Directions:
Blend the cream cheese and pickle juice until smooth. Add the pickles, onion and mix well.
By Deeli from Richland, WA
Ingredients:
1 cup sour cream
1 Tbsp. dill weed
1 tsp. celery salt
1 cup mayonnaise
1 Tbsp. onion flakes
Directions:
Mix together. Very good!
By Robin from Washington, IA
I tweaked a family favorite for potato chip dip, making it a little less fatty. Using it as a baked potato topping is an extra added bonus! :-)
Ingredients:
1 8 oz. package Neufchatel cheese (find it with the cream cheese)
1 8 oz. container sour cream
3-4 Tbsp. dried chives
Directions
Beat first two ingredients until smooth. Fold in chives. Refrigerate 1 hour. (Overnight for best possible flavor).

By Gapotter from Raleigh, NC
Ingredients
1/2 pt. sour cream
3 Tbsp. onion
2 tsp. beau monde seasoning
2 tsp. dill weed
2 Tbsp. parsley
1 1/2 cup mayonnaise
Directions
Mix and put in refrigerator. Keeps very well.
By Robin from Washington, IA
This dip not only looks good, it tastes good too.
Ingredients
1/2 cup mayonnaise
1 8 oz. package cream cheese, softened
1 hard-boiled egg, shell removed
2 Tbsp. chopped onion
parsley (dried or fresh), chopped
Directions
Cream the mayonnaise and cream cheese in a mixing bowl.
Carefully remove the egg white and save the yolk. Chop the egg white and stir into creamed mixture. Stir in the chopped onion.
Chill 1 - 2 hours or overnight.
When you are ready to serve the dip, sprinkle parsley over the top and then crumble the egg yolk and sprinkle it over the top of that.
By Marie from West Dundee, IL
Give a "thumbs up" to the solution that worked the best! Do you have a better solution? Click here to share it!
Archives
Thrifty Fun has been around so long that many of our pages have been reset several times. Archives are older versions of the page and the comments that were provided then.

I am looking for a recipe for potato chip dip.

Patty from Canandaigua, NY
Answers:
RE: Potato Chip Dip Recipes
Wavy potato chips work best. I take a can of pork and beans, the bigger one for a large amount of dip, and make some old fashioned stove top baked beans.

In med. sauce pan put in pork-n-beans, 1/4C ketchup, 1 small onion diced, 1/2C brown sugar. Cook on med. heat till starting to boil. (My Aunt used to brown the onion in some bacon grease first to soften them, but for dip I like the crunch and potency of My stove top bean recipe.)
You can also add some browned hamburger, or some bacon bits, ( the real kind!) OR Add some salsa, chilli powder,and shredded cheddar to some sour cheam for Fiesta Potato Dip.

(These are also an awesome idea for hollowed out baked potatoes too!) (12/11/2008)

By Dedeswrkshop
RE: Potato Chip Dip Recipes
Here is a quick and easy chip dip recipe that has always gone over with rave reviews from everyone that I have made it for.
1 - 8oz. package cream cheese room temp. (can use the low fat version)
1 - 16 oz. container sour cream (can use low fat or non fat version)
Beat these together till smooth then add what ever flavoring you want.
fresh grated onion or garlic
fried onions
roasted garlic
finely chopped dill pickles
t
he possibilities are endless
Pam O. Blaine Mn (12/12/2008)

By pjo659
RE: Potato Chip Dip Recipes
I love flavored chips the most (especially jalapeno, wasabi or cheddar cheese and just dip in sour cream but for plain chips I use:
Lipton powdered onion soup mixed to taste with sour cream.

Velveeta Mexican cheese melted in the microwave and mixed with salsa to taste.


2 parts braunschweiger mixed with 1 part cream cheese.

Hidden Valley powdered Ranch 'Dip' mixed with softened cream cheese and/or sour cream to taste.
As mentioned in an earlier post, the sturdier the chip the better ;-)
(12/12/2008)

By Deeli
RE: Potato Chip Dip Recipes
My favorite is the onion soup-sour cream, but if you have a Harry and Davids near you, mix a jar of their pepper and onion relish with 2-8 oz. cream cheese (thin with a little milk if needed) and that is really good. Another dip is to heat a can of chili without beans and add a medium package of Velveeta mild Mexican cheese and heat til melted. All of these go together quick. (12/12/2008)

By ginger
RE: Potato Chip Dip Recipes
My favorite and easiest chip dip is one package of cream cheese (low fat version will work just as good and you can use less if needed.) and mix in a little at a time of some garlic salt. It is the easiest thing to make. It is also how I use up the rest of the cream cheese when we have eaten all the bagels. Everyone always comments on how good it is but can't quite place what's in it. The Velveeta and salsa is always good too, like someone previously mentioned. (12/15/2008)

By dhull83
RE: Potato Chip Dip Recipes
You can't go wrong with 1 16 oz of sour cream and a package of Liptons onion soup mix (dry). Mix together and it is a HIT! (12/15/2008)

By Julie C.
RE: Potato Chip Dip Recipes
I like sour cream and salsa as a dip. 8oz of sour cream (the cheaper the better) and add salsa a little at a time til you have the consistency and flavor that suits you. Very easy and very good. (12/18/2008)

By Nee nee
RE: Potato Chip Dip Recipes
From livingonadime.com

Ranch Dressing/Dip
1 cup mayonnaise (low-fat may be used)
1 cup buttermilk
2 Tbsp. green onions, minced (tops only or chives)
1/4 tsp. onion powder or 1 Tbsp. fresh onions, minced
2 tsp. parsley, minced
1/2 tsp. oregano
1/4 tsp. garlic powder or 1/2 to 1 garlic clove, finely minced
1/4 tsp. paprika
1/8 tsp. cayenne pepper
1/4 tsp. salt
1/4 tsp. black pepper
Combine ingredients in a container with a lid and refrigerate before serving. Makes 2 cups.

For Ranch Dip, use sour cream or yogurt in place of buttermilk. (12/19/2008)

By Maryeileen
RE: Potato Chip Dip Recipes
My favorite is only two ingredients, ranch dressing and sour cream. I put it two parts sour cream to one part ranch dressing. (12/20/2008)

By micksgirl
Don't limit yourself to just chips because jicima and celery taste good with this dip too.