Preventing Lint on Clothing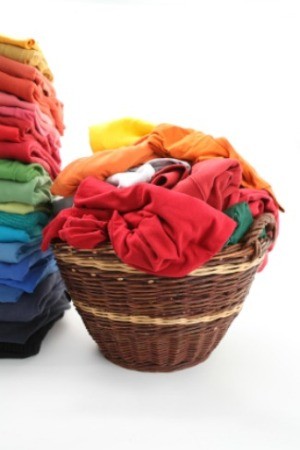 If you are tried of having to get out the lint roller after doing a load of wash; try something new. This is a guide about
preventing lint on clothing.
Solutions
Share on ThriftyFunThis guide contains the following solutions. Have something to add? Please share your solution!
May 9, 2005
1

found this helpful
This really helps cut down on lint and pet hair on clothes! Get some "netting" at a sewing shop, I found mine in the wedding section. Cut it into 6x6 inch squares, and toss one in the washer and a fresh one in the dryer, and bingo! It catches pet hair and lint.

By Diana
June 14, 2016
0

found this helpful
I tried tulle (netting for veil) and disappointly, it failed to catch lint, and with pets, we have plenty!
Read More Comments
January 16, 2005
2

found this helpful
To remove lint from clothes, put in little white vinegar in the wash. Lint will not stick to the clothes as much.

By Sue
By guest (Guest Post)
January 16, 2005
0

found this helpful
That is a great tip. My dryer broke a few weeks ago and I washed a tissue with my clothes last week. I had held off washing because there was still a little tissue in the washer so I tested the vinegar with a load of towels and sheets. It worked.
Read More Comments
Want to wash your fleece without getting lint all over it? Wash it alone in cold water. May combine two pieces.
By 1thriftygal from MI
February 17, 2011
0

found this helpful
...also turn them inside out before washing. :)
January 29, 2005
0

found this helpful
White vinegar poured into your rinse cycle in your washing machine will help eliminate lint from the laundry.
Read More...
January 5, 2005
0

found this helpful
Since lint is highly contagious, remove it before you put a garment in the closet. No clothing brush? Wrap a strip of masking or cellophane tape around your hand, adhesive side out, and move it across the garment.
Read More...
Questions
Ask a QuestionHere are the questions asked by community members. Read on to see the answers provided by the ThriftyFun community or ask a new question.
I always have white fuzz like marks on my black clothes after they dry. I have to take a wet cloth and rub off the marks. Is there something I can do so this does not happen. Thanks

Moe11 from NY
April 2, 2010
0

found this helpful
Rince black clothing by adding some vinegar in cold water and drip dry.
September 2, 2016
0

found this helpful
Vinegar added during rinse? Or with first wash?
October 6, 2016
0

found this helpful
You might be overloading it. Also, always manually set the water level too, and avoid auto. All it is, is undisolved soap powder by the sounds of it :) good luck.
Read More Answers
June 5, 2008
0

found this helpful
Every time I take a load of clothes out of the washing machine, they come out with fuzz balls all over them. What is the problem?

Sher from Buffalo, NY
July 28, 2008
0

found this helpful
One of two things happened. Either you had too many pieces of clothing in the wash load or your washer's lint trap needs cleaning. You'll most likely need to re-wash your load of clothes.
June 11, 2016
0

found this helpful
I never knew washers had lint traps!
November 18, 2016
0

found this helpful
Where is the WASHER'S lint trap? I didn't know there was such a thing???
Read More Answers
I have a LG top loader washing machine. It is an I sensor, invertor, direct drive 9.5kg, wt-h950 model. Every wash comes out full of lint. I do clean the lint holder each wash and have tried more water than recommended. It is ruining my clothes. Can someone please give me some advice?
By Tess from Victoria
March 8, 2011
0

found this helpful
Try adding 1 cup white vinegar to the wash load's rinse cycle. This really seems to cut down on lint. Also, if the lint holder is removable, take it to a sink and run water through it. If the water does not flow freely through it, it may be blocked with fabric softener residue, if you use fabric softener in the washer. If it is blocked, scrub with hot water and detergent until the water flows freely. It will then catch much more lint. If this turns out to be the case, clean it every couple of months. And turn all clothes inside out, and there will be less lint, and it will be out of sight.
March 8, 2011
0

found this helpful
I read a hint here on Thirfty Fun, buy a yard of nylon netting (cheap) unfold it and put in your dryer with 'linted' clothing. It works!
March 9, 2011
2

found this helpful
I always toss in a few of those "scrubby" mesh sponges for hand dishwashing into my washing machine. I keep 3 or 4 specifically just for laundry. You will be amazed at how much lint they catch which means that there is much less on your clothes.
My husband has a company shirt with an iron-on logo. Behind the logo is a white fabric where it's stitched. I wash it with the proper colors, however the shirt is always covered with white lint. How can I wash it without the white lint getting all over the shirt?
December 14, 2014
0

found this helpful
I have a new wool sweater that gets lint all over the shirt I wear under it. Any suggestions to stop this?
By Jim
October 27, 2014
0

found this helpful
After washing my clothes small particles like cotton appear on the clothes mainly on dark colour clothes like dark blue or black.
By Santanu
How do I keep lint from getting on my clothes in the washing machine?

Patti from St. Petersburg, Fl
December 10, 2007
0

found this helpful
I am having problems with lint in my washing machine. My old machine had a lint trap, this new one does not. when I pull out my laundry it's covered in lint. The clothing I dry isn't a problem, it'll come off in the dryer, but the shirts that I hang to dry aren't even wearable. I have to rewash them. I separate my wash, and I don't overload the machine. What do i need to do?
Kimberly from Oklahoma
Answers:
RE: Washer Lint Problem
Add 1 cup of vinegar to your wash cycle. White or apple cider will work equally well. This really softens and cuts the lint. Also don't wash fuzzy stuff--like towels--with smooth stuff. Wash colors and darks separately whenever possible. Use a clothes shaver if you get pilling. (02/15/2006)
By Mary
RE: Washer Lint Problem
If you have a regular tub/agitator machine you can fill 1/2 with water, add a good amount of white vinegar & allow it to agitate but not empty. Give the machine a break to 'soak', then agitate again. Allow the vinegar-water to sit in the tub between rounds. Do this for the whole day (on weekend?) to give the machine a good cleaning. Often soaking in vinegar will loosen trapped debris so it can go down the drain. It will clean the machine very well even if it does not stop your lint problem. Sounds like there must be some part in the machine that got clogged w/ lint or that there is a hidden lint trap. Read the instruction booklet or try to contact the manufacturer via toll free phone or internet for troubleshooting on the problem. Good Luck! (02/16/2006)
By kidsNclutter
Related Content