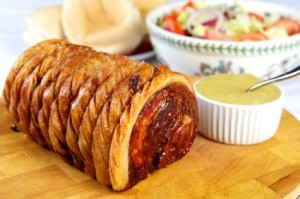 Applesauce makes a nice accompaniment to many meat dishes, especially pork. It can also be used in baking and other recipes. This page contains recipes using applesauce.
Ad
---
Recipes
Read and rate the best recipes below by giving them a "thumbs up".
Pork and apples go great together! The pork is tender and very tasty; my kids love it.
Ingredients:
pork such as a pork roast or loin
olive oil
1 onion
1 medium jar of cheap applesauce
Directions:
Empty the jar of applesauce into a saucepan on medium heat and allow applesauce to come to a slow boil.

Add olive oil to another pan and sear the pork on high heat on all sides then place in slow cooker.

Top pork with sliced onions. Cover pork and onions with boiling applesauce. Cook on low for about 8 hours until done.

You can server the pork with or without the applesauce. If you serve the applesauce you can add some herbs and/or Dijon mustard.

Source: I created this recipe with trial and error. I found that cooking the applesauce on the stove was the trick to the process.

By rjwilcox from Wilmington, NC
Ingredients:
1 can applesauce
2 pkgs Jello (your choice but I use 1 lemon and 1 lime but raspberry is good also)
1 sm can pineapple crushed
1 can 7-Up
Directions:
Bring to boil the applesauce and add the dry Jello. Then add the crushed pineapple and the can of 7-Up. Refrigerate until ready to serve.
By Sandy from Graettinger, IA
Ingredients:
2 eggs
1 cup applesauce
2 cups Bisquick
1/2 cup milk
1 tsp. cinnamon
1 tsp. lemon juice
Directions:
Beat eggs slightly; add other ingredients and blend. Bake on griddle and enjoy!
By Robin from Washington, IA
Ingredients
1 pkg. raspberry gelatin (3 oz.)
1 can applesauce (15 oz.)
Directions
Dissolve gelatin in 1 cup boiling water. Add applesauce; stir well. Put in small mold or bowl. Refrigerate. Note: Use sugar free gelatin and applesauce for persons who cannot have sugar.
By Robin from Washington, IA
Share Your Feedback: Have you tried this recipe? Do you have your own variation which you would like to share? Click "Share a Recipe" above!
Questions
Here are questions related to Recipes Using Applesauce.
Can applesauce by substituted for oil in all recipes?
By lkon
AnswerWas this interesting? Yes No
Ad
---
---
Most Recent Answer
03/09/20110 people found this helpful
Well, if you're asking regarding baked goods I would think it would be okay for many, many recipes but I definitely wouldn't take the chance of ruining any general meal recipes by switching out the oil with applesauce which would certainly change the flavor outcome!

Keep in mind that substituting applesauce in baking also changes the way a recipe behaves structurally.Here's a link with some information that should be helpful for you with switching the ingredients for baked goods:
http://community.thenest.com/cs/ks/blogs/dinner/pages/124027.aspx
---
Do I use the same amount of applesauce as I would oil in baking a cake?
By Nina
AnswerWas this interesting? Yes No
Ad
---
---
Most Recent Answer
By Lilac 20 1,331 03/28/20110 people found this helpful
Yes, my daughter does that. Her cakes taste flat and awful. I don't even bother to eat a piece. The amount of oil in a slice of cake is small when you consider only a fourth cup goes into the whole cake.
---
Archives
Thrifty Fun has been around so long that many of our pages have been reset several times. Archives are older versions of the page and the comments that were provided then.

Looking for info on applesauce instead of oil in recipes. If it calls for 1 cup of oil do you use 1 cup of applesauce?

Thanks,
Bagossage
Answers:
RE: Using Applesauce Instead of Oil
Yes - just substitute unsweetened applesauce for oil in whatever amount the recipe calls for. (05/15/2006)

By Crystal
RE: Using Applesauce Instead of Oil
I have used applesauce in baking to replace oil for quite some time. Yes, use the same amount of unsweetened applesauce in the recipe instead of oil. I once tried to replace butter in a recipe thinking it would be the same, IT ISN'T. So, I only replace oil. (05/15/2006)

By Darlene in Mississauga
RE: Using Applesauce Instead of Oil
I have found that if you use the whole cup of applesauce, the baked item is just too heavy and dense. I use 1/2 to 3/4 cup and the rest canola oil. That seems to work fine. (05/15/2006)

By Sandy
RE: Using Applesauce Instead of Oil
I have used unsweetened applesauce in my baking recipes for some time now and no one can tell the difference. I use the same amount of applesauce as what is called for in the oil or shortening measurements. No need to reduce liquid and everything comes out moist and delicious! (05/16/2006)

By maggiemay
RE: Using Applesauce Instead of Oil
You can also use nonfat yogurt in recipes (cakes, breads etc) and get great results. You use the same amount that the recipe calls for in oil.
(05/16/2006)

By Crys
RE: Using Applesauce Instead of Oil
Yes, just substitute the oil measurement with applesauce. Though I personally do add a little oil otherwise the texture changes. Do not try this with pie crust, anyway for me it does not work. Otherwise you can use any of your favorite recipes with the applesauce.
happy baking Lori (05/17/2006)

By Lori
RE: Using Applesauce Instead of Oil
While you can substitute the same amount, I prefer to start out by using 1/2 oil and 1/2 applesauce, then go from there. I've had certain cookies turn out tough and cakes that do not rise the same. Also without any oil, sometimes there is a texture change. By starting with 1/2 of each, you are able to make any necessary adjustments. (05/22/2006)

By susanmajp
To lower fat and cholesterol, replace most of the oil in your baking recipes with plain, unsweetened applesauce. It will add moistness without all that fat content.


By Kathy

Responses:
It's Great
11/15/2004
We have done this for years and you honestly can't tell the difference!
By Scott Howard (Guest Post)
Question
02/22/2006
Should I reduce the liquid in a recipe if I use applesauce?
By matilda (Guest Post)
Can applesauce be used instead of oil in cake mixes and box brownies? And if so, how much? Thanks!

roseoma3 from Liberal, MO
Feedback:
RE: Using Applesauce Instead of Oil
Thanks to each and every one of you who kindly replied to my query! Will try it and see my results.

Thanks again!
roseoma3 (09/12/2008)

By roseoma3
RE: Using Applesauce Instead of Oil
You can use and puree fruit in place of oil (pears, peaches, bananas, etc). I have also been using pureed zucchini, just the white pulp to replace the oil and milk in recipes. I sometimes add a bit of water to thin it out for replacing the milk. Doesn't change the taste and makes it a bit denser, but oh so good. Made pancakes the other night using the pureed zucchini for the oil & milk then put the batter about 1/4 inch thick, into a well greased cast iron fry pan, put chopped apple on top and cinnamon sugar, cooked on one side until ready to turn, cook another minute or two and they were delicious and hearty. (09/15/2008)

By Anna from Maine
RE: Using Applesauce Instead of Oil
I also use mayo, and they are very soft (09/16/2008)

By church1040
RE: Using Applesauce Instead of Oil
Hi, one more to add to your list. I use the cinnamon flavor applesauce in chocolate cakes/brownies. It adds a little "something" else to flavor. (Same amount of measurement as oil) (09/16/2008)

By Pat @ PA
RE: Using Applesauce Instead of Oil
Yes, it does work on all baked goods (but not pie crust, for me anyway), even biscuits, muffins and such. You use equal measurements. If cake calls for half a cup of shortening, I use half a cup of applesauce. Though I do remove about 1-2 Tbsp of apple sauce and add the shortening. It keeps the texture right.

Happy baking. (09/16/2008)

By Lori
RE: Using Applesauce Instead of Oil
I'm doing a school science project on this. I am going to bake a batch of cupcakes the normal way and another with some sugar-free applesauce. I'm going to bring the two batches in for my classmates to taste and I will then survey them to see if they look different, taste different, and even smell different. I hope I get an "A". Maybe when I'm done, I'll post my results and a picture. (12/08/2008)

By skittle60920
RE: Using Applesauce Instead of Oil
I tried it and loved it. (02/16/2009)

By Paige D.
Does it have to be unsweetened applesauce when you use applesauce to replace oil in a recipe? Will regular applesauce work just as well?
Ingredients
2 cups biscuit mix (like Bisquick or generic)
1 egg
1 cup applesauce
1/2 tsp. lemon flavoring
Milk to desired consistency
Directions
Add ingredients in order given and fry as usual. Serve with hot maple syrup.
By Robin from Washington, IA
I just made low fat brownies from mix, with some chopped pecans added, by substituting 2/3 cup unsweetened applesauce in place of 2/3 cup oil.