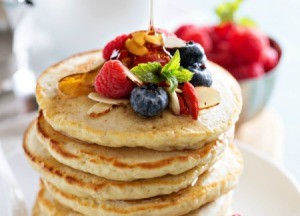 These are great when fresh and just as good popped out of the freezer, reheated for a quick breakfast. I add some cooked bacon (not cooked crisp, it crushes in the vacuumed bag) or a slab of ham to the frozen pancakes (handi-vac bags - no air = no freezer burn). While the pancakes are in the toaster, pop the ham or bacon in the microwave to heat on a paper towel, to absorb the grease. You could fry an egg to make it a country breakfast.
Ingredients:
2 cups all-purpose flour
1/4 cup packed brown sugar
1 Tbsp. baking powder
1 tsp. salt
1/2 tsp. ground cinnamon
2 cups old fashioned oats
2 cups milk
2 large eggs
1/4 cup vegetable oil, plus more for skillet
Directions:
In a food processor combine flour, sugar, baking powder, salt, cinnamon, and 1 cup oats and pulse a few times to coarsely grind oats. In a large bowl, whisk together milk, eggs, and oil. Add dry ingredients and 1 cup oats and whisk just until moistened.
Heat a large skillet (nonstick or cast iron) or griddle over medium. Lightly oil skillet. Using 2 to 3 tablespoons for each pancake, drop batter into skillet and cook until a few bubbles have burst, about 1 to 2 minutes. Flip pancakes and cook until browned on undersides, 1 to 2 minutes more. Repeat with more oil and batter.
To Freeze: Cool pancakes on a rack, then arrange in a single layer on a baking sheet. Freeze until firm, then place in plastic freezer bags. Then can be stored up to 3 months.
To Heat From Frozen: For a single serving, warm pancakes in toaster - for a large batch warm in oven.
Source: My grandmother
By scott E. from Chicago